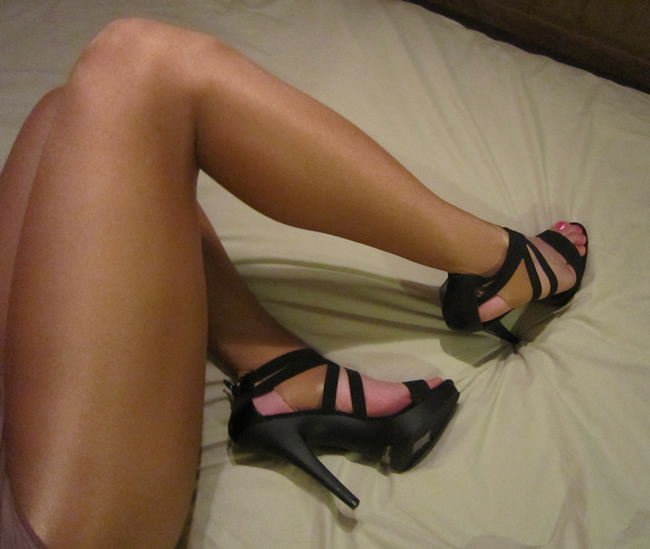 Out of the thousands and thousands of times of slipping into pantyhose, I'm talking since the pre-pubescent pantyhose fetish years, there is one thing I have never gotten tired of. Of course, there is the usual nylon hugging my bulging wannabe female parts giving me the jollies but I also can't get enough of looking down and wiggling my toes pretending they are struggling in in their silken trap.
Despite the love of encased toes, I've never been very foot fetishy which is why I primarily like my pantyhose footed. That and because I'm so un-ladylike when it comes to caring for my feet. Toe cheese, nails that can rival an eagle's talons and whatever that black shit is that had been stuck for a week could all use a bit of attention (and an army of pedicurists).
Well, obviously that had to change so, first, there was the self-pedicure that took at least a couple of hours. Next, trimming those little hairs on my big toe (weird) and, last but not least, a little fuscia polish to beauty them up. Was that so hard? I said to myself trying to convince myself I'm a REAL girl.
Then giddy with my pretty feet, it was time to rip into that new package of Capezio Ultra Shimmery stirrup tights in color Toast. I never thought I'd see the day where I'm wearing pantyhose (tights in this case) with my painted toes exposed and feeling even more feminine sexy than ever.
At this moment, I never wanted go back to footed pantyhose… and had to seriously masturbate looking at my new beautiful toes, free to breathe in the daylight.
Well, I've tried Capezio Ultra Shimmery tights in the past and still have a "caramel" colored pair that gets a wear every now and then. Truth is, I believe they are the best dance tights out there hands down. They are a thick denier but have a silkier, lighter feel and appearance than similar tights by Danskin. Not to mention, I have a weird thing for that Capezio logo emblazed waistband a la another favorite, Wolford.
I had no doubt about the quality to expect of my new pair of stirrup tights. It was just that stirrup feature that would likely have rendered these to the rag bin due to their inability to erotically encase my toes. Even slipping into them gave me a bit of a limpy as they went over my ankle the first time. Bad purchase I first thought.
Straighten them out, however, and they felt like regular Capezio tights, except my feet could breathe! Not to mention, they really look good with sexy feet. I then threw on some strappy black heels and VAVOOM. I mean, holy shit, this was the ultimate in sexy. Not just throw on some pantyhose, wank one and call it a day. Rather, I looked like a lady, albeit a cheap one, but a lady nonetheless.
And that my girly friends, is what I consider a need to break the cardinal rule of the pantyhose fetish by sticking only with footed pantyhose to get you off. Feet are a highly neglected part of the body when in male mode, yet can be a highly erotic feature with a pedicure and a little polish. Then, of course, Capezio Ultra Shimmery tights become the silky icing on the cake.
Just try not to get the "icing" on that lovely new pair, OK?
* * *
Note that it seems that, stirrup tights are available in the U.S. but are the matte version, unlike in Europe, where the ultra shimmery version is readily available. Your best bet in the U.S. is to search on eBay and/or Google for "capezio ultra shimmery stirrup tights" to get your own sexy pair.