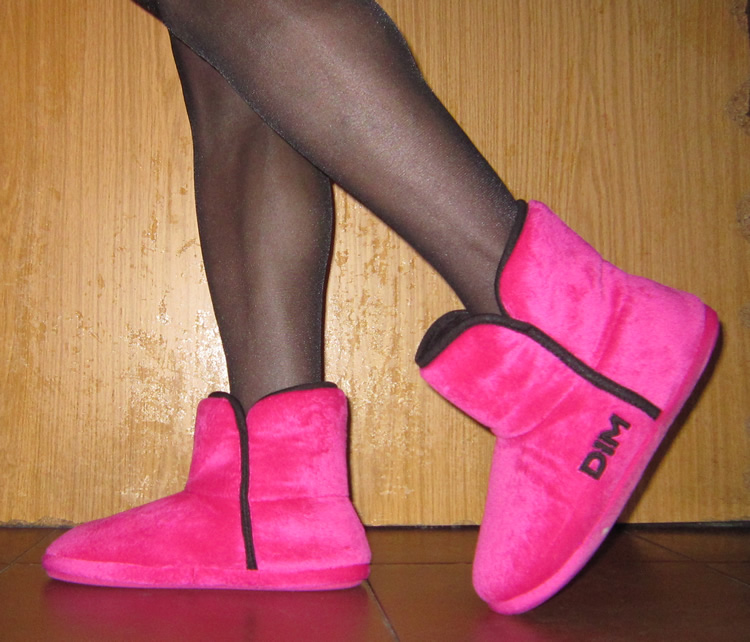 I said it before but I'll say it once again. Yep, I'm still in the closet, safely locked away and with the key still hanging on a nail in the garage. So that part hasn't changed from a while back. That doesn't mean, however, that I wouldn't find it exciting if I happened to be caught in my bra and pantyhose putting mascara on my lashes. It would just make me a bit uneasy to handle the consequences of such an occurrence, despite being in a sexy exhibitionist sort of way.
After all, I am famous and have paparazzi camped out outside of my headquarters. OK, maybe not but replace the pappo with my friends and family would be just the same anyway.
That doesn't mean that I don't display my femininity at all. I absolutely love doing so but in more covert terms. Actually, I like to make it more of a game of Can You Tell I'm a Crossdresser? If you correctly guess, I might give that fact away (if you're, say, a cute crossdresser) or I may not (if you're my sister). Maybe I'll just keep you guessing like a sophisticated woman would which could't be more feminine. Am I right?
But I'll let you in on my little clues…
Shaved Legs
This has been a more recent thing for me but has now become an actual necessity. Silky smooth legs are oh so sexy and no more having bear witness to that gorilla hair visibly smushed up against my pantyhose. Ewww!
Luck has it that there's nothing to really even hide by doing this since it has become (somewhat) mainstream being a practice by male athletes and especially bikers. I actually tell everyone that my runner's legs are more aerodynamic and far cooler without leg hair. Then I jokingly tell them they are sexier too. Oh, if they only knew…
Slippers
High heels might be a dead giveaway to crossdressing habits but slippers, on the other hand, can be girly sexy but androgynous at the same time. Women's slippers by far have more styles and are more comfortable than the men's variety. Coincidentally, this is the same excuse I use to explain why mine are bright fuscia although I was left with a blank expression when asked if I was wearing tights underneath ("long johns", I replied).
The Bra
There's nothing like going out for a walk or going shopping in the colder months in jeans, warm jacket and nothing but a bra on underneath. I don't necessarily unzip my jacket at any point, except maybe enough to show some "cleavage," the fact I don't have on a shirt underneath or maybe that little ornament right in the middle of the bra just peeking out.
The real key here, though, is that the straps become just barely visible yet not obviously protruding through the jacket. On the day someone actually asks if I'm wearing a bra, I promise I will rip the zipper open and flash my gorgeous bra to the lucky person.
Lipstick
I love lipstick so much that it turns me on just puckering my lips and watching them soak up the bright waxy color. On one occasion, I happened to forget about my painted lips and proceeded out the door to run some errands. Though my "closet girl alert" kicked in before making it to the public eye, I had nothing to clean off my lips except my hand.
So, voila! Lips sort of clean but it looked like I was fresh out of a makeout session. Hey, it's not the once beautifully tinted beauties in view but some lipstick visible to the public is better than none I say.
Paint a Fingernail
While I still don't have the balls (yes pun intended) to paint all my finger nails, there is the one lucky little piggy that gets the attention. It couldn't more conveniently be my left pinky. You see, there are all kinds of tales where a long pinky fingernail is a sign of wealth in the Orient or used to strum guitars or infamously used as a vessel for cocaine.
Me, I just grow it a quarter inch (it won't break!) and paint it with my favorite fuscia polish. If anyone asks, though, I lost a bet.
* * *
So there you have it. Sure these may be a-little-too-subtle ways of expressing my feminine side. I'm guessing the day will come soon where it may be breaking out those heels and click clacking or showing my shaved and pantyhosed legs wearing a tight mini in public. The desire is most definitely there.
Mom might be too. Drat!