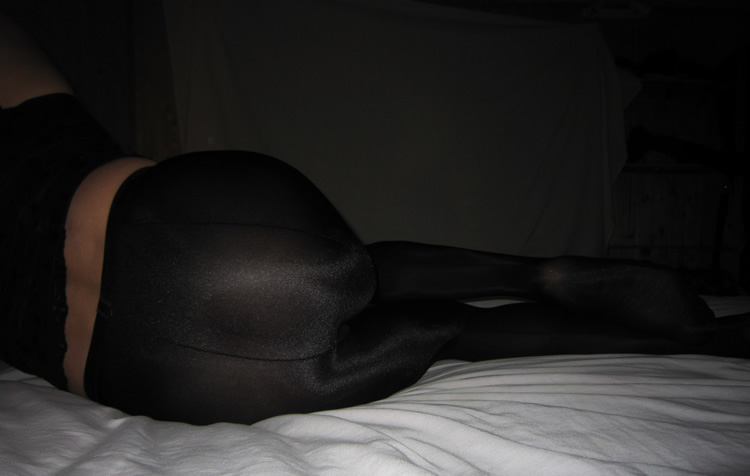 When it comes to luxury pantyhose, Wolford Neon 40 sits there perched all nice and pretty right at the top. For around $45 (37 EUR) you can drape your legs in a gorgeous, high-shine glory sure to be the envy of all other crossdressers out there. Whenever yours truly spots what could be pantyhose ecstasy (not named Wolford), however, then I just have to have it, no matter what the cost is. In this case, it did test the ability to empty my wallet, er I mean purse.
So I bought a pair of Fogal Rapallo for (gulp) the rough equivalent of $133 (112 EUR). What the fuck!? I thought since it was around Christmas time and I so desperately needed to get a present for myself. Just yesterday I received them and opened that package like it was Christmas. Thick, black and super silky, I slipped them over my stems eager to see if these would replace my beloved Wolford as queen of the pantyhose throne.
The verdict: the Rapallo are incredibly gorgeous and I have to say share the spot on top with Wolford.
For those of you unfamiliar with this particular pantyhose, you may be acquainted with another one of it's rivals: Platino Luxe Fata or Cecilia de Rafael Uppsala. Basically, they are all tights of very high denier (100+) meaning very opaque with an illustrious shine and those trademark seams running up the back of the leg. They probably don't get everyone's panties wet but they happen to be a guilty pleasure of mine since I now own a pair of all three.
It's as if these pantyhose try to draw the line at where they can't get any more thicker or shinier. Unfortunately, there are a few issues that arise from this that I've noticed while wearing the Luxe Fata and Uppsala. First is that the material used to create that incredible shine, known as charmeuse, isn't particularly stretchy. Therefore, the pantyhose tends to sag in spots such as behind your knees and above your heels when you bend your legs. Not the most flattering but not a dealbreaker either.
The second quirk is that they need to sized perfectly in order to limit the aforementioned sagging, yet be comfortable on your body. My Luxe Fata pantyhose just happen to be a size too small which makes my legs feel squeezed like sausages. So I had purchased the Uppsala in a size larger which happened to be a tad too large so it sagged here or there in places. I needed something for a tweener.
Enter the Fogal Rapallo.
The first thing I noticed after sexily slipping these black beauties over my naked legs and ass is that they couldn't fit any more perfectly, and without sagging! In fact if I were a size smaller or larger, these would in fact have fit just as well because of this material… "Holy shit, what is this material!?" I'm exclaiming to myself while sliding my hand up and down my leg then over the growing bulge.
Really, I mean holy shit, you need to check this out!
I've never seen or felt anything like it in legwear, ever and it was quite evident this was what I paid for. It is VERY silky and soft, a la Wolford, but very thick and so smooth that it has an almost slippery feel to it. And if you get the idea that these have the feel of biker shorts, you'd be wrong sister. Unlike the Luxe Fata and Uppsala, the Rapallo is made from it's very own very distinct charmeuse fabric that suits these pantyhose perfectly.
The Rapallo has a thinner 100 denier than the others, having 150 denier, and is noticeable with just barely a peek of the toenails showing. This is probably one of the reasons why these pantyhose are softer, mold to your figure and, really, quite the perfect balance between thickness and comfort. Unless, of course, you wear short skirts somewhere in the Arctic and need the extra warmth.
Of course, they have the backseam on each leg, like it's counterparts, which I actually find kind of sexy, giving them a sort of stockings appeal. If Fogal did come out with a version without the backseams, however, or better yet a completely seamless pantyhose, a la Wolford Fatal, well I would be all over that but not before coming all over my hose in disbelief.
Then again, I'd be a little afraid of the price tag too. But, hell, there is a price to pay for being a queen with the sexiest legs and right now that's me.