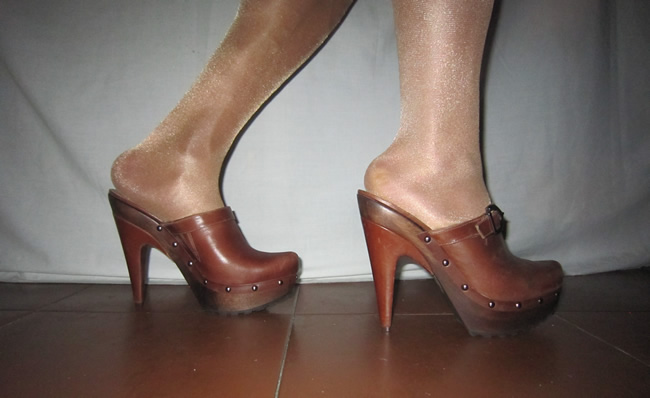 I have a confession to make… I never really liked heels or women's shoes for that matter. That is, up until now. Of course, I've had a few pairs for a while but they never really did anything for me unless you count the falls and near ankle breaks while prancing around in them. The deal breaker, though, was that they never turned me on wearing them.
Then again, I always thought that the sexiest shoes were the ones that either were clear, five inch heels, or were like a spandex boot going up your thigh. You know, the kind you see on strippers in strip clubs or even on porn-ish models in those jpegs you're jerking off to online.
In other words, those are cheap pieces of plastic that make you more or less feel the same way. OK, so I like feeling cheap. Just not in what I'm wearing on my pantyhose covered feet.
So recently, I splurged on some high-heeled Dune clogs as you see above. Somehow, they really caught my eye reminding me of Oktoberfest and gorgeous women in their lederhosen and wooden shoes. Don't ask for an explanation of this, but I just had to have them. Now I'm wearing them as I type with the utmost joy hampered by one near ankle break as I tried to stand up moments ago.
I'll admit that clogs are a rather ambitious and maybe a risky choice if you decide to order them online. They aren't every crossdresser's cup of tea after all. Then there is that ominous clunk clunk sound they make that can be heard from miles away. I can just see it now as I walk down the street as every man woman and child stops and wonders who the fuck is wearing clogs?
I mean weren't they like an 80's thing?
Well, the truth is I'm actually quite stunned by these gorgeous heels. They look sophisticated and super sexy, not to mention, functional with treaded rubber soles so they don't slip or make the aforementioned clunk. An added bonus is that they comfortably house your feet while leaving the back of them free so you can flirt and dangle that clog like I'm doing to you right now.
Of course, that's what you get when you buy REAL women's heels classy women would only wear. Stylish heels made of leather really do make the average crossdresser feel more sexy and lady-like. Even enough so that I think I'll take a few practice laps around my house so I can walk like the lady I damn well should be. If I break my ankles along the way, so what. I'll still look hot in them.
So lesson learned by yours truly: feel like a real woman and ditch those plastic heels for a little class. You definitely won't regret it. Maybe it might be worth it to save up for those Louboutine's after all and be the queen crossdresser. Unless you beat me to it.