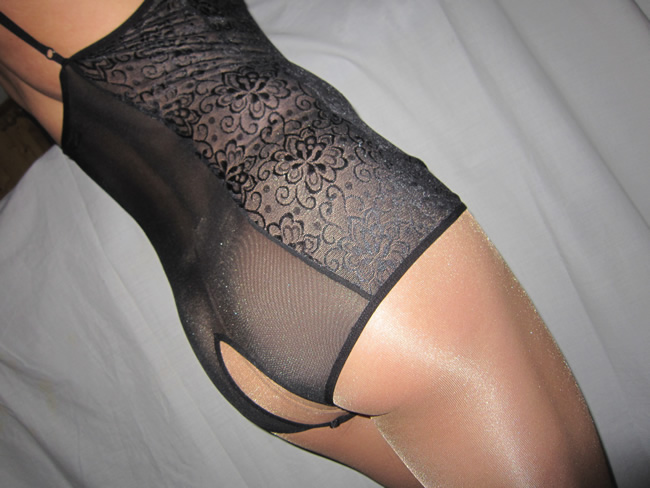 In my usual stroll through online lingerie stores, I almost never see anything that really gets my my eye these days. More often than not, it's the same strap teddy or babydoll with "peekaboo" holes for nipples to stick out. Yet, being so picky, I'm always on the lookout for that sexy something that won't end up a wadded wrinkled ball sitting in a bag ten years later.
Indeed I found it, something I always overlooked and definitely unappreciated. So now I present… crotchless lingerie.
I purchased an Obsession Diamond Teddy in black on eBay and, true to its name, I've been obsessed with it ever since it landed in my horny little hands. Immediately, I slipped on some Oroblu Magie pantyhose then into this beauty which, not only fit perfectly, but looks incredible on me if I say so myself.
I love the ingenious way the teddy uses adjustable elastic leg loops to permit a wide open crotch area. I mean we're talking front all the way up the ass crack. As my cock starts to bulge through the pantyhose (instead of hanging in open air), I wouldn't find this typically feminine or appealing. Yet there is a cute little jeweled embellishment that hangs down gently over the bulge giving an appeal to the "present" underneath. I kind of like it actually and think I'll call it the femme package.
That jeweled bit unfortunately isn't composed of diamonds but good old cubic zirconia. These same "jewel" embellishments also appear on the shoulder straps to add some sparkle to the area. I do love a bit of 20th century tackiness added to the Obsession teddy giving it a cheap, sexy appeal which happens to be A-OK in my book.
The teddy itself, however, is far from being cheaply made. It's constructed of the usual nylon/spandex mix yet the patterned fabric appears of higher quality and is nice and soft on the skin. In addition, the soft sheer panel for the back and belly area completes this teddy's sexy look. These features are well opposed to other teddies or lingerie I've purchased in the past  which looks like cheap pantyhose draped on your body.
But now we get to the real detail of the teddy, that nice crotch void. Though,at the moment, revealing a pantyhose encased penis and butt, I can only imagine the possibilities that lie ahead. There could be that  lovely crossdresser ripping the back of the pantyhose and taking me from behind.
Or, fuck it, I rip open the front and proceed to pound away instead. All without the inconvenience of having to take off that gorgeous teddy. It's so soft, sexy and comfortable, I wouldn't want to remove it anyway.
Really, though, a crotchless teddy was just made for its sister garment… crotchless or even open-bum pantyhose. Thinking about it now, why on earth do I have on regular pantyhose at the moment when I could have on more crotchless underthings to play in?
Time for another purchase… and maybe something more to add to this review!