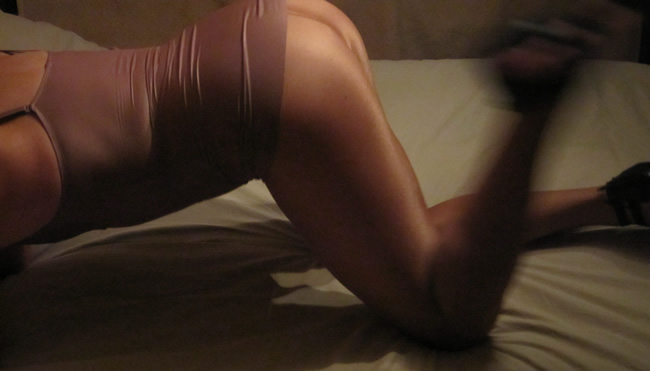 Usually when I post here, I'm very much "in the mood." That is, not just dressing the part but living up to it so to speak. It is usually morning time, I've had my cup of coffee and am in my cute satin robe that just barely covers my ass. Of course, I have on silky pantyhose, high heels and, to feel extra sassy, throw on some lipstick (now a regular thing).
While it is a major turn-on to see my silken self shine, I've embraced my feminine role enough now to go beyond the usual crossdresser frolicking and into a realm which hasn't been penetrated to the full extent yet (excuse the pun).
Namely, I can't stop thinking about that feminized penis that wants to violate me and make me believe I'm a true woman.
Maybe five or six years ago, the thought sex with another crossdresser would have never even crossed my mind. I was a happy-go-lucky crossdresser content with throwing on a pair of nice pantyhose with a cheap bra and panties, wank it then call it a day. You know, the typical practice during the some twenty years prior.  Then one day something dawned on me, or you can say the little girl in me was starting to bloom.
It feels quite sexy to look like a woman in her skimpies and admire it in a mirror but what would it be like to feel and take pleasure like one? Rolling around in nylon and lace isn't quite the same so there I was one day, laying in bed (lingerie, hose and all) getting into various positions and pretending I was on the receiving end of a good pelvic clapping. The fact that it made me question my, at that time, heterosexual self (I'm not gay, am I?) actually made it even more alluring.
Keep in mind now, I wasn't looking for a man to pop this cherry or a manly one anyway. No, I was seeking out a feminine beauty who happened to have that hard cock I was lusting after. Maybe she was a crossdresser, transvestite or even another T-something, I just had to have her. Immediately.
In fact, it became such an obsession that I sought out the first "girl" I ran into. One particular day, not long after, I decided to throw on a slinky teddy, my good pantyhose, then some jeans and a coat to go "undercover" and out for a stroll. It didn't take too long to meet Tanya, a transvestite, strike up a conversation about her lovely dress and to subtlety flirt with her while making a quick mention about how I love to dress up too.
She lived nearby and invited me up for some "coffee" and to "talk more" which sent my heart racing. I knew what I would be in for but was especially aware that I was about to cross a line that I never had thought I would. I kept asking myself "Does this mean I'm bisexual?" which made me extremely nervous while incredibly excited at the same time. I definitely had to go through with this.
Needless to say, we skipped the coffee and the chit chat was really a euphemism for talking oh so dirty. Yet there we were on Tanya's bed suddenly making out with the both of us stripped down to our lingerie. After quickly telling her of my love of pantyhose, I remember Tanya gently pushing me back and going to her drawer to pull out a pair of black Filodoro pantyhose and slip them on.
"How do you like these?" she said.
"So sexy," I think I muttered. Makeout resumed on the bed.
I then reached down at her bulging crotch, pulled down her pantyhose and, in my perceived female instinct, began sucking away for several minutes until she was nice and hard. Then I stopped, rolled over onto my back, and raised my legs giving her the signal to then fuck me. She didn't hesitate in climbing off of the bed and slipping on a lubed condom while I positioned myself, still on my back, to the end of the bed.
Tanya proceeded to unbutton the crotch snaps on my teddy, slowly pulling down my own pantyhose, and very gently entered my asshole, all while standing up with my legs draped over her shoulders. Slowly she penetrated at first, then a little faster until I eventually whispered harder to which she obliged. Minutes later, she finally let out a huge "ahhhh" as she came in the condom.
To my surprise, I didn't gain any kind of pleasure being penetrated at both ends. In fact, when my turn came to have my way with Tanya, I could barely get in the mood (read: limpy). Yet thanks to her tirelessly sucking and stroking my hard-on into existence, I eventually came in, shall we say, a whimper (yet, totally on her face). Yet afterward, the uneasy feeling I had continued and I didn't stick around long. To my (current) dismay, I never saw her again.
Suffice to say, I found the experience very awkward at the time and thinking to myself I'm never doing another crossdresser or transvestite again, ever. Yet as time passed on, I couldn't help but to recall those moments of Tanya's cock in my mouth and the gentle-to-pounding sex she so willingly gave. Maybe it was a simple case of first time jitters and/or not knowing what the fuck to expect. I don't know to be honest.
What I do know is that I'll gladly take up the opportunity again and I'm more than willing to do so. Maybe fate will have me run into Tanya again.