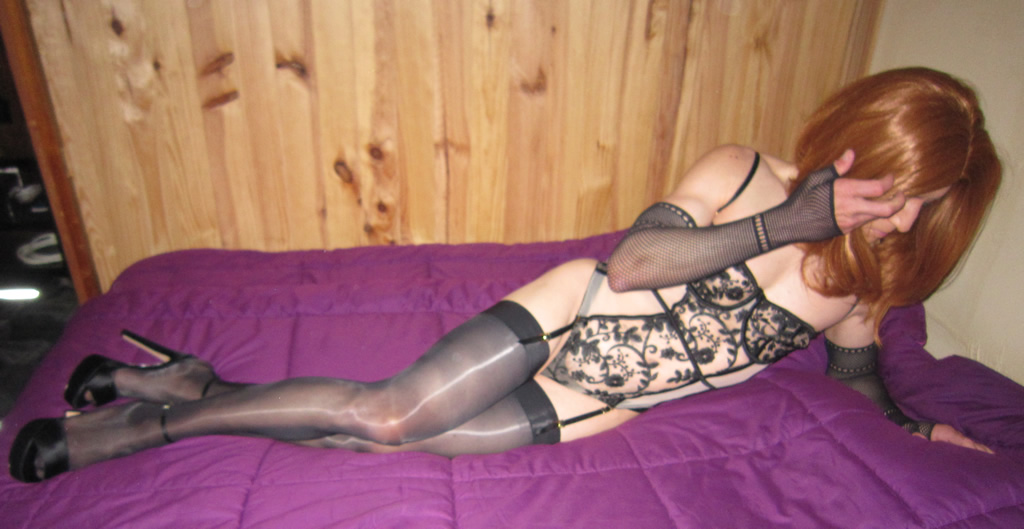 To be honest, I have never really been into stockings during my entire crossdressing existence. They always seemed like just really long socks with no real erotic value like my beloved pantyhose. Not to mention, I find hooking them to the garters is actually quite annoying. If anything, maybe you'll catch me in some stay-ups but that was as far as I was willing to go.
So I have no idea why I wanted to try out the new kid on the block, Pearl and Poseidon, a rather new brand of "shiny pantyhose" oriented fetish wear. I'll admit, I was quite drawn to to it after first coming across the brand in an online hosiery store. In particular, the bodystockings and tight skirts and dresses made from sheer shiny nylon on their models really caught my eye.
Well I decided to order some of their Zenia stockings and give them a shot. I had expectations they would be worn once then thrown into a drawer of once-worn trials for the rest of eternity. Adding to my doubts was the fact that they came in only one size. Usually that means low quality shredding-on-first-wash garments. It never hurts to try though, right?
Then I received my pairs of shiny black stockings and another pair of nude stockings and was completely blown away. However, kind of bewildered initially.
First, while removing them from their package, I noticed they looked rather tiny. "Are these even going to fit my legs?" I'm thinking. But more intriguing, was just the feel they had. The stockings had a microfiber feel to them, not the typical microfiber, but an extremely fine microfiber. Plus they had a matte appearance. Quite strange since I thought these were suppose to be shiny.
But then I slipped on the first black "tiny" stocking and, wow, what a stretch it had. In fact, it had easily fit over my leg and probably could have fit if my leg were even double in size. Oh yeah, then the shine really came through appearing out of nowhere… really bizarre since I've never seen or worn anything with this kind of nylon material that is so stretchy. If you know me, I do know my pantyhose and this really took me by surprise.
Typically, if you look closely at practically any pair of pantyhose, you can see the weave pattern with those shiny spandex streaks woven in there as well. With these Pearl and Poseidon stockings, I can barely see the weave, I mean these beauties have an extremely fine thread. Hell, I don't even know if it is nylon or not. It could be some new fabric technology or discovery for the hosiery fetish industry but, whatever it is, I'm sold!
Then we get to comfort which is where things get even more unexpected. I would think something with so much elasticity would feel rather tight, especially around the thigh. I pictured feeling like inside a hot dog casing of sorts but, oh, was I wrong. These stockings are so soft that they do cling, however, with a gentle touch and are incredibly comfortable. You just have to try them to see what I mean.
Now I get it that the Pearl and Poseidon stockings come in one size. They would literally fit (almost) any size legs that there is no need for different sizing. The only difference would be how sheer the stockings appear depending on the size normally worn. Their website claims these are 8 denier fabric but go ahead and throw that out the window as far as how these look. For someone who normally wears S – L, I would say these have the appearance of 30 – 40 denier and for XL and larger, maybe appear around 15 – 20 denier.
Personally, I love these stockings so much that they are now making a regular rotation with a favorite teddy of mine and a new garter belt I just got for these. Don't even get me started how I like the look and feel of these, a softness and silkiness that are unlike any pantyhose, even Wolford! However, they won't take the place of my beloved Wolford tights quite yet but these stocking are making a strong case as a favorite for my evening attire.
That said, I'll probably be checking in on their bodysuits and bodystockings made with the same new-wave shiny nylon. I can imagine getting off draping my body with them, yummy!
Note: This is an independent review and I have no affiliation with Pearl and Poseidon. I am impressed with their stockings though.