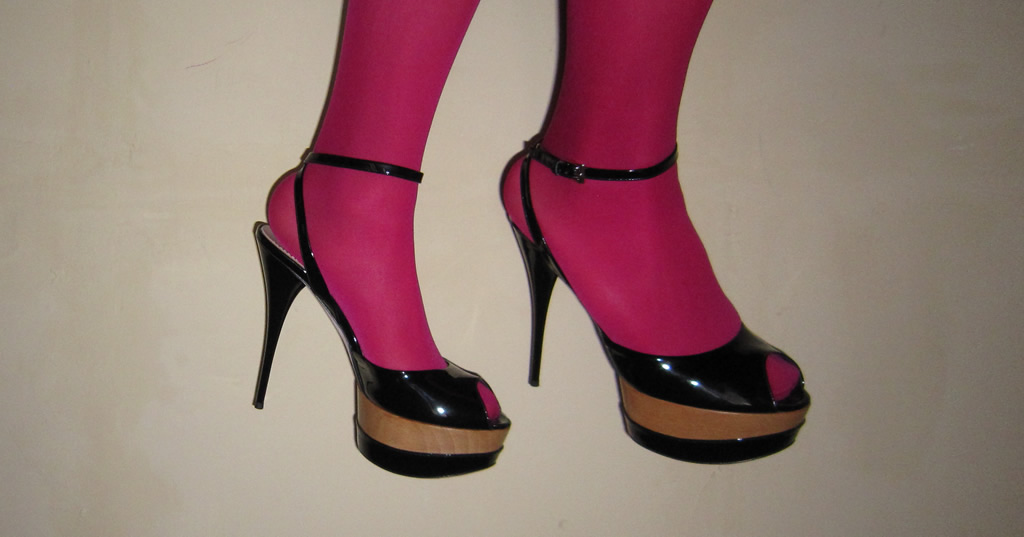 When I'm usually slipping into one of my million pairs of pantyhose, sometimes I like to slip those hosed feet into one of my, now, many pairs of heels I've collected over the last few years. As of now, I have a dozen plus a pair of boots (I guess those are a must). I normally go window shopping online and if a pair catches my eye, I'll bookmark it, look at it several times later and then just buy them if I'm still interested. More often than not, they are at a sale price which doesn't take anything away from heels, I just happen to get them a little cheaper.
However, there was one pair that I had my eye on FOR FIVE YEARS. And they were absolutely stellar, a pair of black Sebastian (Italian) patent leather stilettos with a natural wood platform. Why five years you ask? They retailed for 500€ (roughly $600) and went on a clearance sale online, ahem, five years ago for 200€ which I dismissed as too much yet I was drawn to those size 41 beauties. I also had a feeling those would be around for a while. After all, a size 41 is not the most popular womens shoe size, but for this crossdresser it was the perfect fit.
So, every once in a while, I kept coming back to that bookmarked page, just to check up on them.
Usually around July all stores and shops in Europe have their big sales. So I usually checked if the stilettos were still there (they were) but at 250€ (roughly $300). What the hell, I thought, I'm waiting until they are back to 200€ and I'll snag them. By the end of the fifth year, in July, I just bought them for the 250€ sale price which the highest price I have paid for shoes of any kind, let alone heels for a crossdresser.
Yet, I can say that these are the most gorgeous shoes I've ever had in my lifetime and I would have paid the original 500€ if I knew what I would be getting. They fit beautifully and I couldn't stop wearing and looking at them in front of a mirror. Oh and those stiletto tips are practically needles and would definitely make nice weapons. Yes, these babies were by far the best heels that I've ever had (or shoes for that matter) and I could proclaim these as favorites.
The simple fact of paying a high price for womens shoes as a crossdresser surely had a role in their status as favorite heels. Yet having a good look at the details and I can definitely see why they are more expensive. There is no fumbling around with the straps getting them into those tiny loops, no stickers with the shoe size that you forget are there and they just generally look very well made. Not much different than what you see in Wolford with the quality in their tights.
Then, of course, we get to wearing these Sebastian stilettos with some black Wolford Neon 40 pantyhose, a skirt and a top which really does make me feel super sexy, feminine and flirty. And, without a doubt, more so than those other 12 pairs of heels (and boots). As I write this, I wonder if genetic women go through these same experiences with their heels purchases. Would they shell out 250€ for a pair? Do they feel sexy trying them on afterwards? I'm quite sure this is the case.
But does that make me a woman? Well, no, but at least I have some kick-ass stiletto heels that they will be jealous of (maybe).