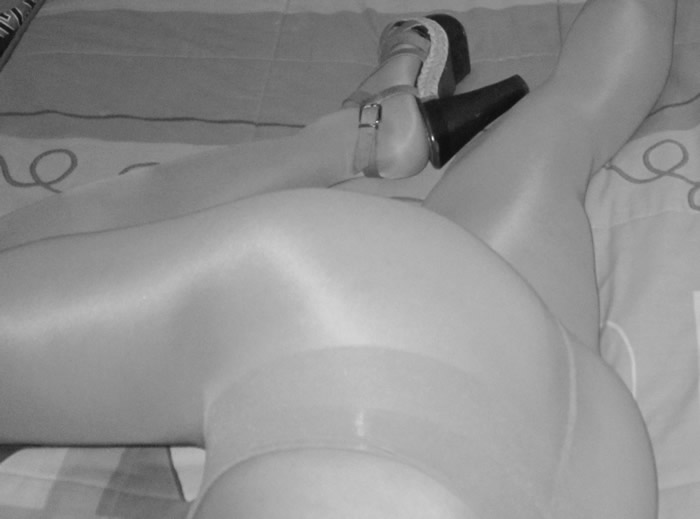 Part II: Happier Hour
"Don't you look delicious," Chelsea whispered to Carla, who just exited the bathroom.
"Oh really?" responded Carla, bashfully.
Jenna walked over from the kitchen with a stiffly made screwdriver in each hand and handed one to the both. She then took a quick glance at the sexy bra, panty and pantyhose ladened Carla and gave her a flirty nod of approval before returning to the kitchen for her own drink.
Meanwhile, Chelsea sat herself down comfortably on the sofa and motioned for Carla to join her, who did not hesitate to take a seat right next to her. Chelsea then began to caress the Wolford pantyhose covering Carla's thigh.
"So you obviously like dressing up. What else do you like?" Chelsea asked with a grin then taking a large gulp of her screwdriver.
Jenna, meanwhile, sat herself on the other side of Carla and ran her hand through her wig, just to let her know she was there and also awaiting the response to Chelsea's question.
"Well, for starters…," Carla said beginning her lifelong story of the extreme lingerie and pantyhose fetishes and all the fantasies she had in them. She rambled on and on, nearly killing the sensual mood between the three. Luckily, the screwdrivers were keeping Chelsea and Jenna afloat, but just barely. That was until Carla got to the part about her fantasy being pantyhose bound and raped.
Chelsea's and Jenna's faces lit up.
"Well, we happen to like that too dear," said Jenna, who got up clutching Carla's hand and lightly pulling her towards her and Chelsea's bedroom. Chelsea got up and followed them into the bedroom, drink in hand.
"Lie down on the bed," said Jenna, to which Carla happily obliged.
Jenna then went to a drawer pulling out several pairs of worn pantyhose. Chelsea put her drink down, kicked off her stiletto heels then slipped out of her black minidress revealing a stylish black camisole, thong panties and, of course, her own natural shade of Wolford pantyhose underneath. She then grabbed a pair of the worn hose from Jenna and began tying up Carla's legs wrapping them tight.
Chelsea took another pair of the hose and tied up Carla's wrists behind her, then stuffed the last pair entirely into her mouth.
"Oh look, isn't she so cute," Jenna said to Chelsea with a wink. Carla was enjoying every moment letting out a girly whimper to communicate her joyously bound predicament. Jenna then slipped out of her own heels and dress revealing a more slutty blue shelf bra, exposing her "breasts," a matching thong and the seemingly required pantyhose, her brand being Pierre Mantoux.
Chelsea and Jenna then positioned Carla to one of the corners of their bed so her head was on one side of it and her legs and ass were just on the edge of the next side. At this point, they were "ready."
Chelsea and Jenna began to makeout, grabbing each other's cock through their hose and stroking each other until nice and hard. Carla was left to barely catch a glimpse, having to stretch her head back, yet she needed nothing else but to watch them for an erection to protrude from her own pantyhose.
Shortly after, Chelsea took position near Carla's head and pulled down her Pierre Mantoux hose just enough to expose her solid love rod. She then took out the wad of pantyhose from Carla's mouth and replaced it with her own cock, quickly forcing it down her throat while grabbing the back of her head for support.
At that same moment, Jenna uncovered her own rock-hard joystick, reached for the lube on top of the drawer within reach and squirted out a little to glisten her cock. She proceeded to pull down the back of Carla's Wolfords and move the thong of her panties to the side of her butt cheek giving Jenna free access to Carla's love hole, which she didn't hesitate to violate.
Both Chelsea and Jenna slowly eased in their strokes in Carla's orifices then quickly picked up the pace until it turned into a full-force ramming followed by loud moans of sheer ecstasy by the two. A muffled but audible moan could even be heard from Carla, who still enjoyed every last second of being bound in pantyhose and the meat of a crossdresser sandwich. Not to mention, she quite enjoyed sucking Chelsea's meaty rod while feeling Jenna's slide in and out of her love canal like a jackhammer.
Minutes later, Jenna soon arrived to the point of no return, letting out an "Ahhhh" while leaving a gooey, hot packet in Carla's love tunnel. She then pulled out her girly cock, still dripping with Carla's creamy juice, and wiped it clean.
Shortly after, Chelsea reached her own orgasm, pulling the tip of her love rod to just inside Carla's mouth and releasing her own girly juice inside it with a very loud "Ohhhhh." Carla tasted the warm love juice, swirling it around in her mouth like a fine wine, then swallowed it in satisfaction.
The bound and raped fantasy was now one Carla could check off the to-do list.
Jenna, in an orgasmic high, proceeded to untie Carla's legs and wrists then laid down on the bed next to her, petting then giving her a soft kiss on the lips. Chelsea joined in the petting and kissing while standing up showing her affection for her and Jenna's new love toy.
"It's your turn now hun. How do you like it?" Jenna asked Carla while winking at Chelsea.
"You, hands and knees," Carla said without hesitation to Chelsea. "You, on your back," looking at Jenna.
Both Chelsea and Jenna obeyed her command and got into their requested positions on the bed while Carla pulled down her own pantyhose, her love rod so hard almost to the point of pain. She immediately took position in front of Jenna and pulled down her Wolfords just past her ass and grabbed each of her legs, pushing them back further and exposing Jenna's love canal.
Jenna was just able to reach the lube nearby on the drawer and dabbed a little on Carla's joyrod. Carla then penetrated her, slow at first, then picking up speed as she caressed Jenna's pantyhosed legs, still held back by her arms. Carla continued like a battering ram for a couple minutes, loud girly moans not withstanding, then stopped suddenly.
She pulled out, let go of Jenna's legs then took position behind Chelsea pulling down her Pierre Mantoux hose and entering her without the slightest delay. She continued her strokes with the same ramming force as with Jenna while slapping Chelsea's ass like a rodeo cowgirl. This lasted for a few minutes, in which she stopped suddenly again returning back to Jenna.
Grabbing her legs and pushing them back yet once again, Carla entered Jenna and continued her pounding as before but just until ready to come. Carla pulled out, releasing Jenna's legs then climbed over her until positioning herself to where her cock was just inches from her face. Carla then jerked off releasing her own hot love juice on Jenna's face and mouth covering her lipstick.
Carla then passionately gave Jenna a kiss on her come-covered lips. Chelsea didn't miss an opportunity and kissed both Carla and Jenna tasting Carla's still-hot come and licking her lips in delight.
Then the three lied down in bed in the high of a post-climatic afterglow.
Penetrating a crossdresser was another thing Carla could cross off the to-do list.
(to be continued)