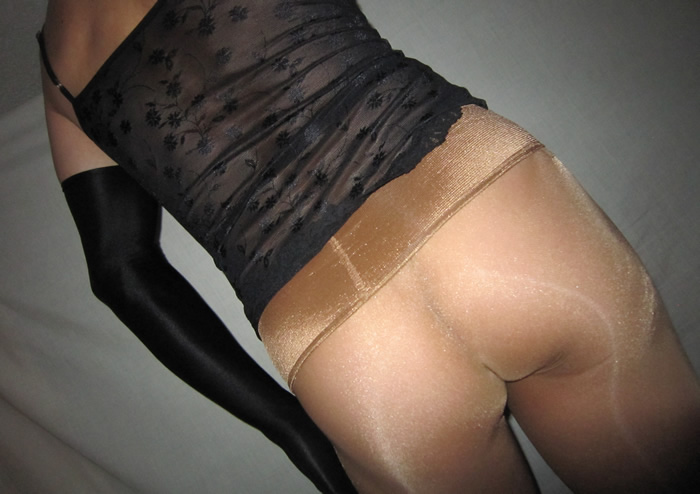 As you may know, I've been dying to try the Krystelle Seamless 30 pantyhose as soon as I saw them on the Shapings website. Well, I sprung for a pair for 40 CAD (about 32 USD) in the "tea" shade and finally got them in the mail. Since I'm a total virgin to the seamless pantyhose style, I just could not wait to slip my just-shaved legs into these beauties which, of course, I did without hesitation.
The first thing I noticed after slowly sliding these up my right thigh is that they don't have the typical slippery "spandex" feel normally found on shiny pantyhose, not to mention, something I highly covet in legwear. The Krystelle 30, instead, has a microfiber composite that can best described as a matte feel with a bit of shine on it. Though I prefer the spandex feel and shine, I wouldn't call it a knock on these since it is a high-quality material after all. There is sufficient shine but it just isn't at the level of, say, the Wolford Neon or it's sexier cousin, the Wolford Fatal Neon.
Left leg all hosed up, time to pull them up to my waist and, WHOA, they are very low-rise! With some easing, I could get the waistband just barely to my navel, having to do a pantyhose wedgy on my butt in the process but you know what? It's something I actually liked about the Krystelle 30. I could remember those pictures of old Fatal Neon packages with those tights perfectly wedged up the ass of those models giving an almost painted on look. The Krystelle 30 replicated that perfectly.
Taking the mandatory strut in some heels, these are quite comfortable, actually VERY comfortable and surprised me with it's very unique construction. With non-seamless pantyhose, there are the usual points of stress right along the actual seam and gusset which eventually develop into holes or runs. The Krystelle 30 appeared to handle this just fine with a very large waistband and what seemed to be tiny reinforced areas on each hip. Time will tell, of course, how they last but I'm confident they won't go to shit with a run after just a few wearings.
There is a slight issue, though, not by fault of the pantyhose but I should say an issue with seamless pantyhose and crossdressers: the jewels stick out and not in a sexy way at all. A typical seam and gusset tight usually holds them back enough, however, the lack of seams here doesn't quite get the job done. The solution… wear a thong panty underneath which can still be sexy.
One other thing, if you are somewhat overweight, these may not be for you. These pantyhose are definitely designed to anatomically fit women right at the waist. Any excess weight in that area will push these down to just above the jewels. They may still stay on but, if you're trying to mimic that gorgeous Fatal Neon model, you'll likely fail miserably. Seamed tights would be a safer bet.
The Krystelle 30 are definitely a high quality pantyhose worthy of a try, especially if you have a taste for the seamless variety. My only gripe with them, however, is that aforementioned microfiber material which does give a nice shine but not on the same level as Wolford, where your legs in those tights can be seen by passing airplanes. So, no, I wouldn't call these a definite "replacement" for the Wolford Fatal Neon but they do come close. So, so close
You can find the Krystelle 30 Seamless pantyhose at Shapings.com.