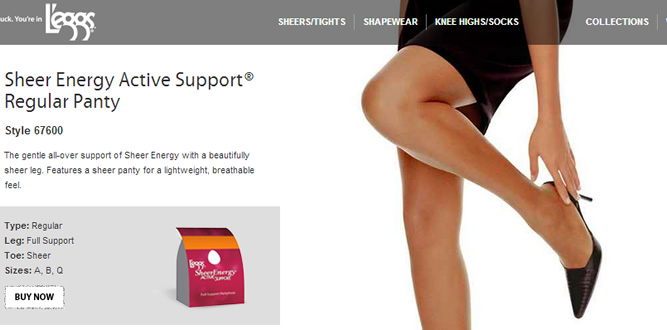 While I no longer wear L'eggs, due to my preference for other brands, it does hold a special corner of my soul in its nostalgic pantyhose fetish value. I can remember fondly the very first pair of pantyhose I ever bought, with my hard earned allowance, buying that Sheer Energy egg in an off black color. Then slipping into them without the slightest worry that my mom would notice a pair missing from her drawer.
Nowadays, I'm too much of a nylon snob to find my legs covered in, what I would say, glorified toilet paper. OK, maybe a little harsh but I hope to God to not ever be caught dead in these again. Yet, like an old flame from back when (booted to the curb), I wanted to see what my old love long forgotten is up to these days. You know, check out the L'eggs website and see what's new.
Then I noticed somewhat quite peculiar as I went through nearly all the pages in it.
"Pantyhose" does not appear a single time in the whole damn thing. Not once!
Alright, I get it. It just isn't fashionable these days to use the word pantyhose in anything you want to sell without conjuring up an image of your grandmother wearing them with the sag from her crotch reaching down to her knees. It needs to take a queue from Europe, where they are all the fashion. They have sexier names like collant (French), medias (Spanish) or strumpfhosen (German).
Yet L'eggs decides to come up with their own word to replace it… "sheers." I guess you can say they've turned hipster.
Now, I can totally understand that L'eggs made the word change, I'm assuming, to target the younger audience of, you know, pantyhose fetishists, crossdressers and general perverts. Since regular pantyhose is truly getting a bad rap these days by the younger generation not wishing to imbibe their legs in hot sweaty silky nylon, perhaps opting for the more traditional "sock" seems to fulfill the fetish.
Yet, when I hear the word sheers, my thoughts shift to, oh, something so light and transparent like whispers of rose pollen sprinkled over my legs like some sort of fairy dust. Come to think of it, I kind of like the new modern noun, sheers, for a pantyhose-like thing. Maybe I'll start a trend of being the new hipster crossdresser and rekindle my love of L'eggs.
Well, ain't gonna happen despite the cute new name. Though I may try and bring back the thigh-high tube sock with colored stripe rings. Those with a bit of the olden negligee would make me the ultra-hipster crossdresser, I can just see it now. So jump on the bandwagon early.
Anyway, I find it ironic that the use of "sheers" as pantyhose is in stark contrast to the L'eggs sister brand, Hanes. In the Hanes website, pantyhose is used everywhere instead of the ultra-modern-hipster "sheers" label. How can that be?
My only guess is to actually check out that label on the pantyhose your grandma is wearing. Odds are it says Hanes I'll bet you. I guess then there may, after all, be a market for the rest of us pantyhose perverts who like their crotches sagging down to the knees. Count me in, too, when I get to that age.