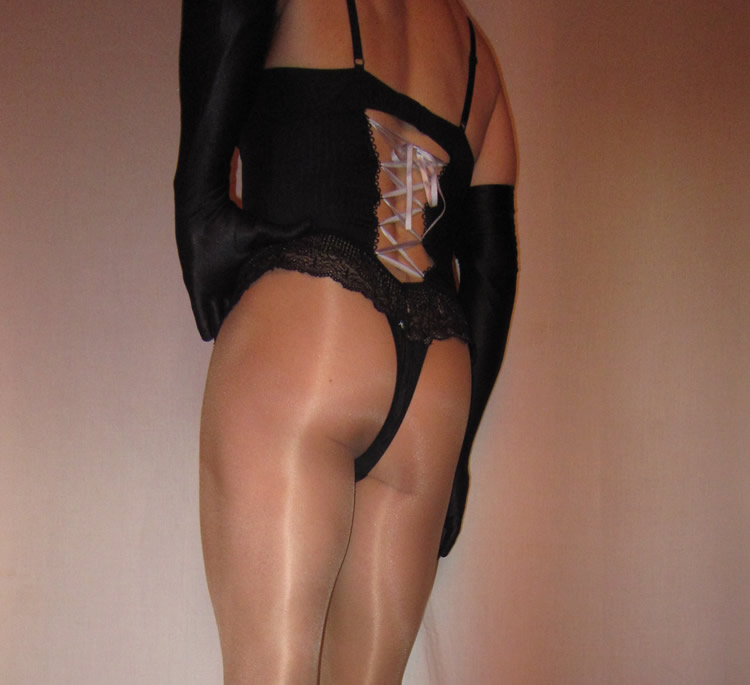 I've been devoting quite some space here to pantyhose lately, almost seeming to forget their other silky (and just as sexy) counterparts… lingerie. The real reason for it's omission is I haven't really found anything in a while that I like and I rely on slipping into an older piece usually bought from a lucky whim. It's primarily due to my issues with the typical lingerie found these days, not just from the point of view from a crossdresser, but I'll go out on a limb and say for women too (OK, maybe some):
It is cheaply made from only nylon and/or fishnet and in the same black, red and white colors. Not to mention pricey for the tacky styles and low quality.
Or you find something you can just picture draped elegantly over you. Then the price tag let's that dream die hard.
So, it usually means an undies purchase for the femme me is in the form of pantyhose, pantyhose and more pantyhose. Well, that is until I randomly came across a sexy teddy that caught my eye, overpriced of course. However, after a little digging in Google, I reached the ultimate candy store for crossdressers, SeksownaForYou.pl, from Poland.
This site appears to be the umbrella shop of Polish brands of lingerie, Avanua, Casmir and Passion which, to tell the truth, I had never heard of until I found the website. Yet, the selection of silky threads was amazing and now I'm extremely elated after tearing into that unmarked package that I received this past week.
First of all, while browsing the website, I was quite content to find lingerie styles that looked like fashion made actually made for this season. In other words, none of that run-of-the-mill fishnet bullshit you would see at your local sex shop. No, I could see there was the possibility of some quality in that stretch satin visible in many of their pieces. At least enough so where I absolutely had to try them out.
One thing I did find very odd while browsing was the sizing for each and every piece of lingerie, S-M, L-XL and XL-XXL, just three sizes and not the usual S, M, L, XL choices I was used to. This caused me a small concern since I couldn't fathom an in-between size for anything I wanted. When I slipped on that first teddy, however, that concern immediately changed to a profound marveling at why other lingerie manufacturers do not do the same with their sizing.
About that teddy, the Edith Body, constructed with black striped stretch satin with lace trim was, honestly, the most gorgeous piece of lingerie I have ever owned. I absolutely love teddies but I am extremely picky when buying which is why I only actually have one (over ten years old) that I wear occasionally. The Edith is everything I desire in when draped in lace and satin, high quality material, a sexy look and a perfect fit.
Back to the fit and sizing, it turns out out the "in-between" sizing has to do with the fact that their lingerie is constructed to suit a variation in shape and size which is why many pieces are made from stretch satin and the leg "loops" and crotch area are elasticized to accommodate this. Therefore, it is far easier to determine which of the three size ranges fits you and you can still come out with a great fit. I, personally, have never seen this with any other brand of lingerie so quite ingenious it is in my book.
Never being one to try just a single thing, I also purchased the Evane Body and Fibi Set just for shits and giggles. Just as with the Edith, these both fit well in their sizes chosen and made me feel oh-so sexy and feminine which lingerie hasn't done for me in a long while. The Evane offered a little more coverage in the hips and bottom which I really didn't prefer over the Edith but, really, I'm nitpicking. It is still a gorgeous teddy and now my second favorite.
The Fibi Set was, too, beautiful but with one little caveat… it goes best when you have boobs. Otherwise, the underwiring in the camisole top can be a little annoying digging in to the side of the chest instead of sticking out in front just enough to not be uncomfortable. It is made for a woman, though, so really a small gripe from a sizzling hot piece I'd still wear over and over again.
* * *
I know you may be thinking, yes, the shop is in Poland, overseas delivery… out of the question. Well, SeksownaForYou does do worldwide delivery and at a reasonable price. Not to mention, all their lingerie is priced lower than that one company with those angel girls (can't think of the name 🙂  and that is with the hit of the exchange rate with the Euro you may be taking.
I give it a very high recommendation for sizing, fit and feminine sexiness for the fellow crossdresser. As well, goes with those lonely pantyhose in your drawer.
Note that this is an independent review and I did not solicit or receive any free or discounted merchandise. Yes, this lingerie is the shit.