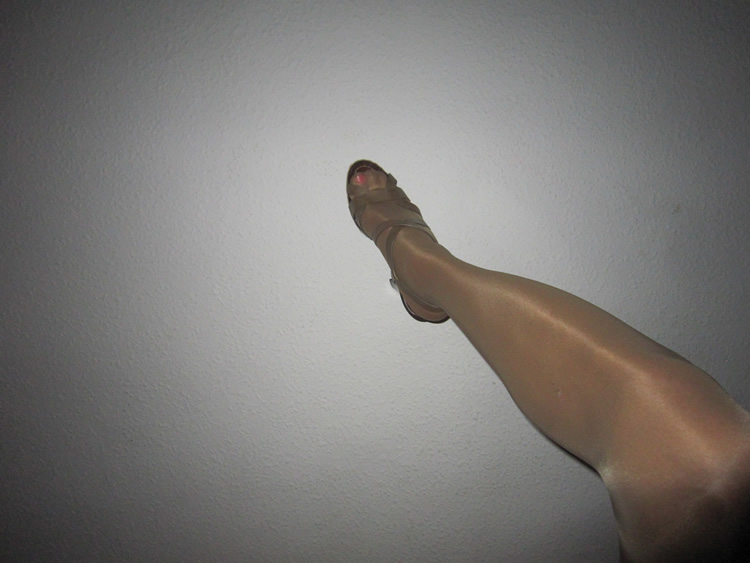 I can say without a doubt that my crossdressing has taken leaps and bounds since my first days experimenting in my sister's tights as a sort of pre-pubescent indulgence in erotica or, as we all may know, the pantyhose fetish in it's infancy.
Shaved legs, hell yeah. Whole body? Yep, that too.
Makeup… just now learning how to do up properly.
Wardrobe? Check, including the mandatory minis and fuck-me dress.
Heel collection: I realize how addicting that can get… and how much I drool over Louboutins.
Full public view, well, maybe that's in the near future.
Despite my love of trying to bring out the inner woman in me, not to mention the sexual thrill it gives, I always seem to end up obsessing over my first real (non-human) true love: pantyhose. They are always my first item of attention when dressing and, even if being the only thing I have on, makes me feel more feminine than even the perfect makeup session (or those Louboutins). Well, OK, if I had those Louboutins over my pantyhosed feet, I think I would shoot my load on the ceiling.
Don't get me wrong. I absolutely love slipping into some silky lingerie, a club mini, makeup, wig and, of course, those heels, then feel my crotch bulge from the drug of femininity taking me over. Oh, even thinking about it gets me "wet" (as in right this moment). Yet, lurking underneath all that icing on the cake, there is always that well chosen shade of glossy pantyhose that has the attention my eye and my legs tempting to eagerly rub together.
Oddly, even going the full femme gamut, makes me want to rip off my dress, lingerie and kick off my heels revealing my naked body in pantyhose and fire one on my ceiling. Call it a serious pantyhose fetish, or what you will, my relationship with pantyhose is forever as if we were married. Thinking about this, it probably is a pretty serious fetish. I mean we're really talking too serious here.
Why, earlier, I happened to count all the new pantyhose, still in their packaging, in a box I have in my closet: 69. No, I'm not making that up and, yes, I do find the number an odd coincidence. I seem to collect them like baseball cards. Rare, discontinued and duplicates of my favorite pantyhose… all there. I'll even make you jealous with that pair of Victoria's Secret Glossy Smooth in "pebble" sitting in there. Admittedly, I tried that very pair on and put them back in the package, too afraid to put them on again and snag my prize of the collection.
That's not even counting the opened pairs I have in a drawer. Likewise, if you need to borrow a pair, you know who to ask.
Oh, yeah, there are those six pairs of Wolford Neon 40, all in different shades. It wouldn't be a serious fetish/OCD without them you know.
I say this all as I just now accomplished that oh so necessary leg rubbing while donning a pair of Oroblu Magie 40 in a dark brown shade. It takes me vividly back to my first purchase of Legg's Sheer Energy* in off black in my teenage years. Maybe it was the thrill of purchasing a woman's undergarment for the first time or it could be that feeling when I got home, slipped into them and got a mini-woody from the glossy dark silk covering  my legs.
Either way, without pantyhose, there would be no Sheery. I would just be a plain old male.
Ewww, don't get me started on that.
* Thanks for reminding me Lisa T!