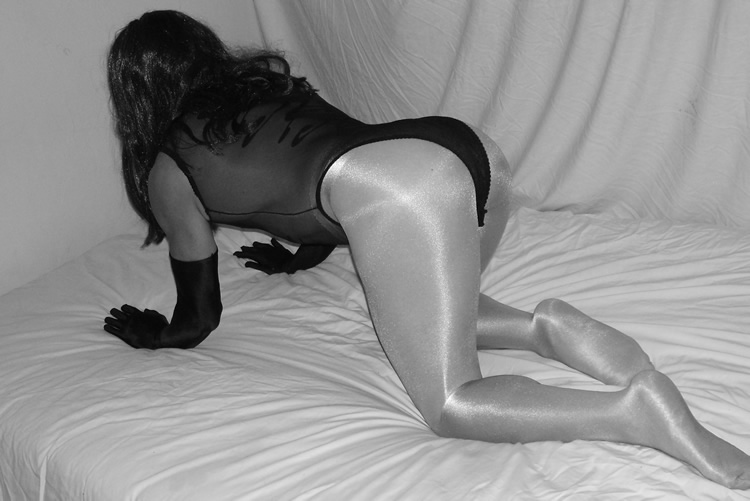 Dear Mrs. Rainwater,
I've always been very curious when recalling my path leading up to becoming a crossdresser (and likely a future transvestite roaming the streets). It all seems to trace back to you as my teacher in my very first year of school when I was just five years old at the time. Actually those memories of you are still quite vivid in my mind.
I remember you would always wear those blue tights with sandals that would let those glorious hosed feet show. On those days, I would obsess over those gorgeous blue legs adding to the innocent boyhood crush I had on you. Of course, how could I forget, there was that one day where you lined up me and all of the other students and gave each one of us a big kiss on the cheek in appreciation of having us as students.
I'm sure you're aware that doing that today would send you right to jail. However, I took it for what you intended it to be: reaffirming that crush I had on you was the real thing, even though I was five.
Since then, I wanted to be just like you, starting with the tights.
I became so obsessed with tights, that is, starting with the pairs I stole from my sister, who was catching on to my love for them. Then one day, I scrounged up my allowance money to buy my own pair of L'Eggs Sheer Energy pantyhose in an off-black color. My very own shiny, sensual, nylon-covered legs gave me such a thrill, almost as much as that smooch you laid on me years before.
But it didn't stop there, no ma'am. When I got my first job at sixteen, I had my own money to burn which I used to walk right into a JC Penney and buy my first silky lingerie and more expensive pantyhose. I can recall wearing nothing but that camisole, panties and pantyhose underneath which sent me into oblivion that night leaving me wondering how so much of that hot milky honey can burst out of me like that. Talk about a crossdresser in the making…
Of course, that obsession continued to evolve up until this very day. Makeup, wigs, shaving, choosing the right heels, not to mention, that long-lived affair with tights are now a daily routine. Did you also know that I now also have a preference for those cute little sissy-boys with gorgeous legs in pantyhose. Don't get me wrong, you didn't make me gay (actually bi), rather I've just learned to broaden my horizons and am having fun in the process. This all couldn't have been done without you, though, so I'll give you the credit ma'am.
Becoming as close to a woman as you were that very day of our kiss has always appeared to be a goal of mine. I know, you may see it as perverted and, really, it is. However, don't feel bad or ashamed at how I turned out. I have no regrets whatsoever. It's the 21st century after all!
I would love nothing more than to see you again and hand you a gift of a pair of luxury Wolford Neon 40 pantyhose in a navy blue color just for you. I want to see you put them on while I put on my own matching pair and then we can caress each others silken legs like I had dreamed about in your class. After, I can give you that long-awaited return kiss I've dreamed about since yours that one fateful day.
So if you see a transvestite walking down the street near you, don't run. Walk up and say hi.
And wear those blue tights… please.
Yours always,
Sheery Sisi