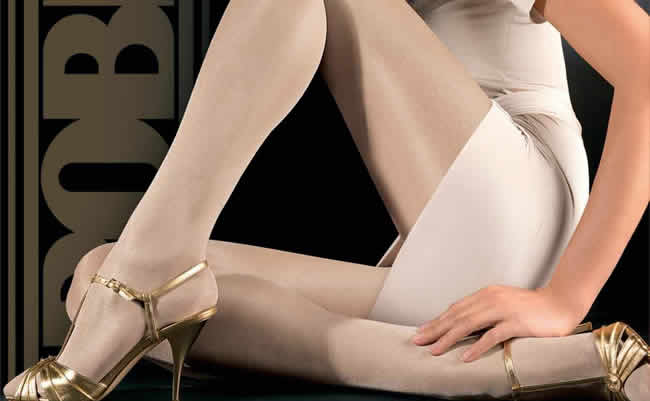 Usually when I try a new brand of pantyhose, they fall under one of two categories, a complete dud or one to add to my favorites list. In fact, I have quite a collection of dud hosiery that I might have to recycle them as masks for my other job as a stick-up thief at night (joking).
More recently, it has been the Italian brands that have been more suited to my liking. First there was Silvia Grandi and now I can stand up and say that Oroblu has taken a piece of the pantyhose fetish pie with their Magie 40 pantyhose. It is quite remarkable, too, that I came about these by luck. You know, buy it and try it.
Usually if there is a brand that is a must-try by pantyhose fetishists like myself, you'll hear about it over the internet or see a mass of photo sets by some hot model proudly posing her legs in it. Yet with the Magie 40, I'm surprised  haven't seen any fanfare really at all.
So, let me be the first (or one of the first) to introduce you to an absolutely gorgeous pantyhose that should occupy every hidden stash of crossdressers out there.
When I test out a new brand, I usually buy two pairs, one in a suntan shade that I can compare with other pantyhose and another in a shade that simply draws my curiosity. In this case, I bought one pair of "suntouch" and one pair of "moka," a dark brown shade. I was completely excited after I ripped open the suntouch pair and slid them over my just-shaven legs.
What I saw were two legs in a beautiful golden shine as if I had actually dipped my legs in gold. The suntouch is by far the best shade I've ever seen on pantyhose (sorry Wolford gobi). Normally pantyhose in a suntan shade appears "off" somehow. Either it dives into suntan for a corpse territory or maybe a suntan in some polar region that I have never seen before.
The Magie 40 shade, however, appears more akin to what you would think of a light tropical tan, natural skin tone bronzed golden just a bit. Add to that a lovely shine from the high spandex content (12%) and special Italian thread weave, and you have the recipe for pantyhose ready to make you come in them just after slipping them on.
Believe me, because I am about to right now after posing in my front and butt view in the mirror with some tall heels.
Add to that the luxurious feel you get while wearing them. Nice and soft  and not too snug or restricting. Sliding your legs together or your whole lower body on satin sheets makes for an incredible sensation. Honestly, these really are a less expensive pair of Wolford Neon 40 that are a little more transparent.
I wasn't too keen on the moka shade however. It appears as more of a shiny chocolate brown which is not all that attractive for my tastes. The shine and the feel are all there, just the shade isn't nearly as well done as the suntouch. This isn't to say, however, that if you are into chocolate, this isn't for you.
Will Oroblu Magie 40 take the place of my beloved Wolfords at the top of my favorites list? Almost, but no. The Magie 40 are quite sexy and luxurious but not quite on the very high level of quality as Wolford. An improvement on the waistband (rolls down slightly) and maybe even going as far as removing the seams would propel this pantyhose into off-the-charts sexy.
You can find Oroblu Magie 40 for purchase at Stocking Showcase and eBay.