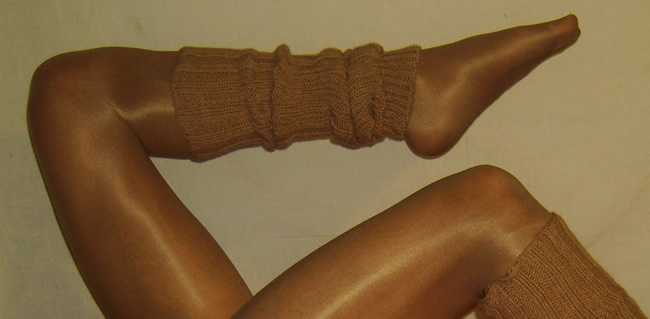 If you haven't lived through the 80's like I have then, unfortunately, you were unable to experience the era of leotards and tights in the crazy Jane Fonda inspired workout days. What always accompanied those shiny multi-colored tights of those days was a pair of leg warmers scrunched up and beautifully worn on the lower legs.
Oh, the love in remembering those days is always recalled every time I see them worn, usually over thick tights on a cold winter day. While probably not the "it" thing in fashion at the moment (though in my book, all the rage), you can still spot them around here or there on lovely women whose legs get a bit chilly in the cool air.
Of course, sitting at home in my own pair of thick, shiny suntan colored JC Penney tights, my legs also get a bit cold. That's when I grab my pair of matching tan colored leg warmers, sitting dormant for the last six months and slip them over my tights. A much better alternative to pants, wouldn't you think?
Alone. leg warmers really do nothing for me, essentially being an oversized footless sock with no erotic value whatsoever. Paired with your favorite tights or even pantyhose, however, and you have a recipe for total cuddle-in-your-couch comfort with the added bonus that they make your legs look sexy enough to star in one of those Jane Fonda videos.
But then you have the erotic factor of the leg warmers, sitting so sexy over the tights, amplified exponentially enough to take you back to that time watching that old workout video of your mom's when no one else was around. "Eight, nine and ten… now the other leg," you heard while masturbating in rhythm. Hell, why not pop one out right now for old time's sake?
Or better yet, try them out in a little home workout reminiscent of that video. Lie down, do leg lifts nice and high. Remember, toes pointed to keep that sexy look! You wouldn't think but this is mildly erotic as well, especially in front of a full-length mirror. It gives you the illusion that you are actually doing something positive to improve your wannabe girl figure even though you still require a gym membership.
Taking off your sweaty tights and leg warmers to hang and dry is quite a sexy thing too. Next time, hang them next to the panties after you wash out the stains.
But back to the couch now. I think I'll lie here nice and cozy, rubbing the tights on my exposed upper legs together for a bit of added warmth. My leg warmers are keeping me plenty company while I watch a clip of one of those old workout videos on Youtube.
* * *
The leg warmers in the image above (and what I have on with my tights right now) are Bonnie Doon.