For maybe the past year and a half or so, I've been infatuated with a pair of pantyhose in which I couldn't find out what the brand was or where they could be purchased. I had first noticed these on Bodysheen.com, pantyhose that appear more on the opaque side, impeccably smooth and shiny and would look sooo delicious on me if I can only just get my hands on them.
I was betting that these could even give my favorite Wolford Neon 40 tights a run for title of my absolute favorite.
Then, to my sheer joy, I came across Southernlegs.com which had a model in the exact same pantyhose (in image above). I could tell they were the same by the shade and the sandal toe which seems very unique to these. There was even a caption with the brand. Are you ready?
JC Penney Fitness Tights?! Are you kidding me, JC Penney?
For those who aren't familiar, JC Penney is the department store inside every shopping mall and has been around for longer than I have. It was always the store with not much for fashion, destined for old folks and, not to mention, my parents wouldn't even shop there when I was growing up.
But a quick look at their online store and, sure enough, they had them.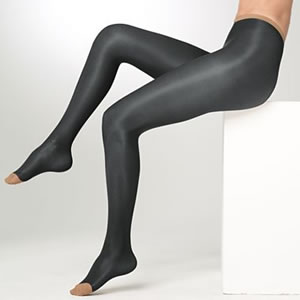 So these appear to be more of a pair of tights that are durable for sports, rather than regular pantyhose, and so could probably be compared to the Danskin Ultra Shimmery tights, which I have and will throw on once in a while. Yet, the problem I have with the Danskins are that, while durable, they are too thick and don't go very well with dresses, skirts, etc.
The JC Penney tights, however, appear to be thick but of a lower denier and definitely less than that of Danskin which is suited perfectly for my taste. It is still left to be determined how they will go with the miniskirt but maybe I'll try these out on another jog.
Unfortunately, I'm still waiting for these lovely tights in the mail yet I couldn't delay in getting this bulletin up in my excitement. So the minute I receive that package, slip on the tights and do a trial run, I'll update it here.
Stay tuned!
7/9/2013 – UPDATE, Finally got them!
I hurriedly open that package to find the several pairs of tights I purchased in two shades, "sand" and black. I begin by trying on the black pair. I had noticed some comments on these tights on the JC Penney web page that they run a bit small so I gambled and ordered a size larger. Am I ever glad that I did.
I struggled a bit to put them on because there was just no give in them or maybe they need a bit of breaking in before they become more elastic and stretchy. Regardless, after all the struggle, turns out they were just the right size so the gamble paid off. I'm impressed by the durability, too, since I really had to tug to get it over my ass which would have torn mere pantyhose.
Despite the clear lack of initial elasticity in the JC Penney tights, these are actually very smooth and shiny and look quite hot on my legs. Yet these tights have a completely different look and feel from Danskins or even Capezio Ultra-Shimmery tights. They look more like higher denier pantyhose than typical thicker dance tights and would therefore go great with dresses or minis.
The black shade is more of a darker grey than pure black but looks lovely nonetheless and I recommend to go with this. After trying on (and again, the struggle) the sand shade, I noticed there is a slight pink hue to them, not quite desirable in a supposedly natural shade. Oh well, waste not, I guess I'll just have to use these for jogging then.
The JC Penney tights definitely do not beat out my beloved Wolford Neon 40 tights, although they will get some regular wear from me since they are quite sexy. Overall, well worth the purchase if you can stand the work it takes to put them on for the first time. Only time will tell if they become easier to pull them over your ass upon further wearing.