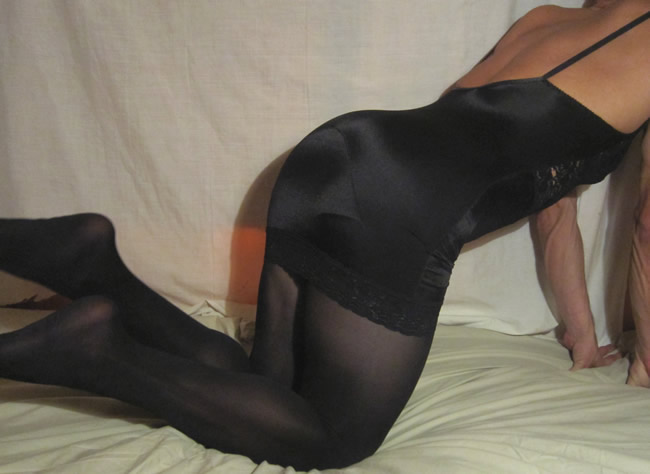 After going through my treasure trove (read: massive suitcase full of lingerie, pantyhose, tights and other womanly things) one recent evening, I came across an item that I have had for over twenty years now. What better way to bring back the old memories of this lovely charm than to slip in on for old times sake and see if I still "have it."
I remember buying this body slip, when I was sixteen, at a JC Penney after seeing an ad from the Sunday paper. I recall thinking that I absolutely had to have this while, at the time, I was experimenting with wearing lingerie for the first time. Lingerie, along with my teenage pantyhose fix, made me horny like nothing ever before during my youth in those days. Even more so than girls.
I believe it was also my second time ever buying lingerie (there's a story in here on my first time). As typical for a teenage crossdresser , I had to gather my nerve to head down to the mall with the torn-out ad in hand, head straight for the JC Penney, find this slip and buy it as quick as I possibly could. Hopefully without incident and me not having to chicken out from sheer nervousness.
As I raced through the lingerie section, with maybe two other women around who didn't notice me, there it was all nice and shiny black. I remember vividly picking it out of the rack, checking for the right size then trembling uncontrollably knowing that I have to be checked out by the young female cashier who also hadn't noticed me yet.
I quickly walked over to her register not even allowing myself to think about dropping this lovely piece of lingerie on the floor and bolting for the door.
"Will that be cash or charge?" she asked without even an awkward look from a teenage boy, who is actually buying a body slimming slip, right in front of her. She probably thought it was for my mom. My nervousness momentarily died down as one of the two women I saw earlier headed to this register with bras in her hands.
Yet as quickly as I entered the store and picked out the slip, I joyously walked out with the plastic bag in hand and anticipating putting on the lovely treasure hidden inside. I raced home (my parent's I should say) in my banged up car and, with nobody home, stripped out of my clothes, slipped into my shiny Burlington pantyhose (yes, I still remember the brand) then into my newly purchased slip.
I stepped in front of the full-length mirror in my sister's room and stared at how sexy that it hugged my sixteen-year-old body like a glove, which didn't need shaping at all. Really, instead of a shaping garment, it looked like a tight minidress suited for a night out at the club. I believe that was my first love right in front of me.
I must have come on it shortly thereafter since I just now notice some of those obvious stains marks in the front. Oh well, yet another souvenir of my younger days I guess.