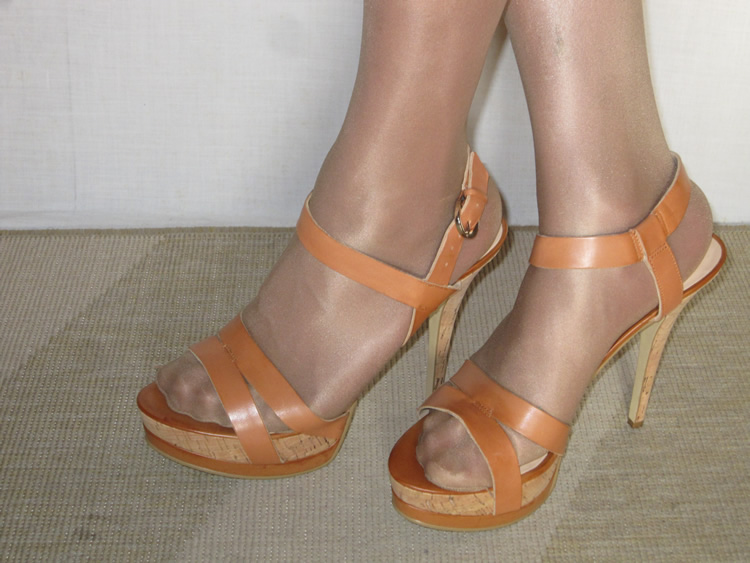 It's no secret that succession of crossdressing phases goes something like this: slip into your mom's pantyhose as a wee-tot, then try on a bra and heels and maybe her makeup a few years later. Then at point when you can pay for all this shit yourself, you buy them all for your very own. So shoes and in particular, high heels, would typically be a part of that equation. I'd say for most crossdressers in my opinion.
Well, somehow after all these years from the wee-tot stage, I still seem to have an aversion to high heels. I think they look sexy and I want to love wearing them since they are clearly the perfect accessory for gorgeous pantyhose over freshly shaven legs. I even splurged on some gorgeous leather clogs thinking that would spur my lust of the heels world. Sadly, those very lovely clogs have gotten few uses to grace my pantyhosed feet ever since.
"What gives?" I've been thinking to myself. I can't go out with just pantyhose and regular shoes. My high heels just aren't "doing it" either for me if you know what I mean. Then I finally realize the issue while browsing for heels one day: I never chose the right heels… duh.
Here's a quick rundown of my collection of high heeled shoes…
Six inch clear plastic heels and, yes the stripper kind. Cheap, uncomfortable and painfully obvious what they are for. Seemed like a logical purchase at the time.
Six inch over-the-knee glittery boots. No, they are not made from leather or even faux leather but fish-scale shiny fabric. Bought with the heels above. Ditto on the logic.
Wedge sandals. Found in a steal of a deal on eBay. Had to glue a strap back in place not too long ago. They still haven't made me feel quite like a supermodel.
Leather clogs. Definitely the most upscale high heels I've ever had but they are just not quite me and are, therefore, rarely used. I must not like heels then?
Yeah, I can see other crossdressers shaking their heads at me. Enough said.
First, let me start out by saying that one telltale sign of a true woman is her ability to look through and pick out a pair for herself. I found this to be quite a journey through hell at first. There aren't just a few high heels to chose from but THOUSANDS. I'm talking just high heeled sandals, too, not boots, flats, casual and whatever else to which there are millions more to browse through. OK, so this is what it is like for a woman when shopping for shoes… I almost call it a day. Almost.
After clicking through page after page of heeled sandals (my particular taste), my desire for new heels soon fades. That is until adopting a tried and true method (by your truly) for quickly filtering through all the clutter and finding the perfect pair. I use the "view all" option and scan the page and, with my peripheral vision, stop at each pair that catches the eye, maybe one or two for every five hundred pairs. I click, view the details, glance over the photos and picture how sexy I'd look and feel in them. If it passed the me-so-sexy test then bookmark it for later.
Usually there are other suggestions of what others who have purchased the very same pair have also bought toward the bottom of the page. I check those out to an even more narrowed down selection of what appeals to me. Holy shit, so I see that other women have the same taste as I do! Now shoe shopping is starting to gain my interest as my femme tastes appear to be more like a genuine woman. Oh let the fun begin!
Out of maybe three thousand or so heels of browsing through, I settled on four that would look stellar caressing my shoeless feet in pantyhose. Yet I don't make a purchase just yet. They are bookmarked in my browser and the same selected pairs are looked at every time I get an itch for my new heels. In other words, I start to completely obsess over them. Nothing wrong with that but what I feel is a maturation period where I can imagine strutting around in them. Maybe even dream of having my ankles bound wearing them. Yes I want them…
Yet, I still wait, not quite sensing the right time for purchase. My senses prove invaluable as I return to the website and see the magic word that brightens any woman's eyes…
SALE!
So I get to it and buy two pairs that I have my eyes (and naughty dreams) on. A pair of brown Guess Geary 5 1/2 inch platform sandals and Buffalo Alisha 5 inch platform sandals in black with white polka-dots and pink accents. I receive them maybe a week later after an excruciating wait, rip open the boxes and finally slip the Guess pair over Filodoro Diana playa pantyhose covered feet. Then a feeling came over me that I get every once in a while but usually very rare…
If I can put it into words, it is almost an orgasmic experience as if I'm about ready to come yet without even a single stroke on the stick. I feel aroused and completely taken over by how sexy those heels look on me standing in front of the full length mirror. I'm in complete awe that 1. High heels have finally filled that void in my femme side and 2. These actually turn me on, I mean really on as if they were the long lost sister of my beloved pantyhose.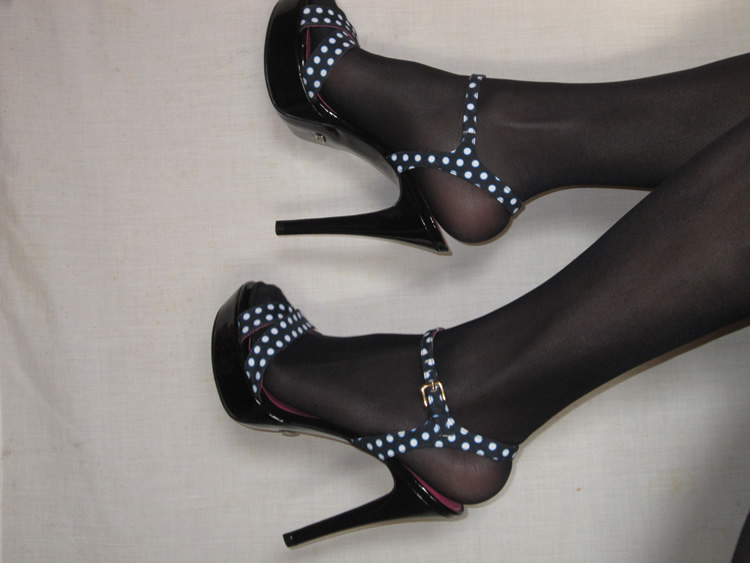 Next, the Alisha heels over some dark Filodoro Diana pantyhose. Oooh, that dreamy non-stroke orgasm yet again. I'm still immersed in that glowing womanly body buzz and now know what heaven really feels like.
Now, don't get me wrong. I'm admittedly not one to give advice on the right high heels or shoes for the crossdresser. However, if you haven't found a pair yet that makes you nearly come on your ceiling, look through the millions of pairs at your disposal online. It's, really, a shitty job but once you find that proverbial toothpick in the haystack, there's is no escaping the orgasmic experience when your feet finally slide into them.
You can trust me when I say stay away from the stripper heels though.