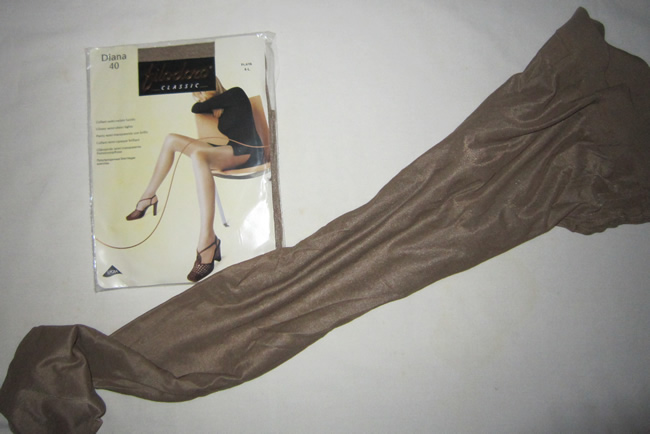 Being a frequent buyer of pantyhose, always looking for that perfect color, shine, silky feel etc, as I go through many trials with new brands. This one was no different. So I decided to try an Italian pantyhose brand, Filodoro Diana 40, so at the very least I would know that the quality would be there.
From the look of the description and then the package before I opened them, they seemed to be everything I was looking for: glossy shine, semi-sheer and available in a suntanish color I like to set my comparisons to. But would it be up to the challenge of satisfying a picky pantyhose fetish?
Initially, well, sort of. They are indeed silky and a little bit snug and definitely comfortable. The shine, however, was something a bit left to be desired by yours truly. I enjoy a lustrous, glossy shine yet these pair, in color Playa (suntan), seemed to have a more dull finish with barely there glossy tones. Negative marks in my book.
Then, I happened to slip them on again but accidentally inside out. Oh what a change it brought!
Since there is no tag in the back of these pantyhose, this mistake can be easily made but am I ever glad that I did. All of a sudden the shine on these silky babies transformed from rather dull into very lustrous and smooth reminiscent of JC Penney tights and, I'll even go out on a limb and say it, my favorite Wolford Neon 40 pantyhose.
In other words, they all of a sudden have the best shine out there. So time to erase those negative marks and get down to the real deal of the Diana 40. First up, throwing on a tight, sexy mini-dress and stilettos and taking a strut. I'm amazed how just the inside out move radically changed how I feel in these.
Having a walk around the house in these feels very silky and comfortable not to mention look incredibly sexy if you want to transform your legs for a night out on the town. My only gripe, though, is that the waistband is somewhat loose as well as the panty and legs fitting slightly less snug than I like too. So you may find they can roll down a bit after strolling around in your heels.
On the bed with the mini-dress and heels off, however, is a different story. They look fantastic in that Playa color when posing in front of the mirror on the side of my bed. They also feel fantastic rubbing my legs together, then rubbing them with my toes, getting me off as only the best shiny pantyhose can. Of course, it was enough to make me have to relieve myself right then and there. Definite high marks as fetish material in my book.
I absolutely love these on me, and I'm sure you would feel the same with these on you too. So don't hesitate to add the Filodoro Diana 40 for your fetish collection. Just remember to turn them inside out to enjoy the shiny side… if that's your thing of course. It definitely was for me.