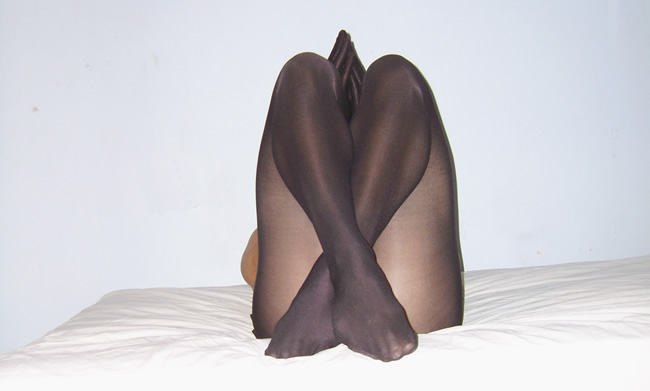 Unfortunately, I've been a bit under the weather this past week. Nothing, however, beats the day that you wake up, sickness gone, and go about doing the things you had planned to do before the illness began.
Take today for example. I feel so good that the first thing on my mind is throwing on some of my girly wear to capture that silky feeling I love so much. But then I thought, "Why stop there?" Since I feel like this is a day that I can dedicate purely to crossdressing, I might as well document it all, right?
Of course it may reveal how absolutely boring I am but I don't give a shit. I'll have my fun (alone), then write…
8:03 AM: Wake up full of energy and unusually horny. Since that usually means I grab the Wolford pantyhose, I pick out one of my pairs in a black (Anthracite) color and slip into them. To match, I also throw on a black Wolford body, similar to a spandex leotard but a bit more stylish. Add to them black leg warmers (it's cold here), a comfy robe and my slippers (for women) and then on to eat breakfast.
8:25 AM: I read some new blog comments. One reader makes a note of Platino Clearcut pantyhose having a silicone coating making them more "slippery." I make a mental note to get some as soon as possible so I can slip and slide around in them… sounds very hot and sexy. Meanwhile this makes me very excited as I cross one leg over the other and dangle my slipper over my shiny black foot.
8:35 AM: Still in the horny mood so what better than looking at a few websites to get me off just a little more. All I have to say is thank you to the inventor of Tumblr and Art of Gloss supplying quality pantyhose content for deviants like myself. I can't help but to start rubbing myself over the Wolford body and giving myself an aching erection.
9:02 AM: I break out another trial run with the Fleshlight for an upcoming post. It's basically a male masturbator in the shape of a flashlight and with a soft silicone interior for penetration. I mount it between two pillows on my bed, undo the buttons at the crotch of my body, pull down my pantyhose, throw on a little lube over my erection and go to work on it. It is quite an enjoyable toy actually.
9:15 AM: I wash the come out of the Fleshlight and leave it out to dry. This thing will surely get high marks for my review. Normally post-come, I get out of my feminine wear and go about as normal masculine me. This time, however, I decide to leave the body and Wolford pantyhose on, throwing on a sweatshirt and jeans over them and then carry on with the rest of my day. Not feeling very male today and loving it.
9:49 AM: Before I go out the door to run errands, I decide to take my sweatshirt off so I have nothing but my Wolford body showing as a top. I throw on a warmer coat and zip it up so just a peek of it is showing and possibly noticeable to the trained eye. Out the door I go.
10:25 AM: I stop by the post office to check my box. I'm delighted that a Flexees slip that I ordered finally arrived. I already have one, same brand, that I purchased as one of my first pieces of lingerie about twenty years ago. I'm very curious of how the updated version will be like after I found that the same slip is still available under the same brand. Yep, another lingerie topic for an upcoming post.
10:32 AM: I stop for a coffee at a cafe with an outdoor terrace. I zip down my coat a little bit more, revealing more of the black shiny spandex body underneath. Then I cross one leg over the other, just revealing the shiny black pantyhose as my jeans lift up. I think a woman at a nearby table notices but not too sure. Maybe she's being polite. What do I have to do to make it known, but not obvious, that I am a crossdresser, take off my jeans? I'm sure if I order a beer I would.
10:45 AM: I decide against the beer and leave.
12:20 PM: I make it home from running errands. Nothing too exciting except for the Flexees slip inside the package I am holding. I rip it open, pull out the lovely piece of lingerie and cut off the tags. I can't wait to try it on as I strip out of my jeans, body and pantyhose into nakedness. I grab a pair of Filodoro Diana pantyhose in a beige color (Playa) from the drawer and slip into those. Then I slide into my new nude colored slip and have a look. Twenty years of crossdressing comes full circle with one garment, beautiful!
12:32 PM: The Fleshlight appears to be dry. I do one more trial run just for safe measure. Wow, what an intense session with my sexy new slip taking me back to my teenage days with that first slip I bought. I guess you can say I'm living out my youth in a perverted way.
12:40 PM: Wash out the Fleshlight again, leave it to dry. But enough of the crossdressing for now as I take it and my pantyhose off and nicely fold them into their place in the drawer. Back on goes the sweatshirt and jeans. Ugh, about time for work… as a male. Yuck!
9:00 PM: I'm home from work and begin to write this post. Looking for an image to use and came across the one above from my archives. I believe it was an attempt at that one iconic Elle Macpherson photo wearing nothing but black pantyhose from a Playboy issue a while back. Or maybe it wasn't. OK, I'm a wannabe Elle which I'm not afraid to admit.
10:10 PM: Post is done! Now time to check if the Fleshlight is dry again.