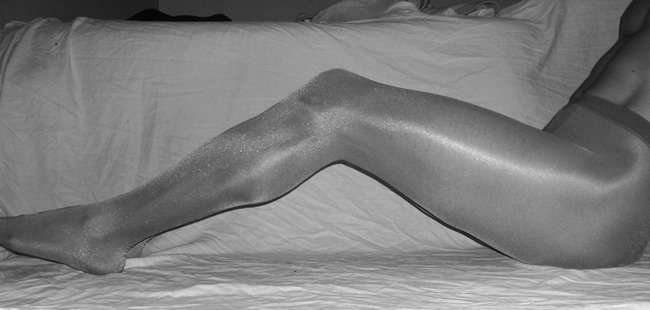 Odds are that if you are reading this right now then you quite have the pantyhose fetish. You probably even have on a pair right this moment slowly massaging your growing hard-on as you are reading on these words like an erotic fantasy. Don't be shy or afraid to admit it (I'm not as I am writing this). Let your lust for silky nylon take over and dominate you.
Now I ask, is that all you have on, just a favorite pair of pantyhose from a cache full of others of varying types?
If you've moved on to crossdressing (clearly not forgetting the tights either), then you can move on to something a little more "advanced" to wet your self-feminine lust for now.
However, if slipping into pantyhose for playtime is only your thing then this isn't a knock on you of course. After all, it was for me for many years in my younger days. That is, until I discovered how sexy and gratifying it is exploring other aspects of feminine allure from more than just a sheer undergarment.
This would be commonly referred to (by "us" of course) as the start of crossdressing. While, technically, fooling around in just your tights or pantyhose would be considered a fetish, by those who consider themselves knowledgeable, this really is an initial stage of crossdressing that is dying for exploration by the curious.
If, you're like me then pantyhose will always be the primary focal point of your en femme fantasies. Yet, if you haven't yet tried out throwing on some sexy lingerie over those tights or maybe a tight mini-dress and stiletto heels to go with them, go steal them from your girlfriend or mom. Then slowly fall in love with yourself as you stare into that full-length mirror.
What really seals the deal, however, is ripping away those layers of women's outer attire, reaching under your pantyhose to pull out your painfully hard member and stroking it while pretending you're the most sexy woman out there. You'll never forget that first orgasm with heels on though I suggest you not come in them, just so you know.
Yet the fantasy doesn't stop there. Immersing yourself completely in your emerging femininity opens the door to being curious about many things as a woman. Ever wonder what it is like masturbating or being fucked like a woman? No one will stop you from trying out that vibrator from behind closed doors.
Try it! It hurts the first time (like it should) but just remember to use a lot of lube.
Oh then, finally, we get to the more advanced topics of the crossdresser lifestyle which is prying yourself out of the closet and finding friends or partners to share the experience. Genetic women who are understanding of the lifestyle are always a pleasure even though they are hard to find, or should I say, hard to admit it to.
But other crossdressers and transvestites, who are of course sympathetic, are even more fun to get to know. Plus they can help you act out your "getting fucked" fantasy if you know what I mean. Maybe that is for another day though 😉
Until these unforgettable times, though, there is nothing taboo about exploring the crossdressing side of you. It's just a matter of thinking past the pantyhose "fetish" and letting your emerging fantasies lead the way… the dirtier the better.