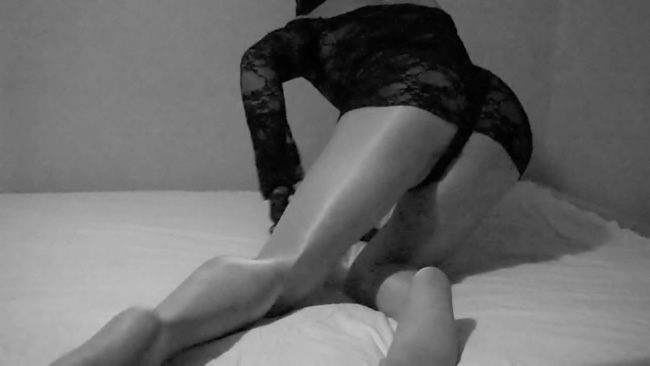 Part 1: Fantasy Gone Horribly Wrong
* * *
Part 3: "Hard" Lessons Learned
Renee continued to eagerly suck on Rob's member, or should we say blowing the Wolford pantyhose encasing it. Since it was his first blowjob, yet alone while transformed into a very sexy girl by his mother, he didn't know what to do or what to expect, normal for a teenager. Yet he really didn't have to as his erection did all the talking that was necessary.
Then came the point of climax a short while later as Renee kept to her task, not missing a slurp over the silky nylon covering his rod. "Ahhhhh," Rob let out as he came with a pool of hot sticky love juice squirting out through his newly bought Wolfords. Renee was kind enough to lick it all off hungrily not wanting him to "stain" his pantyhose on his one night out as a woman.
"Did you like that?" Renee asked.
Rob, still in the afterglow of his first hummer and at a loss for words, replied, "Um, well… sure."
Renee gave a quick kiss to Rob, giving him some of her still-come-soaked tongue, then unlocked the bathroom stall, quickly straightened her hair, wiped her face clean and calmly walked out of the ladies room. Rob then soon followed suit, adjusting his now-wet pantyhose and red mini-dress. His makeup was even noticeably smudged yet he didn't care, showing a huge smile he couldn't help but to have on his face.
His mother Wanda got up from her seat at the bar and went up to Rob after seeing him walk out of the ladies room.
"Where have you been and… why are you smiling like that?" she asked in a rather worried tone.
Wanda, as old-fashioned as she was, was completely oblivious to the obvious signs of what transpired earlier in the women's bathroom. Instead she became concerned that her son might actually be enjoying himself dressed as a young woman, and a sexy one on top of that. This was definitely not a part of her plan to teach her "supposedly gay" son a lesson to never crossdress (whatever that was) again. Or be gay either.
"Time to take Rob to a real place which should really embarrass him," Wanda thought to herself as she grabbed his hand and made her way out of The Horseshoe. Rather angry at her faltering plan (but trying to hide it), she then told Rob her next "plans" for the evening.
"Now we're going to really have some fun my dear," she said to Rob, smiling, as she first fixed the smudged makeup on his face. Then they got back into the car and drove off.
Wanda thought the next stop, Mix Club, would do the trick. It was always full of younger people, as she would know, since she had usually frequented it being the "cougar" that she was. Rob would be hounded by so many younger college-aged guys that he will leave the place in tears begging his mother to take him home.
"Yes, that ought to set him 'straight' this time," she thought as she was driving.
That's we she thought at least.
They soon arrived at Mix Club, rather early in the evening, but with a lot people inside. A lot of young men, that is, which eased Wanda a bit knowing that her son would have to put up with the sausage fest inside being the only "girl." That left Rob being the pretty young crossdressed girl with his pick of the guys. The thought of this made Wanda laugh to herself.
Meanwhile Rob was petrified at the thought of stepping inside. Although he could say he had a successful outing at the last bar, he had another girl he could at least (ahem) talk to. He wasn't too sure if his crossdressing for a psychology project story would fly with the numerous amount of guys inside.
Wanda, yet again, grabbed her son by the hand and made her way inside. Immediately she spotted an old "acquaintance," a college student she had met at that same club weeks ago. She left Rob behind to fend for himself knowing full well that, this time, he wouldn't leave with a smile this time around.
Rob's earlier confidence at The Horseshoe started to wane. He could hear those whispers as he walked through the club and among the younger men.
"Is that a dude?"
"I don't know but I'd do that."
Then Rob walked up to his only sanctuary, which had served him well in the last bar: the women's bathroom. He walked in, no one around, entered a stall and locked the door, too afraid to come out. Yet, while sitting on top of the toilet, he couldn't help but to recall the excitement of Renee sucking and slurping on his pantyhose covered penis a short time earlier.
In fact this made him so horny again as he lifted up his mini-dress revealing the pantyhose and lingerie he had bought earlier in the day. He then massaged his member over the pantyhose making it rock hard again and sticking out of the shiny nylon like a tent. He then began to wank it, hard, pretending Renee's lips were all over it again. He rubbed his legs together enjoying the silky feel of his pantyhose, heightening his pleasure even more.
His fear of the masculine world that was just outside was momentarily replaced with his self-erotic joy. Yet just a few strokes into his masturbation, someone walked into the bathroom. Rob suddenly stopped his jerking off and remained quiet ripping off a piece of toilet paper to disguise what he was really up to.
"Excuse me," said the voice, feminine but somewhat deep, from outside of the stall.
"Yes?" responded Rob, slightly delayed in getting his girly voice back together.
"Hi, I noticed your outfit as you were walking by."
"I just love that dress and tights."
"They look so sexy on you!"
Rob was rather shocked but flattered by what he had just heard. All of sudden his confidence came back as he flushed the toilet and pulled down his dress trying intently to cover up his hard-on. He unlocked and walked out of the stall to the site of an amazing beauty before him… another woman in a similar dress, but in black, and with what also seemed to be black Wolford pantyhose to go along with it.
"Hi, I'm sorry to bother you but I just had to say hi," said the young woman. Yet Rob noticed something odd about her. "That voice, it sounds rather manly, but she can't be…" he thought, "but she looks so sexy." The next thing he heard, however, confirmed his suspicion.
"I also like to play dress up to too hun."
(To be continued…)