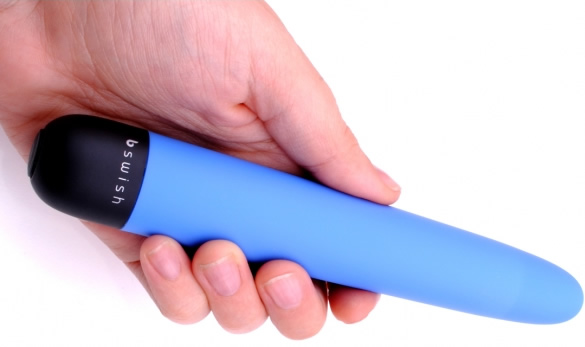 Sure, as crossdressers, transvestites or weekend femme-seeking warriors, we like to dress the part and maybe prance around doing that walk that makes our hips shake.  I'm willing to bet, however, that most of us haven't had the pleasure of partaking in another feminine pleasure.
That is, the ever popular vibrator.
Yes, I know it may seem a somewhat odd choice given our anatomy but truth is it can actually be an incredibly pleasurable and addictive experience. I can even tell this to you first hand.
Some time ago I purchased the Bswish Bgood vibrator for no particular reason but curiosity. OK, a lie. I was intent on experimenting with anal play and this just seemed like the perfect sex toy which I ordered, brand new and ready to go. It's 7 inches long (18 cm), 1 inch wide (2.5 cm) and, after finding a couple of AA batteries to insert, has five different vibration settings to choose from.
I don't waste time in throwing on my black JC Penney tights and a sexy black babydoll then eagerly head to my bed to try this thing out. I begin by playing around with the vibration settings. The first three have a constant vibration but increasing intensity with each level and the last two are pulse vibrations, one lighter and the other stronger.
I select #3, the constant but strong setting which nearly vibrates out of my hand. Then I decide try out a technique I heard of in a forum a while ago. To sum it up, a transvestite was having sex with another transvestite and explained in great detail how, while she was in her pantyhose, her lover would try to enter her backdoor, but with her cock penetrating through the pantyhose.
I curiously try the same with the Bgood. Though you have to pull the crotch of the pantyhose as far back as you can, covering your "rear door," then try to penetrate through the crotch, it is quite a nice feeling indeed. It is rather difficult to penetrate anally more than half an inch (1 cm) through my tights but the intense vibration against what it does reach is highly pleasurable. Given the novelty of it, too, it puts me in an instant horny state.
Now time for the no-obstacle penetration test. Not wishing to make a hole in my new tights, I pull them down just pass my ass and lie on my back. Then I lube the vibrator down, pull my legs back and gently probe it all the way into my ass. I try each of the different settings but settling on the same  one as before, #3, while I thrust it in and out, slow at first then increasing speed.
Oooh, this is SO nice and incredibly erotic, so much so that I notice I begin to pre-come without even having to touch my cock, still hard I might add. Then with a slight tilt of the vibrator, I massage my prostate which leads to more pre-coming and a gratified self. Yet after this little date with the blue rod, I still had to masturbate and release that tension still remaining the rod so wonderfully gave.
So after cleaning it back to a nice and fresh state, I try it out again but this time on my throbbing member. Using the same #3 setting and lying on my back once again, I massage my cock with the vibrator which feels oh sooo incredible, especially on the sweet spot just underneath the head. This thing seriously gives my hand some stiff competition.
Then, as I pull my tights back up with my rod pointed up so the head just barely peeks out of the waistband, I gently massage the sweet spot again until, at last, I come in a sticky white flood overflowing the top of my stomach. I can finally exhale in sheer ecstasy.
It goes without saying the the Bswish Bgood is definitely a must have for sexy, and a bit deviant, self pleasuring. Sorry genetically defined women, we'll have to steal this one from you too.
You can find the Bswish Bgood Classic online.