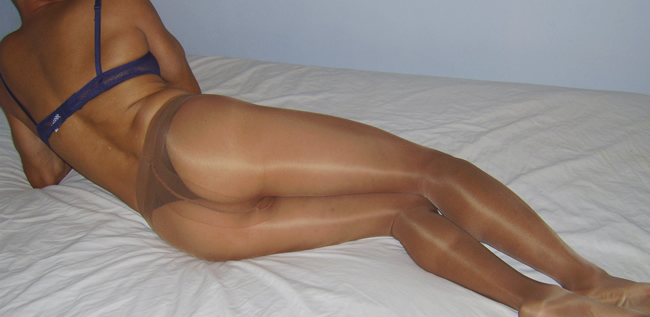 There is nothing like opening a package and trying on a new brand of pantyhose, like a kid unwrapping a Christmas gift, and eagerly anticipating how sexy your legs will look. Well, actually it is awaiting how nice and silky they feel just before you accidentally come all over them.
Having the pantyhose fetish that I do, so quite the tester, usually about half of the new pairs I try disappoint me. Either the shade turns out quite repulsive or something about them gives away that they are cheaply made, usually a waistband that likes to roll down as if it were afraid of your belly button. Maybe even its aura is off for me, who knows?
Yet today I wasn't at all disappointed when trying on my new Platino Luxe 40 pantyhose in a Vienna shade (dark suntan). Actually I had purchased a couple of other Luxe 40 pairs before this one a little over a year ago, one an Ocean shade (blue) and the other Ultra Violetta (purple). I quite enjoyed their feel, snug and silky, yet the colors were a bit wild for my tastes. So they very seldom received their "usage."
It was obvious from my original purchase that these were high quality pantyhose given their snug but not-too-tight fit and lustrous not-too-shiny glow. Also walking around in the Luxe 40 with a pair of heels feels very comfortable and natural. The waistband stays in place and your legs stay gorgeous with no wiggle adjustments necessary to maintain their upright fit.
I've been very curious, however, how a more natural shade would look and I have to say I was absolutely thrilled with the Vienna shade. I'm even more happy to say that I have managed to keep them come-free from "testing" thus far.
But back to the color, it is this very shade that really draws me to adore these lovely hose. It is a shade barely above a suntan color and gives my legs a gorgeous naturally enhanced tanned appearance (if I say so myself). Combine that with its sexy glow and clingy, comfortable fit and you have the making of pantyhose that climbs up near the top of my favorites list.
These could probably be best compared to Silvia Grandi Silk 40 which are rather similar in their high quality and appearance but the Luxe 40 takes the edge due to its higher softness and that Vienna shade that I now so adore. Unfortunately the Luxe 40 cannot quite knock my beloved Wolford Neon 40 off of its perch at the top of my favorites but, not to worry, they are more than enough to satisfy your fetish and will indeed have you come in them in no time flat if you're not careful.