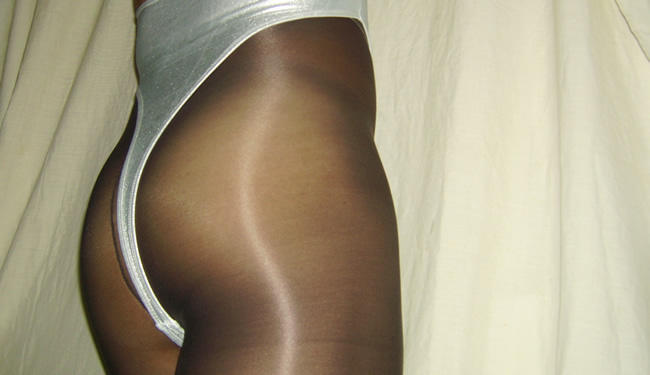 Part 2: A Date With Cherry Knot
Part 1: An Offer I couldn't Refuse
* * *
Part 3: Jane Fonda's Kinky Workout
Next Saturday couldn't come soon enough (pun intended). I arrive at the studio again to the same movie crew, Tanya, Paul the cameraman, Tom the producer and the lovely Cherry Knot. Yet, there was one other person there not present last week who I was introduced to as Janine, the crossdressing star Tanya had mentioned who was very beautiful and convincing. She wasn't lying.
Both Cherry and Janine happened to be dressed up in their "costumes" already which consisted of spandex thong leotards, super shiny pantyhose, leg warmers and a cute little belt around their waists. This is quite the getup to satisfy that throwback leotard and pantyhose fetish that I guess they were seeking to do. I even remember my own fetish developing from all of those workout videos of the 80's my mom had. Yet, to this day, it never goes away.
Tanya doesn't waste time in handing me matching garments to wear: a shiny silver thong leotard, belt, black legs warmers and a pair of black pantyhose that weren't the Wolfords from before but similar shiny workout tights that Cherry and Janine are wearing. I recognized them as being workout tights from JC Penney which I love to wear.
I quickly put them all on, which mildly arouses me in the process. Next I get the wig and makeup treatment transforming me back into the adult movie star in my trial debut last week. While getting my face painted gorgeous, Tanya gives me the rundown of the "script" for the movie we are about to film, a scene in an aerobics class. A bit cheesy, I have to admit, but I go along with it.
There are not many lines to memorize, just the various sex scenes and positions for us to partake in. I gasp as I read through what we are to do since I haven't even performed some of these with girlfirends much less another crossdresser (not going to spoil them to you yet ;). Add a third party to the mix, Cherry, and now I'm trembling from the nervousness about how I will perform next to my other far more experienced costars.
Yet the deviant side of me can't wait to try these out and later watch it over again as a movie starring yours truly.
We then head off to the set nearby with three exercise mats in place of where the bed use to be and nothing else but a double dong dildo (hint: part of the script) and a bottle of lube off to the side. Oh, and two cameras, one still manned by Tom and the other, manned by Paul, moving around to catch the perfect shot while we move around in our various positions. I see Tanya with a regular picture camera ready to take still shots of our kinky retro crossdressed and pantyhosed sex.
We all take our places, then ready, set, action!
Me, Cherry and Janine begin by lying on our sides with our legs extended and doing leg lifts with Cherry leading the way.
"Two and three and four. That's it legs up high!"
On the last leg lift, Janine gently caresses my tights with her own pantyhose covered toes as we both look at each other with a flirtish smile.
"Ok, finished. One last exercise to end this class," Cherry says. I start to rub my own legs against Janine's  while she caresses the nylon covering it with her fingers. As the script calls for, we begin to grab each other and make out passionately, still on our mats. Then, with an added twist, we each rip a large hole on the back of each other's tights, all while keeping our faces planted in our erotic making out.
Cherry comes towards us with the rather long double dong, already lubed down. "Now get into position."
Janine and I position ourselves on our backs, legs as far back as they can go with each other's ass touching the other's and feet playfully touching. Cherry slowly inserts the dong simultaneously deep past both our sphincters then holds it in place. As we let out a collective moan, we prop ourselves up a few inches on our elbows and feet.
"Ready? And one.."
In this admittedly awkward position, Janine and I thrust our asses toward each other back and forth on Cherry's count. Just as Cherry releases her hold on the dong, we continue our synchronized pounding reaching deeper each time until our butts started slapping in an audible clap. We scream in pleasure (also in the script) but truly enjoy it as I can see that Janine isn't faking her expressions.
"Fourteen and fifteen, now stop," Cherry yells as she pulls the dong cleanly from our asses.
"We are done," she adds while clapping and us following suit. "Same time on Thursday and don't be late," she says while exiting the scene and leaving Janine and I on our mats on the floor with a large hole in the back of our tights.
"That was a great workout," I say, being one of my scripted lines. "I bet I can give you a better one," I add as I lightly touch with my hands over the shine on Janine's brilliantly tan tights.
"I believe you dear. But can you really satisfy my fetish in sexy pantyhose," says Janine in one of her lines as we begin the filming of scene 2, or according to the script, the where the fun sex really begins.
(To be continued)