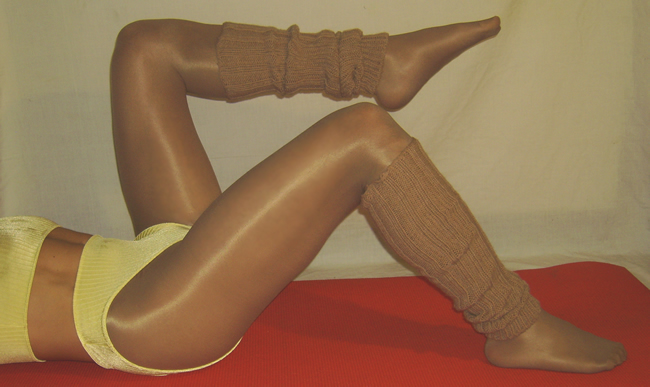 Part 3: Jane Fonda's Kinky Workout
Part 2: A Date With Cherry Knot
Part 1: An Offer I Couldn't Refuse
* * *
Part 4: Ripping Our Way Through
Given my and Janine's natural connection in the first scene, the crew decides to keep the film rolling rather than breaking for another take. Feeling rather hot and horny myself after our ass play with the double dong, I don't want it to stop either. I can see Janine would agree from the lustful smile she is giving me.
We enter scene 2, still on the floor, and say our couple of lines.
Me: "I can't resist you in your shiny leotard and silky tights."
Janine: "Oh, I love it when they touch together!"
OK, not exactly Oscar winning dialog here but we start continue our crossdressing play caressing each other's body and legs with some light kissing which leads us back into the full makeout we were doing earlier. Then, on cue, I reach down for the rip in Janine's tights and extend it all the way up to her front, revealing her super hard girly rod which pops up like a jack-in-the-box. I now realize my longtime pantyhose fetish finally gets the upgrade it has always waited for: full on pantyhose sex.
Janine lies on her back, legs wide and supported on her elbows. I position myself on my knees and crouching between her nylon clad legs. Then, eagerly, I swallow down her love tool whole like a popsicle sucking as hard as I could easing it in and out. Janine lets out a shrill scream. I can see I even leave a ring of fuscia lipstick around her joyrod which makes blowing her feel little slutty, which I like.
After a few minutes, I get the cue for another one of my lines. "I want this inside me now!"
While Janine remains in her legs-wide position and lying on her elbows, I move myself to where I squat down on my feet, legs wide and outside of Janine's, with my back to her. This strategically places her girl rod pointing straight up at the large rip in the back of my tights and ready for my first sex encounter with a crossdresser, on camera on top of that. Janine then pulls my silver leotard down and around my leg insuring no obstacle gets between what is about to be hers.
I slowly begin to sit on her shaft feeling the penetration up my sphincter then making its way slowly deeper and deeper in my ass and giving me a pure sensation of being fucked like a female, which I find exhilarating. Deeper it goes, then I stand up slightly for the downstroke and squat back down again thoroughly enjoying the pleasure of each thrust and letting out a moan to show for it.
Janine then props her ass into the air thrusting on her own as I continue my up and down motion. The penetration continues faster and harder with a loud clap audible from her hips ramming my butt cheeks with considerable force. We both moan in high, girlish and loud screams in unison.
We change positions after maybe 2 minutes, me lifting myself off of Janine's battering ram to lie down on my side with my back to her. She positions herself right behind me and penetrates me again as I lift one of my nyloned legs and hang it over Janine's leg giving her easier backdoor access. I enjoy this much more relaxing position allowing me to completely basque in our crossdressing sex escapade while Janine reaches her hand over and caressing my raging member through my shiny tights.
A few minutes later, Cherry is cued back into the scene. "Oh, you two still here? Might as well finish another workout then."
In a "surprise" move, Cherry takes off her leotard revealing her large and voluptuous breasts and tears a hole in the front of her own tan workout tights. Ready, she joins the "workout" still in progress on the floor.
She doesn't waste time in kneeling down over me and ripping my tights very wide open in the front, as I did with Janine, uncovering my own rock-solid member jutting out to greet her. Cherry takes several swallows blowing my throbbing cock and leaving it painfully hard. Meanwhile Janine doesn't skip a beat, continuing to pound my ass as if she seemingly wanted to make it hurt. It does, but it is well worth the shocking chill it is giving me.
After several minutes that I wished never ended, we finally get to the climax of the script, so to speak. Cherry lies in front of me and on her side facing me, then grabs my cock and inserts it into her hot wet snatch. With her hips, she gyrates down then up, gliding over my member with ease and turning us all into a nylon and spandex sandwich with me being the proverbial meat. I somehow manage to stay completely stationary aided by Janine's and Cherry's perfectly synchronized pantyhose fucking to my front and back.
Minutes later, we change into our final positions. I am on my back, Janine on her knees and mounting me on top, while facing me, and Cherry sitting on my face, now buried in her sweet delicious muff, which I being to lick and eat in enjoyment. Meanwhile, Janine slowly shoves my cock into my rear love tunnel and motions her ass up and down riding me while, with one free hand, jerks herself off to keep her rather enduring erection lasting longer.
After long highly pleasurable moments in our threesome, I give the signal with a light tap of my hand that I am about to come. Janine release herself from my cock and inches forward up to my chest while Cherry makes way for her. Cherry moves down and grabs a firm hold on my member, jerking it off quickly. Janine rapidly masturbates inches from my face until… SPLASH.
Simultaneously, and perfectly on cue, we come with Janine exploding all over my face and mouth and me managing to shoot and hit the back side of her leotard and tights. I lick the hot honey off of my lips, curiously having a taste of Janine's love juice as a momento.
"That's a wrap ladies," Tanya says as she, Tom and Paul put down their cameras and give us a round of clapping.
* * *
A little over a month later, Janine comes over to my place with a "surprise" in hand, at last, the final cut of our movie. I pop in the DVD and we take our place cuddled together on the sofa with the both of us in nothing but our favorite pantyhose and lacy lingerie on. A date night at home with a movie I guess you could call it.
"Two and three and four. That's it legs up high," we hear as the video begins.
But that was the only thing needed to stimulate us as we start to passionately make out, quite an obvious attempt at us recreating our past love scenes.