Ever see something that on first glance you just have to have it? Yeah, like I really have to ask a crossdresser such a question with an obvious answer? Well, several months back, my eyes glanced on this vegan leather bodysuit from Wolford that made me nearly come in my tights. Aside from that, it is a collaboration with Amina Muaddi and (YIKES) has quite a hefty price tag, $665 in the US and £409 in the UK. OK, I would have waited until the end of season sale for this one I guess.
Yet this thing was so gorgeous I debated selling my car, plasma… my body just to be able to slip into this sexy, kind of fetichy garment. Alright, no I didn't but you could see what I mean. I really did have to have it.
Then it turned out that miracle happened and I found this very same Wolford bodysuit on Vinted for $100 in perfect condition. It was in a size small which, normally with Wolford bodysuits, I can fit into snugly. So of course I would also like a (vegan) leather bodysuit to look like it were painted on. At a fraction of the price, I rushed to buy it and eagerly awaited that delivery truck like the ice cream man.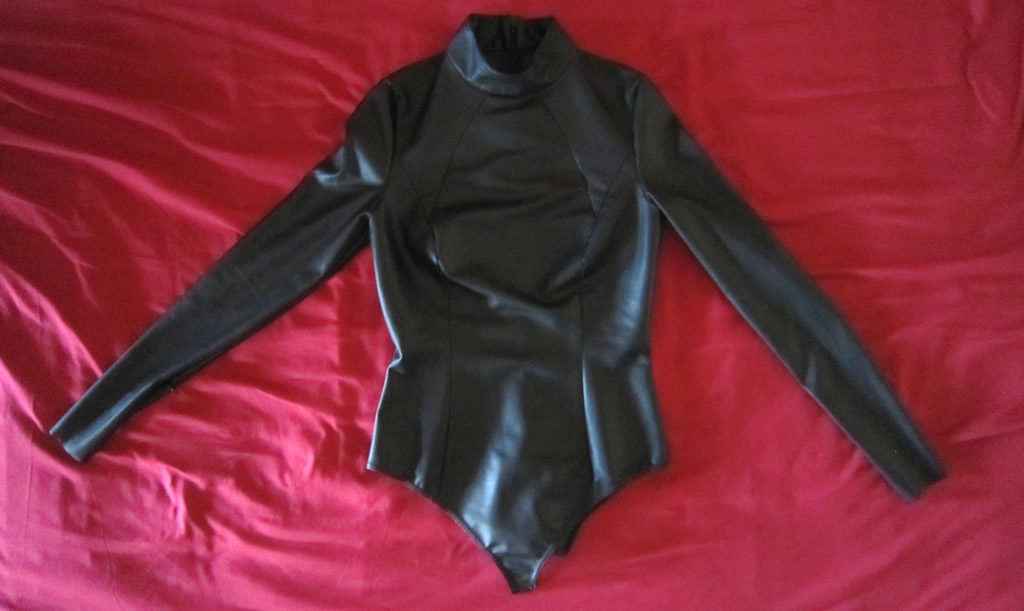 This bodysuit was really quite stunning. I have a million Wolford bodysuits but this one really stood out. I fantasized how this will look on me and got myself ready to somehow slip into this thing. I saw a zipper in the back and on the sleeves from the wrist area so this wouldn't be too difficult, at least I thought so at the moment. Anyway, I took a quick shower and dried off and threw on some black Wolford Neon 40 tights because what better to pair "leather" with, right?
The adventure had begun.
Attempt #1: Looked like you have to step into this thing and somehow wrangle it up your torso and into your arms. This didn't go so well as I literally started wrestling it to just get it up to my butt. There is not a lot of stretch here but I managed to do it, albeit I heard a faint tear somewhere where the ass crack was. Oh well, I'd fix that later. On to the arms which I had to really tug at but managed without further tearing.
OK, now there was that pesky little zipper in the back…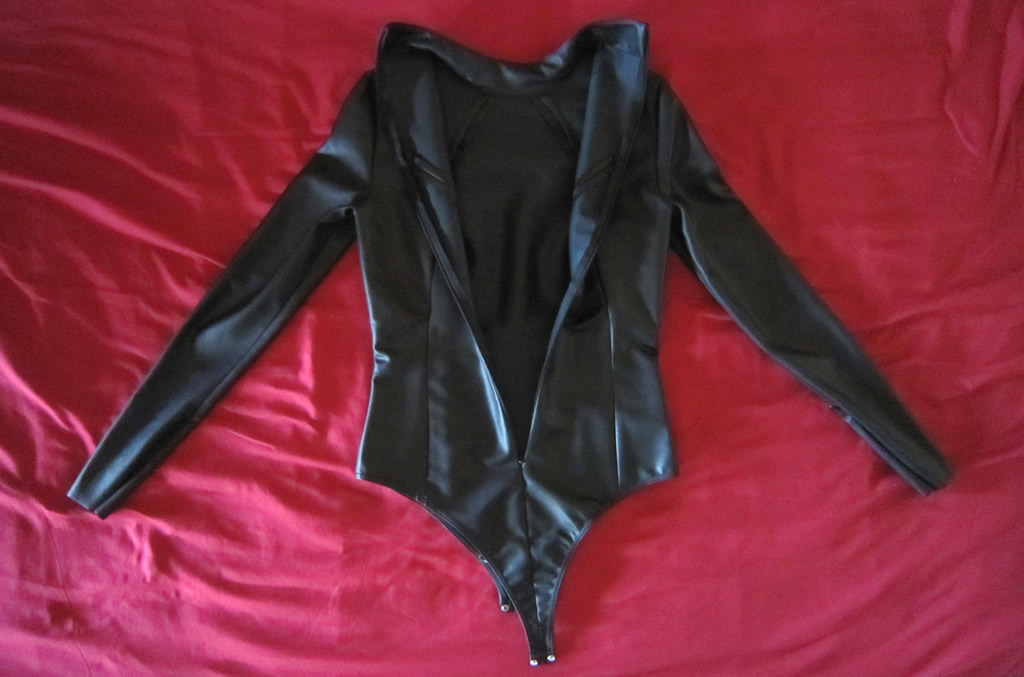 I had a couple of girly garments with zippers in the back which I was able to zip up with a little arm contortion. I figured I could similarly do it here so I gave it a try. The zipper did not even budge. I tried jumping and pulling on the zipper, no dice. Looks like I needed help of some kind.
Attempt #2: I fabricated a hook out of some heavy wire and attached it to a long piece of string. Then I repeated the wrestling and wrangling  to get into the bodysuit and attached the hook to the zipper. I tugged and tugged at it and it moved this time! It only moved up about two inches though before it was unwilling to go further. I tugged so hard, I thought I would rip it so I stopped. Well, some progress at least.
Attempt #3: I discovered that when I was tugging, the arm that was doing it actually forced the zipper opening much wider. So to handle this, I used a longer string for the hook and attached the other end to the top of a closet drawer which sat a bit higher than I was tall. So back to the wrestling and wrangling and attaching the hook but, this time, I curved my body backwards and pulled my shoulder blades together to give the zipper some ease. I moved backwards as the hook did it's thing at it moved a couple inches inches more this time… before not going any further, again. Bummer.
Attempt #4: As you may know that due to my (ahem) "condition" I couldn't just ask a neighbor or have a friend come over and give me a hand with the zipper. So I now am pleading for help… SOMEONE PLEASE ZIP ME UP, preferably another crossdresser or a devout liberal who wouldn't think twice who, what or why.
Please!