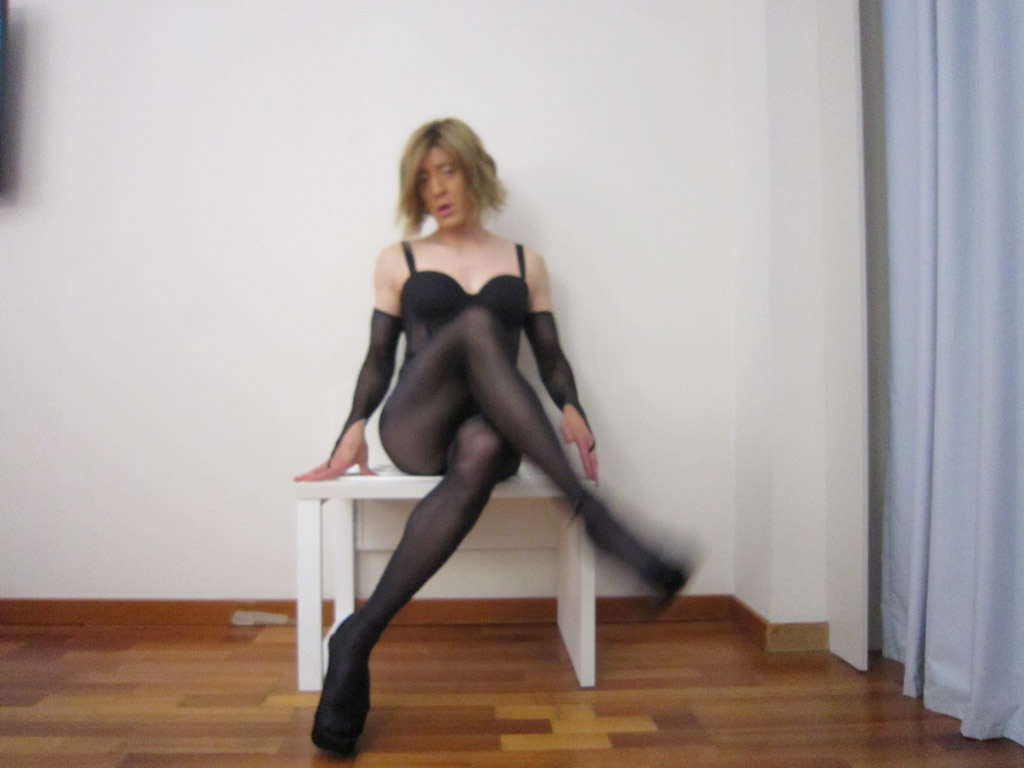 As usual, I like to write here when I'm in the mood. That is, fully crossdressed and feeling like miss me. Over the years though, (and it has been quite a lot of years writing here) I've gone from slipping on some pantyhose and maybe lingerie to full-on shaving, makeup, wig, perfume and paying attention to those little details to transform myself into a more feminine persona. Oh yeah, and a spray of Chanel No. 5 really does help with that.
I know I've dived into this before but the more I'm transformed into a woman and see more of a woman in the mirror, I can't help but to convince myself I just might actually pass for one. It's definitely a feeling of empowerment and, not to mention, quite a high that I get off of. I don't know, I would say kind of like an adrenaline rush I'm having even though I'm not actually out in public strutting my stuff if you know what I mean.
Of course all of this makes me incredibly horny yet in a way that truly distinct from my usual male self. It is just something about smelling that perfume or noticing that flavor from my lipstick or even noticing that warm silky feel of the pantyhose draping my legs. Or is it the wine? It is as if it is an experience of being an actual woman who feels turned on which, in itself, I can say is truly a pleasure I crave.
Then it's moments like these that I occasionally break out the Fleshlight (with that little thing so I can mount it on my refrigerador) and desire nothing more than to be rammed in my backdoor, ironically, while standing in my heels and fucking my little toy. I have natural female-like boobs, too, (weird genetics) so I also like to pull down my bra and push my breasts together wishing a cock would squeeze right between and come right in the middle of them. Oh, and then I like to give a soft rub on my nipples which gives me mini-orgasms.
You can say my masturbation has evolved over the years.
An, oh, my fantasies continue on. I can't say I'm really into guys but I obsess about leaving a lipstick ring in some other crossdresser's girly penis. Then, afterwards, she takes me from behind and penetrates me in and out, harder and harder until I come right when she does right in my pulled-down pantyhose. Then I lick her love juice off my pantyhose and dab some of my own on my finger to stick in her mouth to taste what she just did.
I like to get to a point in my Fleshlight sessions where I just about reach the point to explode but I stop just before that.  With a bit of restraint, I don't release even a drop which keeps things clean and still gives me an orgasm in the process. I clean up my little toy, stuff my half hard cock back in my gaff panties then slip into my black silky robe and pour myself another glass of wine. All the while still basking in the glow of my womanly persona.
However, sometimes I am really horny (now), so what do I do? No, it is not back to the Fleshlight but on to my other little toy, as you can see, with that nice little lipstick ring that I dream of leaving on the real thing. This rather hefty toy can mount in the shower and I can say proudly it has penetrated me fully even making me come a couple of times. I unbutton the snaps in the crotch of my bodysuit, pull down my pantyhose and gaff yet again and get the penetration I've been longing for. Of course not before leaving my trademark lipstick ring while sucking on it first.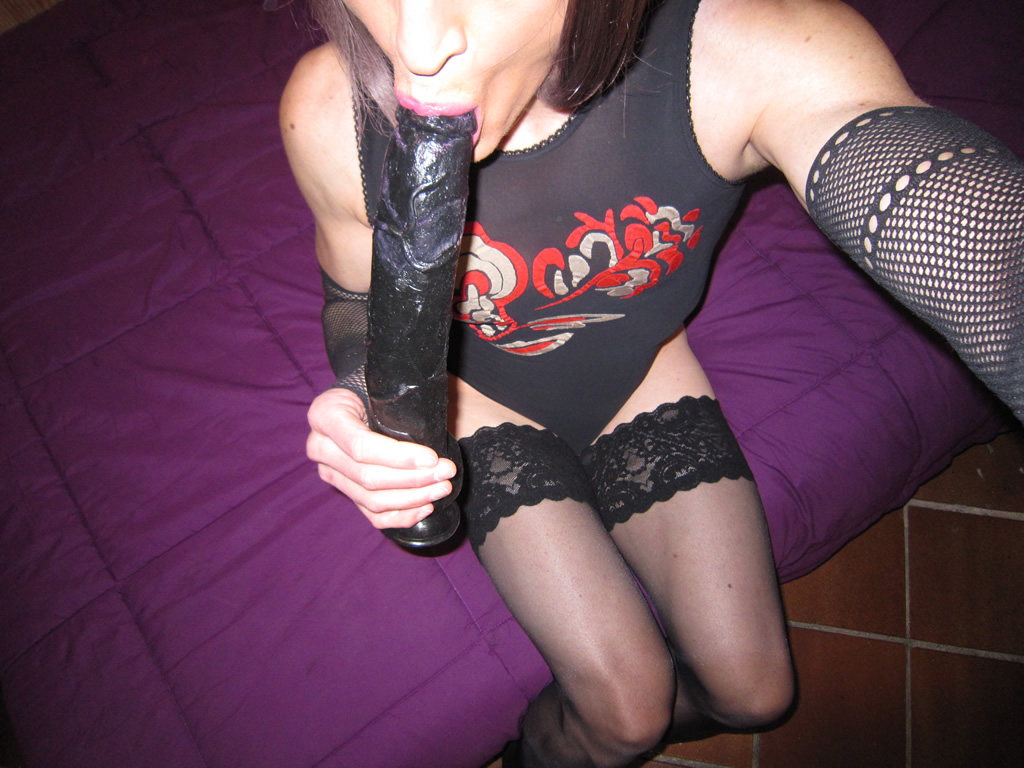 This time, though, it doesn't quite make me orgasm but it does its job. I might add that it also keeps the backdoor nice and loose for any rendezvous that lies ahead in the future. I savor in that glow like I just got fucked hard while, in the meantime, I clean the lube off of my ass, pull up my pantyhose, snap on the body and slip into my silky black robe again. Now I sit in my recliner, take another sip of wine and feel satisfied for a hard day's work, literally.
I remember a time when jerking off in my tights and teddy as a panty-boy would lead to nothing more than a release and then some shame for performing such an unmanly act. The shame subsides and then the cycle repeats. Oh how times have changed! I am a woman (OK part-time) and a woman has needs to fill now doesn't she? Yes, I need more cock (and wine) right this second. No shame in admitting it.