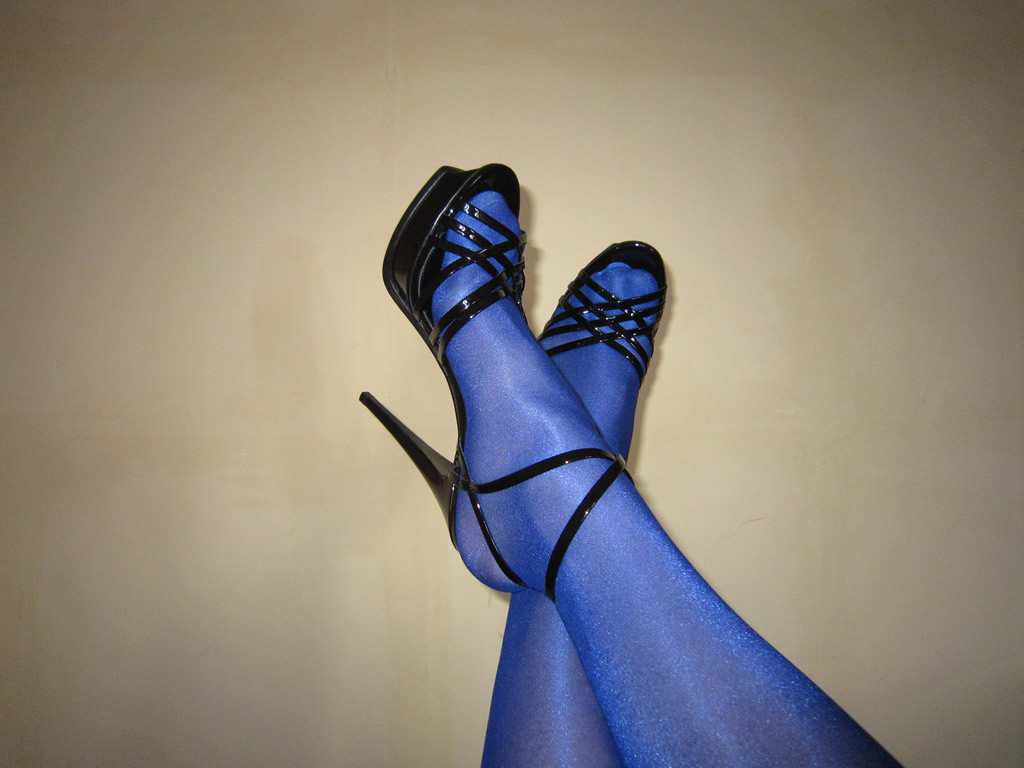 Surely you know by now that I love slipping into a pair of Wolford tights, then maybe sipping a glass of wine while enjoying that silky softness on my legs. If you can't tell, I'm doing just that as I type here. I also just got on my bed and propped my legs in the air to snap a quick photo (ahem, no dirty thoughts now). It's actually what you see right above. That shade of Neon 40 is called Sodalite Blue and is quite gorgeous if I say so myself.
Normally my Wolfords are at the center of my attention, however, I just happened to receive a package in the mail the other day with some new footwear, ahem, also in the photo above. This is also one of the first times that I can remember where I am actually turned on wearing heels. Seriously, I had one of those OMG orgasmic moments trying these on, posing in the mirror, then prancing around on the carpet.
They are actually Yves Saint Laurent Tribute platforms that I got for a steal practically new on Vinted. Brand new, I wouldn't even think about buying heels this pricey which I've checked online that are between 500€ – 1500€. By chance, I happened to see these in a listing that caught my eye for more like 200€ which I snapped up. I took from my budget for male clothes (zero) and splurged on something that the female in me would more likely enjoy.
At first, when I ripped open the box and tried on one of the heels, I had a major scare… it didn't fit! The shoe size is correct with the number even stamped underneath, yet with a little patience and finagling the many straps on it, I did manage to slip it over my foot . It is a tight fit but it fits and looks sexy as hell!
But, my god, these give me a rush that I get every once in a while as a crossdresser. It's hard to describe but it is kind of like an intense feminine feeling which, at the same time, is incredibly erotic and quite literally is about to make me come on the spot and stain my Sodalite Blue Wolford tights. It may be the high price paid for these beauties or just the fact that they are really feminine sexy but these really do it for me.
Now my love for pantyhose will always be number one and I know that will never change. Yet when I find the right compliment to my hosed legs, or just even in my transformation like a good wig or lovely perfume, it really adds to the effect I am after which is to really appear like a woman. You definitely do not need to spend hundreds (or even a hundred) on a nice pair of heels but I can say it was money well spent just for that sensational rush they gave me.
On a side note, just earlier, I counted all the boxes of pairs of heels that I have around the house. I generally don't keep them in plain view or easy to find spots for reasons I shouldn't have to explain. I also have no idea how many I have. The tally: 22 pairs(!).
Oops, now 23 pairs! Right now I only need just one pair to be honest.