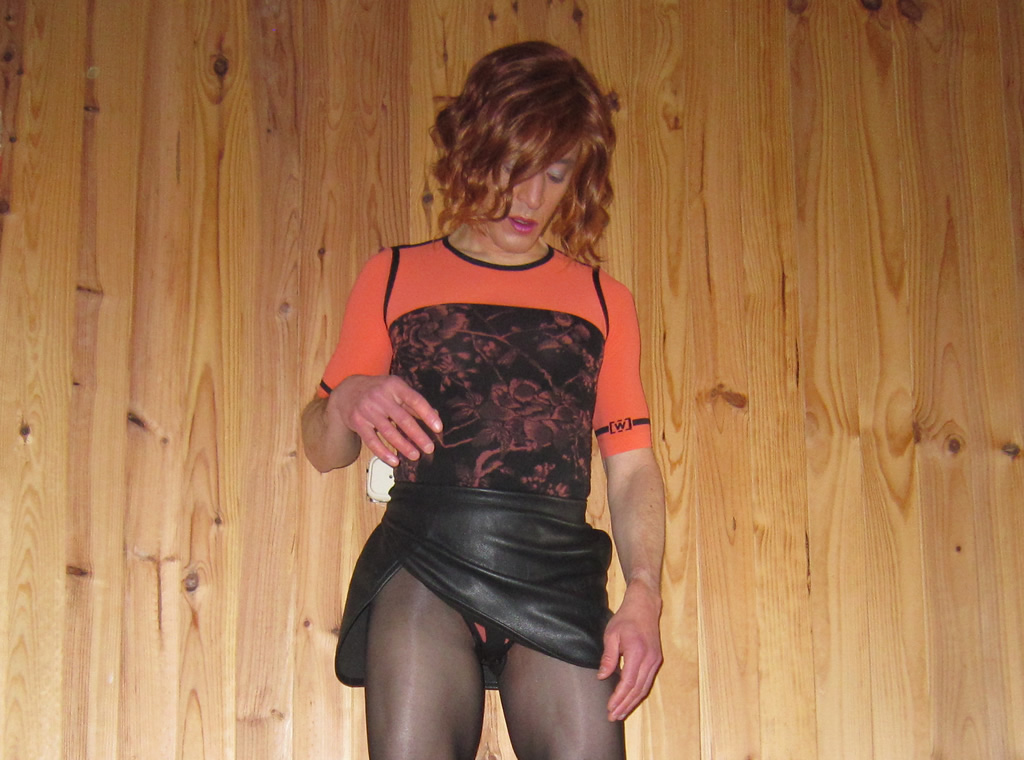 At last count I had six wigs lying around the house. I think there is another one deeply buried in storage next to some old pantyhose from the year 2000 but we won't count that one. They have all served their purpose at certain points as the icing on that delicious cake of me the crossdresser. Actually they have been more like the cherry on top, so to speak. Basically, a wig has been nothing more than a finishing touch when I am in the mood to dress.
Up until recently I actually haven't given much though to that little cherry until I went out and paid for a decent one. I was always pretty much happy with the 30€ – 50€ ($33 – $55) bargain barn rugs that went on the top of my head but I had never given a second though to quality since it never really seemed to matter. If hair is fake, it is fake and, well, looks the part.
Then I figured why not try out a REAL wig as in a professionally made prosthetic piece instead of using the same old strands of plastic that I've been use to. I thought about it back and forth whether to shell out ten times the price I paid for the cheapos and, even more funny, thought about just getting another ten head rugs in different colors and styles. I eventually made the rational decision to go for the quality and maybe in a tint that I would not normally go for… the redhead.
So I forked over the several hundred euros from my credit card to a German company for the "Carlotta" bob wig in a "paprika" color. It is quite a lovely piece with curls and a length a little bit short of the shoulders. I decided I had to ready myself well for the trial so I showered and slipped into my girly attire and then spent a good hour doing my makeup. God I hate putting on makeup although I do really like the end result.
Then I carefully combed through the wig with my hands and gently placed it on. I nearly came when I looked at myself in the mirror.
This wasn't an episode of me being narcissistic and falling in love with myself at all. This also was not a case of the wig being such a high quality that it would obviously up the quality of my appearance. In fact, I would be willing to bet that if I had someone else tell the difference between one of the cheaper wigs I have with this one I am wearing, they would have to guess or would pick the one they thought looked better on me.
What this Carlotta did for me though was completely change how I felt about me and my own appearance. I felt sexy with a new alternate feminine personality but, more importantly, this gorgeous wig actually felt like my own hair. It is even more apparent when I look at it closely in the mirror and don't see that plastic-like shine and color that is a bit off for a natural hair shade. What surprised me the most was the change it made to me as I felt more womanly and, therefore, must act more womanly. You may or may not understand where I am coming from.
I'll admit the red hair does not exactly match the more typical lighter skin tone of the beholder, with myself having a darker olive tone. But, hell, I do not care whatsoever. I love it, it totally personifies miss me at the moment and I think it looks awesome on me. That and it gives me more confidence in appearing like a woman. Anything that can change that attitude is definitely worth a few hundred euros to me.
Funny enough, too, this wig came with a wig stand to keep it on when not in use. It kind of reminds me of the Superfriends cartoons where their masks were on stands when they were not in superhero mode. Or was it a Batman movie? Anyway, I can't exactly remember which of the superheros or whether it was the cartoon or movie but my wig stand holding the paprika red Carlotta kind of reminds me of that. When it is time for me to turn into the pseudo superheroine crossdresser, that lovely wig definitely gets the call.
And just think, I probably could have gone all Superfriends cosplay if I had bought those ten or so wigs instead. I probably made the right choice after all.