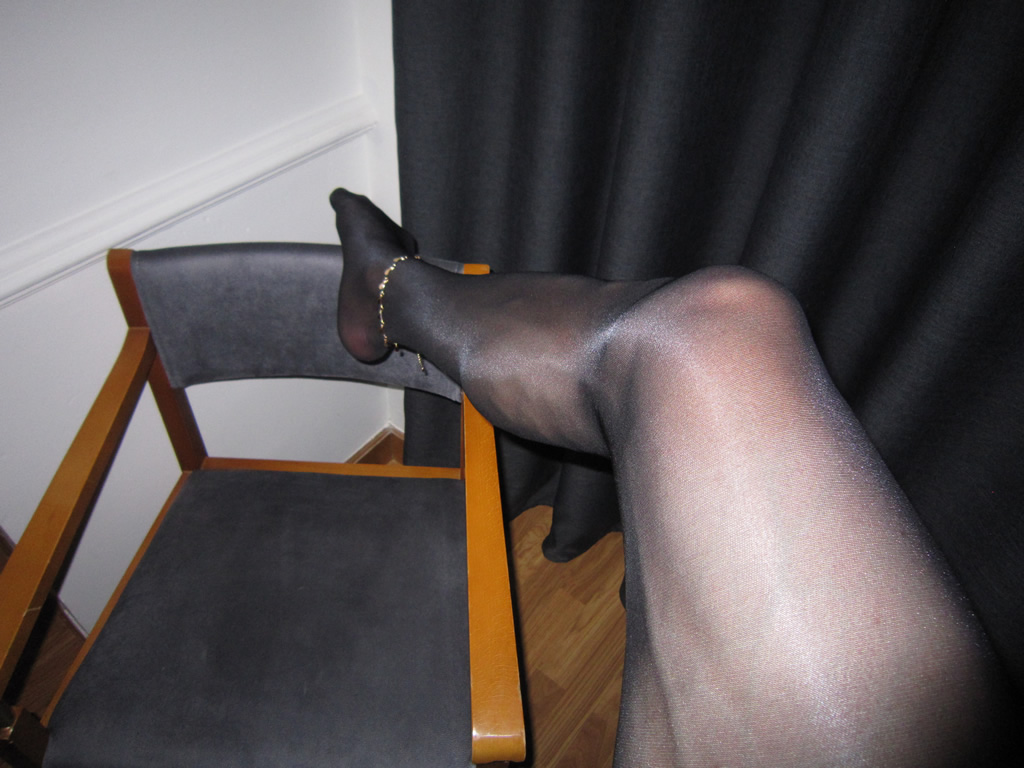 Just moments ago I happened to find myself slipping into a pair of Capezio shiny dance tights that I found in a box tucked away in the back of a cabinet a little bit earlier. Of course I didn't stop there adding a bustier, some tight-ass daisy dukes, heels, wig and some fucsia lipstick to round it all out. I pranced and posed in front of the mirror admiring what I see, and getting very much in the mood if you know what I mean.
So I had to do what any pantyhosed freak in a similar mood would do in that moment. A little self-loving and some frosting for the cake. Oh yes, I did have a taste in case you were wondering.
In the past (like decades ago), after these typical pantyhose-donning episodes, I usually came out of them in a rush to take off my pantyhose, feeling like I committed a serious sin and swearing I will never do this again (albeit fun at that moment). I always knew I would get these urges to "wrongly" wear silky pantyhose and lingerie in the future but I wouldn't be able to sustain this forever. Or would I? I figured I would quit my experimental phase of crossdressing eventually and maybe have a normal married life.
If you have read around this blog, you would obviously find this is not true. And I have nothing but pantyhose to blame for turning my life upside down. Oh, why did you have to come into my life way back when I was a kid and give me that little "kink" of pleasure that I couldn't stop thereafter? I didn't even like women's underwear or even looking like a woman way back then. Why why why?
Maybe you are into your own little fix of pantyhose and a wank, probably with a pair of panties thrown in (I don't judge). However, take my warning, because pantyhose may become the gateway to the following…
Curiously trying out garments and other items not of your given gender (e.g. start crossdressing)
Not properly masturbating to thoughts (or pictures) of naked ladies, being the lady instead
Eventually appearing and trying your hardest to mimic a woman (e.g. intermediate crossdressing)
Craving a nice cock with a tasty splash in your lipstick painted mouth (e.g. exploring sexuality in your "other" gender)
Being seriously weird in the eyes of others, they may not "know" but are sure something is up
Just about everything you do is abnormal and a good case study for psychologists
Don't get me wrong here, I have absolutely no regrets in the direction my little pantyhose fetish has blossomed into. I am, however, quite surprised how it has evolved into an advanced crossdressing role that I created for myself. I absolutely love feeling feminine even when I'm in my male clothes doing my everyday male things. Yet the time for full-on crossdressing is like the prize, or like the glass of wine at the end of the day. It is comforting, sexy and, most of all, femininity at it's most enjoyable moment.
And of course pantyhose has been there all the way, even right as I type these words. We're like best buddies that can't get enough of each other. I have a lot of buddies in that department I guess.
So keep in mind, you have been warned. Rip off and throw away those sexy pantyhose forever… OR welcome to the path of no return.
That's what I thought. You have a friend here!