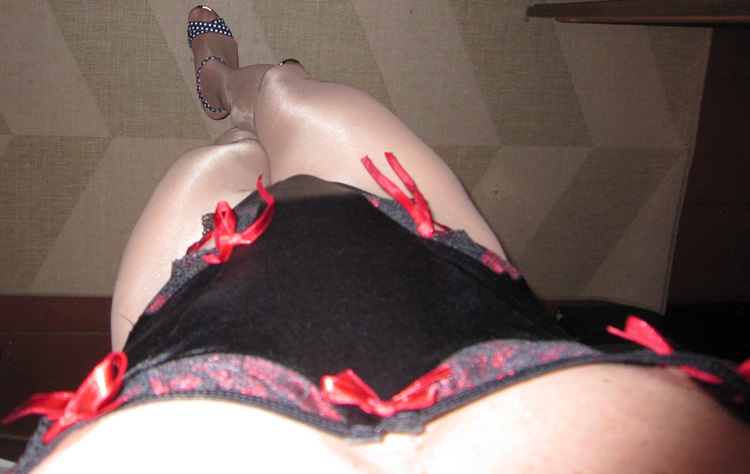 I have no idea why it's taken so long to discover but perfume has suddenly become a weapon of choice when I transform to my womanly self. Maybe it is because I always believed that if it can't be seen then it can't be sexy. WRONG!
So there I was one day browsing the usual close-out sales in February and came across one of those Christmas gift packages for sale. You know, the kind that comes with perfume, maybe some moisturizer and then some kind of special box or case to stuff them in. Well, my choice of the moment happened to be some Desire Me by Escada with body moisturizer and a cute little satin "vanity" case… at half off.
What the hell, right? I finally bought my first perfume ever, sight unsmelled.
Honestly, I did it more out of a necessity than a curiosity. I mean I have a ton a sexy lingerie, pantyhose, a couple skirts and dresses, makeup, wigs, etc. Yet I have never even given a single thought to masking up my manly scent with something other than deodorant. Really, what gives there?
Side note, I do use Secret deodorant which is strong enough for a man, woman or the everyday crossdresser alike.
So the day comes when it arrives in the mail. I open the box containing the black satin vanity case and admire it. OK, it's cute, kind of like a purse without the strap. Next, I open it and pull out the moisturizer first then dab a little on my hands and apply some to my chest. I quite like it actually even though it is just everyday lotion with a great smell attached. I think I'll save this, though, for those times with the sweaty balls just after some exercise where it will come in handy the most.
Then, last but not least, I take out that little glass bottle, pull off the cap and give a spray to my wrist. Of course, then rub the wrists together, rub the wrists on the neck and whatever remained got rubbed on the aforementioned sweaty balls. I do have to see if it can really do its job.
Indeed the Desire Me does, in fact, carry me to a whole new level of sensual sexiness that stupid me had always ignored. Slipping into my lingerie, pantyhose and a little makeup has primarily tantalized the visual and tactile senses. Correct me if I'm wrong but the sound of rubbing your pantyhosed legs together can be quite arousing too as well. But, oh, that lovely scent, so warm and sweet that I want to take a bath in it.
Yet the glorious scent of perfume only heightens those other senses even more for me making me feel just that much more like the woman I wish to be. And, yes, that means I get incredibly aroused immediately that I have to take a break right now to, uh, well I'll be right back…
There's another little sexy side effect of perfume which I'm just noticing, too, and that is it lingers on in clothing. What a pleasure to pick up the silky teddy and pantyhose that I had worn not too long ago and sniff the faint scent of the Desire Me perfume in them. It almost instantly puts me in a state as if I actually had my silken items on me. A good porno for my sense of smell is what I call it.
If that weren't enough, it also did wonders for the post exercise sweaty balls too.