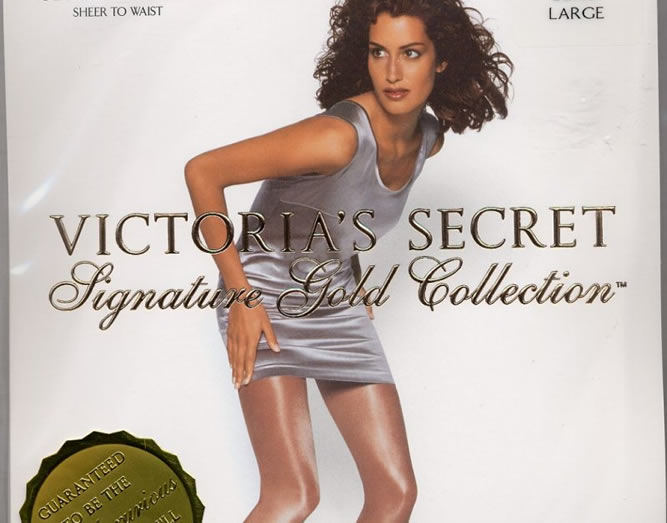 Being a crossdresser, and thus naturally taking on the feminine characteristic of shopping, I find it hard to help myself when it comes to seeing something sexy I like online and having to have it right this goddamn second. If it is so sexy that, of course it has to be discontinued in production, then I would probably go to great lengths such as committing robbery or shady back-alley deals in order to get my filthy paws on it.
For my case in point, we have the Victoria's Secret Signature Gold Collection Glossy Smooth pantyhose, so exclusive that it just hurt my hands typing out this rather majestic title.
For anybody who has a pantyhose fetish, this name probably rings a bell, cueing the start of a massive erection that wished it were encased in this pantyhose gem. In case you need a reminder, let me warm you up with a few pics, such as oh, this classy photo, maybe a butt shot and one of what you (yes you) would actually look like in this alluring Victoria's Secret pantyhose.
Yet we come back now to the issue of how the fuck do we get these and slip them over our legs and now-tent-pole of an erection. Well, here's the bad news. They've been discontinued for around fifteen years now. Similar to the now-discontinued Wolford Fatal Neon, an incredibly fetish-worthy pantyhose has long been out of our reach.
Well, almost. I was able to find a pair of of the Glossy Smooth pantyhose in a "pebble" shade on eBay. They only set me back about $110, proving I have a serious pantyhose addiction. Yet the price was only a minor inconvenience for the joy it brought me eagerly anticipating, then receiving that tiny little packet in the mail.
Of course, paying so much for a pair of pantyhose (albeit rather sexy ones), I had high expectations. In all the images I've seen online, they seemed to compare quite closely to the famed Wolford Neon 40, having an illustrious shine and thick yet smooth appearance, things I absolutely crave (cue erection) in my pantyhose collection.
So I carefully took these out of their packaging (maybe I'll sell that on eBay) and immediately noticed they are, indeed quite silky with a different feel than the Wolfords. Slipping them excitedly over my legs and my raging hard-on confirmed that they are much different, having their own sexy qualities which I kind of like.
First off, the Victoria's Secret pantyhose are not your typical pantyhose, not the ones I've tried anyway. They are more of a cross between normal pantyhose and much thicker dance tights, such as Danskin. No real surprise here, evidenced in all the images I've seen, and is actually a quality I find appealing. They are not so incredibly thick which looks strange wearing with, say, a dress. Yet they still let a little legs show through with a beautiful shine coating them like wet paint.
The quality I think is the best in the Glossy Smooth, however, is the fit. They are nice and snug without pinching and pressing (even over the package). This may be partly due to the heavily fortified waist area, which I don't find that particularly attractive. However, if I can walk around comfortably in these, in stilettos I might add, then they get a "A" for effort in my book.
Then there is that silkiness in these when rubbing your legs together…. oooh!
So yes, the Victoria's Secret Signature Gold Collection Glossy Smooth are an exceptional pantyhose especially if you lean toward the thicker and shinier variety.
Are they better than the Wolford Neon 40? No, but they are not far off.
Are they worth the $110 I paid for them? As far as saying I have these in my collection and proving beyond a reasonable doubt I have a pantyhose fetish, yes. I won't be buying another pair though.
I you want to be like myself and happily masturbate in your own pair of Victoria's Secret pantyhose, your best luck would be to find these on eBay. Expect to pay northward of $100 (or WAY northward) but you may find it would be a small price to pay to look and feel this sexy, even for a moment. At the very least your cock would be pleased.