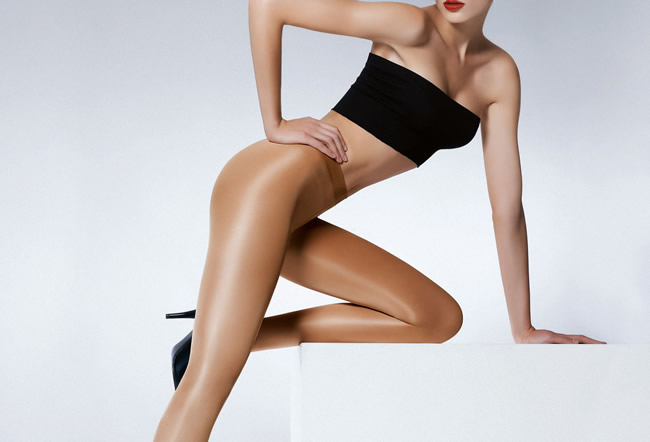 I have finally come to the realization that in my quest to try every available pantyhose that looks super sexy in an ad, or on a model in a pantyhose fetish site, I'm really just trying see if my beloved Wolford Neon 40 can be outdone. In the meantime, my collection has filled up a gigantic box and many have been rendered as stylish cleaning rags.
Yet this time, I came close in the Pierre Mantoux Setificato 40. Very close.
I had very high expectations when I placed my order for what looked like a perfect matching shade for Wolford's "Gobi" color. In fact, much like the image above, the "Jasmine" option seemed like a dead ringer so, what the hell, I wanted one of those. Yet then, we get to the first problem…
The damn sizing chart is pretty fucked up to say the least. It seemingly put me at a large with huge hips and, since I no longer have a belly, I was wondering if I'll need a belt to prance around in these. Not exactly inspiring confidence in my decision. OK, so these probably weren't made for the everyday crossdresser, so I got one pair medium and another in large in that Jasmine color just to be safe.
Then I finally got the package, did a little victory dance and slipped on these beauties, the large pair first. Oh what a nice surprise in finding that, I not only did not need a belt, but these hardly made it up to my waist. I mean I really had to force the crotch to stretch like plastic wrap around my girly junk to get it up there.
Needless to say, they are sized a wee fucking whole size larger then what they should be. I'm talking for an actual woman, not just a crossdresser too.
Alright though, enough of my whining. Ahem…
So, despite the unbelievable tightness on the crotch, they look absolutely stunning. Incredibly sexy is that lovely lustrous shine, not unlike my properly-sized Neon 40, which I can't take my eyes off of in the mirror. It also has that gorgeous, smooth almost liquid-like appearance, a telltale sign of a high quality pantyhose.
To the touch, they feel just as good as they look, which is to say, soft and satiny and enough to nearly make my solid, but asphyxiating, cock nearly poke right through them. On that note, yes, you would have to tear a hole in the front of these to alleviate the erection a bit. I'm not quite committed, however, to that sex change so these would fit a little better.
I happened to have later purchased the Setificato 40 in the XL size, unfortunately having that unsexy back panel over the butt for reinforcement. These did, in fact, fit to what a normally large size would and, thus, confirming that Mr. Pierre Mantoux better get his shit straight with that sizing thing. I hated this pair, though, which looks like having cotton panties sewn in over my ass. Far from pantyhose fetish material this pair is, yet, would more likely make the sexiest cleaning rag I have.
If you're a skinny little anorexic bitch of a crossdresser, the Pierre Mantoux Setificato 40 should fit you just fine. And if you're able to fit into my unopened pair in a size medium, then I want your number so I can have you can strut around in them for me.
* * *