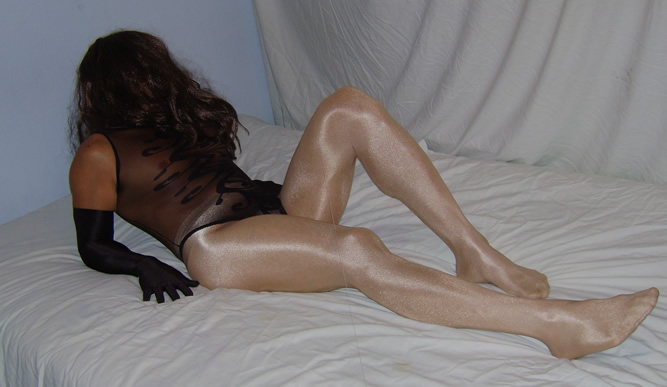 One thing I've always been curious about throughout my days of femme delight is whether crossdressing has the tendency to lead into homosexual relations, be it with a man or another crossdresser. Keep in mind, I neither care about putting a label on ourselves nor am I trying to prove true the ancient myth that crossdressers are gay.
It just so happens that, from personal experience, the crossdresser evolves into conforming more and more into, not only dressing the woman´s part, but acting out the part as well. It may be take form as going out in public in full dress or just meeting up with other CDs to have a meal.
Yet, since crossdressing is primarily a medium for sexual stimulation, this would also undergo an evolution over time to keep the stimulation at its peak. Much like the way, for example, a married couple might experiment with sex toys to keep their sex life new and interesting. Side note: this does work for crossdressers as well.
So, over time, the usual slipping on pantyhose, silky lingerie and maybe some heels and makeup would lose its appeal to repetitiveness and, ultimately, boredom. You could have a different silky outfit for every day of the year but wanking the poor little cock so many times, pretty much in the same fashion each time, might get you thinking, "Well, why don't I wank someone else's instead?" to make things a little more interesting.
Of course it doesn't stop here. Maybe another fantasy overcomes you such as thoughts of another gorgeous crossdresser with a raging member using it to pierce the back of your pantyhose and penetrate you, then comes "inside" as the woman you are. OK, this is mine but maybe you get my point by now?
Unfortunately, there is quite little in the way of studies out there to determine whether crossdressing does lead to homosexual behavior or tendencies. I did, however, come across an interesting post on Crossdreamers about the Vernon Coleman study of crossdressers from 1995. It was done from a survey of 414 British crossdressers but here was the part I found quite interesting with one of the survey questions:
Have you ever had sex with another man?

82 respondents (20%) said 'yes'
332 respondents (80%) said'no'

Coleman adds:

"The incidence of any homosexual experience among transvestites (1 in 5) is slightly lower than the incidence of any homosexual experience among non transvestite heterosexuals (usually regarded as 1 in 3). Most of those transvestites who admitted to having had sex with another man said that their homosexual experiences were isolated. The incidence of genuine homosexuality and bisexuality among transvestites is considerably less than 1 in 5 and probably close to the normal figure for non transvestite males of between 5% and 10%."
Of course, I would take this with a grain of salt since 414 British crossdressers are not representative of the whole of us. However, I would come to the conclusion that, factoring in possible margin of error, that maybe the incidence of homosexuality really isn't different at all whether heterosexual or a crossdresser.
Here's my theory though. I do fall under the umbrella that the incidence of homosexuality is higher for crossdressers due to latent homosexuality, or repressed homosexuality that doesn't manifest itself into a conscious action (e.g. wanking someone else). While this depends on environmental factors from person to person and does not affect everyone, we'll for arguments sake, say that all are subject to it at varying degrees of little to high.
So, while the typical heterosexual would most likely keep his latent homosexuality "buried" or even become the one out of three who experiments with sex with another man, this wouldn't be the case for the crossdresser. The crossdresser, being aware of his own alternative sexual nature and, consequently that of the LGBT community, would become more open to homosexual behavior as his latent homosexuality manifests into a conscious one as he evolves in his crossdressing.
I might be going on a severe tangent here but take it for what it's worth, no facts, no proof, just a bit of erotic philosophy. Hopefully, more research is done on the subject, to which I'd gladly volunteer. In the meantime, I await my luscious crossdresser poking at my ass through my pantyhose.