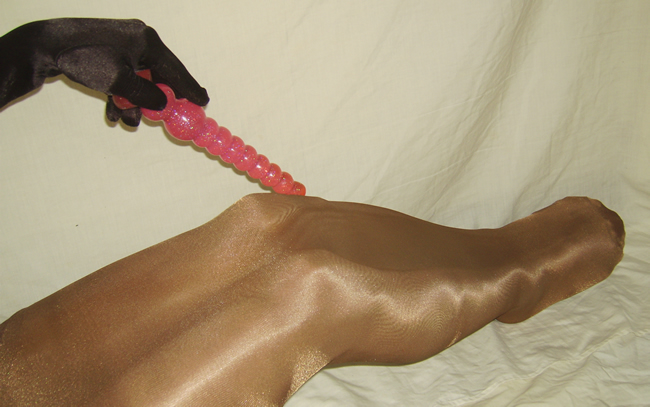 So there you are all dolled up in that skimpy dress, favorite pantyhose and super tall heels and you can't resist what is looking back at you in the mirror. It gets just a tad boring though with the hand to penis thing that you've done for, oh, the 10,000th time in your life. You're a crossdresser for God's sake so you are use to an alternative sexual lifestyle.
Why not explore this further? I'll even let you have a look at my little bag of tricks. Here's one of them if you haven't seen it yet but I'm sure you'll have some fun with these others.
Silicone Dildo
Yes, just like in the image above (though I don't know if they are around anymore). These seem a little weird at first and, yes, it does hurt the first time if your back door cherry hasn't been popped yet. Yet, after each successive session a dildo actually becomes very enjoyable leaving you with that satisfying "naughty" feeling, like your parents caught you crossdressing or you just had sex with a transvestite.
The real fun with the dildo, though, is the challenge of seeing if you can get it all the way in. Yes, I was able to get the one you see above (about 8 inches) all the way up my love tunnel after a few tries (and lots of lube). I was elated when it did and now I'm possibly ready for my ass to take on hot tranny dick… oh the possibilities! Just remember, use a lot of lube.
There is of course a downside to using one of these monsters… getting cookie dough on it. No, it's not fun to clean up and you are guaranteed to be turned off by it. So to prevent the doughy mess, use an anal douche prior to your dildo-to-ass play. Actually the douche is quite pleasurable in itself, a little ass foreplay if you will, so it isn't a waste of time at all.
Butt Plugs
I use to laugh at these thinking they were some kind of fem-dom thing. That is until I tried and now absolutely love them.
These usually come in a set of three or so of graduating widths. The object is to start with the most narrow width and work your way up to the largest width. While the butt plug isn't exactly for masturbation, per say, their use can't be any simpler. Just put on a bit of lube, insert just past the sphincter and go about your day, even in public.
The pleasure comes from just your everyday movements. For example, sitting down or bending over stimulates the prostate leaving you with a light tingly feeling. As well, movements in your hips can also trigger feel-good moments. You won't always realize that it is there, yet it is those moments that you do when it becomes pure joy to have on.
For maximum effect, wear pantyhose underneath your jeans or pants. The silky feeling on your legs combined with the pleasuring butt plug is a combination made in heaven. The best part is you can pass by everyone at the office and no one will even have a clue.
The Mermaid
I've seen pantyhose worn a million ways but one in particular actually is quite erotic for yours truly. Also demonstrated in the image above.
So while in your pantyhose (important), take another pair and put both your nyloned legs through just one of its legs. Then pull it all the way up to the bottom of your butt. With the other unused leg, tie that tightly around the bottom of your butt securing it into place. Don't worry, this won't ruin the pantyhose so try it with a high quality pair (e.g. Wolford Neon 40 highly recommended). The more smooth and silky, the better.
What you have now are your legs feeling somewhat bound, as if it were rope, but more so a feeling of completely trapped in silk. After squirming around trying to "free yourself " you'll notice the all around sexy feel of your legs tightly pressed and rubbing together along with the silky outer covering keeping them in place. Basically, if you've never tried this, do so because the silky tight feeling is irresistible.
This also works infinitely better when combined with one of the other two toys from above (like I did just after snapping the pic).
* * *
Hopefully you'll enjoy one of these but if you have another technique, don't be afraid to let me know below 😉