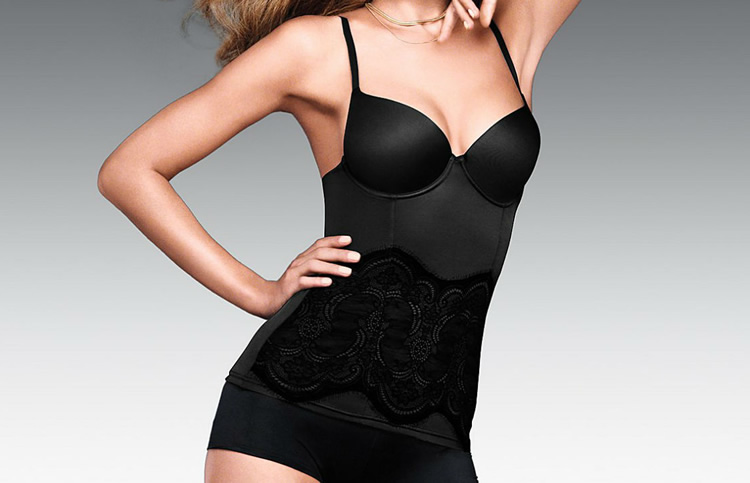 Similar to many other crossdressers, I try to make my somewhat flat male-shaped chest transform into an alluring, curvy shape that could be taken (or, really, mistaken) for the female form. Sure, I've tried the myriad of push-up bras, the ever popular Wonderbra, gel inserts for bras and the like.
I've never found anything, however, I could just slip into and get instant boobs without having to resort to pricey breast forms or other things specifically made for the crossdresser. Sure, those would work well in giving me the ladylike shape I desire but I don't find them the least bit sexy when I want something silky draped on my body if you know what I mean.
So imagine my surprise when I tried out a shaping bustier for the first time and pulled that tight fitting stretch satin over my ass and waist and let the bra-like cups rest snug and comfortably on my chest.
Vavoom! OMG! I could not take my eyes off those beauties right before my eyes. I even threw a t-shirt on to check out my new silhouette… yep, that's a woman right there in the mirror.
This gorgeous piece of lingerie is a Flexees Firm Control Bustier which, unfortunately, has been out of production for a short while now but can be found in the good old standby, eBay. I actually came across it by accident looking for butt plugs (that's a story for another day) but turns out to be my now favorite thing to wear while daintily prancing around the house.
Since it's a shaper, it is a tight and very snug feeling much like your overweight uncle who you haven't seen in a decade giving you a hug. However it really does smooth out those bulges, not to mention, let's you breathe in the process while being comfortable (for the most part) at the same time.
The real magic to this bustier, though, is in the bra cups. They are padded but in a way where it is thinner on top of the cup, about 1/4 inch, and a very thick 3/4 inch at the bottom.
So what does this do exactly?
Well, for the everyday crossdresser who has the even the slightest mass to their chest, this will push the chest up and fill out the cups. Therefore, someone, who would want to poke a finger at your new-found tits, won't cave in the cup from the false-boob air inside it. OK, it may cave in a bit but these miraculous cups are the closest I've come to finding a bra that actually fits a crossdresser chest quite well. Not an easy feat.
Of course, once I tried out the "steel grey" color I had bought, I had to buy the other colors of the Flexees bustier that were available, black and a red flower patterned which both looked and felt very sexy to me as well.
Now, since these are discontinued from the manufacturer, I can't vouch if any newer, similar versions of the Flexees bustier could produce the same look and feel for me as well as other adorable crossdressers (note that Flexees goes by Maidenform now). So if you have tried one especially to your liking, feel free to let me know in a comment below.