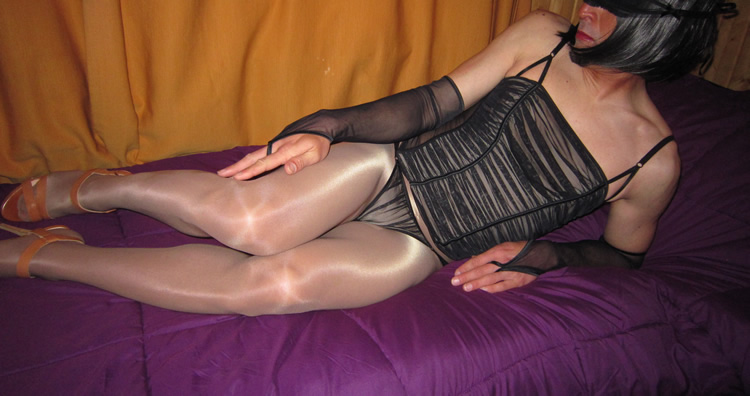 It's not often that I go on a date with another crossdresser but I too often question myself as to why not just have a little "fun" when I can. So I did and what a rush it was! So here is my little kiss-and-tell of that one very unforgettable date. Note that the name of my "significant other" has been changed to preserve her identity.
Sharon giggled for a second and made a humored attempt at an access hole through my pantyhose by poking her rock-hard cock into it several times while I'm on my back with my legs pulled as far as they go. As I anticipated her "entrance," feeling her cock in and out and just barely teasing my ass was, in fact, a turn on. The tease made me so wild with anticipation, I start to tremble from the excitement.
Yet, realizing that the nylon and spandex was tough to break, Sharon ripped a small hole with her fingernails just below the crotch area and gently widened it exposing my asshole-turned-vagina. I even noted to myself, it would have been wet as possible if it weren't for those damn gender differences. Oh well.
I grabbed a condom and lube, conveniently laid ready in place on the bed, and unrolled the condom onto her cock in a smooth, single stroke. Next, I squirted a little lube into my hand and softly stroked it over the condom-covered-cock while she let out a slow "Ooooh."
Sharon was very gentle at first, easing her slicked love rod through my sphincter which penetrated with a little resistance but gave me a shock of excitement throughout my body. I remembered thinking "Oh my god, there is a dick inside me!" Even a wave of panic came across me.
"Am I really being fucked in the ass?" I thought for a moment. "Should I be doing this?"
It wasn't my first time, though, so in that exact same moment, I consciously decided to calm the hell down and enjoy the experience. Otherwise, things can go south rather quick which I did not want to let happen.
"Yes, I should little bitch," became my next thought. No going back then.
Sharon entered deeper, then deeper with her first few slow thrusts until finally making full penetration. There, she held her love rod in place while grabbing each of my straightened legs and pushing them back, using them for support. She flattered me by mentioning I have sexy, flexible legs which then gave her the green light to do whatever she wanted. I mean anything.
The real fun started, though, as she fucked with just more force than before which sent me through another wave of excitement, an exhilarating body high. I had always practiced anal penetration with a dildo a similar size to Sharon's cock, however, the real thing was WAY different. There was no match of the sensation of hot flesh pounding me from the ass masturbation of a hard rubber dildo I was used to. This was definitely something I could easily get used to. Oh, and any guilt and second thoughts I had… turned into shame as to why I haven't been doing this sooner.
Sharon continued pounding at my ass which began to make a muffled clap as we both moan, in rather respectable girly voices I should add. I'm so into our crossdressed banging that I scream out "Harder!" which Sharon obliged without hesitation. The clap got louder as well as our girly moans. The sensation I received, though, suddenly went into overdrive. Not to be disgusting, but it felt somewhere between being electrocuted and taking a shit at a hundred miles per hour. Strange, yes, but very satisfying at the moment as I tensed up tightly clutching the bed with my hands.
Then her moment came, or better said, was about to come as she made her final thrust and pulled out, seemingly not wishing to explode just yet. That's when an idea hit me and I slipped the straps off of my bustier pulling it down to reveal my "boobs" which, believe it or not, had a slight womanly shape and femininity to them.
I pressed my perky breasts together creating a small but sufficient cleavage for Sharon to finish her work. Without even a word exchanged, Sharon slipped off the condom and used it to wet down my boob tunnel with the lube that remained. Then she straddled my body taking position over me as I continued to press my breasts in place.
There was no delay as Sharon fucked my tits, hitting my chin with the tip of her cock with each pass as I looked on with a front row view. The pitch from her moans increased as she neared climax while I let out a few token moans that more or less cheered her on. Then, suddenly, I felt a warm splash on my face and lips as Sharon finally came… and quite a good amount, too, leaving a hot gooey trail on my face and neck and all over my lubed up cleavage.
"You're delicious," I said while licking a little of the cum from my lips. The taste of her love honey mixed in with taste the minty lip gloss I had on was quite arousing to say the least. In the same moment as I savor the taste of my crosslover, I began to ponder how feminine it felt having a penis penetrate me then being cummed on my "passable" tits. It was an incredibly sexy feeling of femininity that I've always dreamed of and, of course, didn't want to end.
Yet next was my turn…
Sharon, meanwhile, had gotten up and grabbed a towel hanging from a chair and began to clean her hot milky cum off of me which I had thought was quite polite. Already cleaned off, I pull up my bustier and gave Sharon a soft kiss with a little hint that I wanted her, right then and there.
She laid down right beside me and we kissed some more, eventually with more passion as she began caressing my still-aroused cock poking visibly through my pantyhose. I let out a soft moan as Sharon then reached inside of my pantyhose to grab and lightly stroke my love rod, all the while, without even a hesitation from ramming her tongue down my throat.
She stopped and straddled me, yet again, and pulled down my pantyhose just far enough to expose my throbbing cock appropriately pointing directly at her. Like an instinct, she grabbed my love rod and began licking it like a popsicle. Then, similar to my own cock play on her, she lightly licked then sucked on the head which caused my love rod to ache since it couldn't get any harder.
I could then see my whole cock in her mouth as she held it there for a second, giving me a sultry look. Then, back out and back in to her mouth it went as I released a high pitched shrill. Sharon sucked harder and faster, even moaning herself as I could see she was very into it, and very clearly experienced as well.