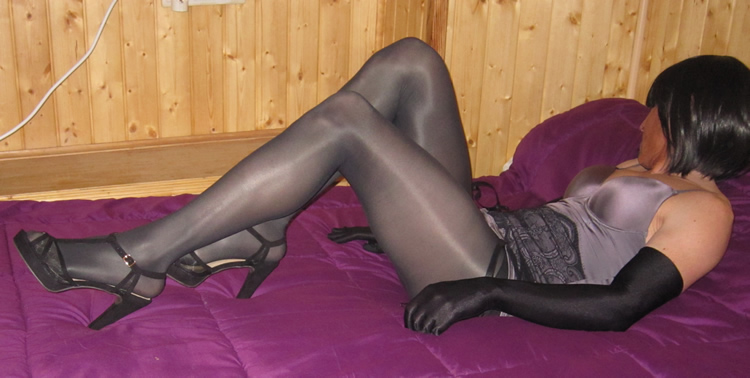 It's not news that I'm willing to stray from my traditional vanilla hetero side and indulge in an escapade with another sexy crossdresser. It was my first time and it was a little awkward, sure, but not any different from that first time with a GG girlfriend many years back. The seed had been planted, though, and the next time would be a far better experience for certain, much like where the vanilla hetero experience took me.
Bisexuality is still something relatively new I've dabbled into after straying in and out of the bicurious phase more recently. To be quite honest, it excites me now more than ever before and will go out of my way to explore it when I have the chance. Then, of course, I have to spill it all here, not to brag about the conquest, but rather share the experience. So keep in mind the name here is changed to preserve the identity of that dear crosslover.
I have to admit that crossing that line I've always been taught was taboo or "wrong" isn't easy. Also the experience doesn't always go as planned (read  the link above) but it can turn out an exciting fling which leaves you wanting more. So, whether or not you're a relative newcomer, this could either make the bicurious in you think about that next step or possibly relive your tales of chicks with dicks.
So here goes my adventure (again)…
Me and Sharon had met online several months ago. After the usual hellos, flirty exchanges (a pic or two included) and chat room sessions, it was time for the meetup. In a hotel. So it wasn't as if we were in the dark about what we were going to end up partaking in. Yet the anticipation of slipping into my silky lingerie and pantyhose in front of another crossdresser doing the same was enough to make me cum just at the faintest thought of it. Finally, came that magical day.
And there I met Sharon at the bar in our hotel who was a little bit older and a little taller than I was and fully dressed in a black sleeveless dress and long brown hair that wasn't a wig. She was strikingly beautiful which intimidated me for a second since I was in public-male-mode (I still didn't dress in public). Yet she fully understood this and we casually had a drink and chatted. We hit it off right away with the usual bullshit "What do you do?" which eventually led to conversations about our crossdressing lives to which we could hardly find an end to. As well, it was always a relief to share that side which is hardly discussed among others.
There is, also, nothing like casual crossdresser talk to get in the mood and we eventually made our way up the hotel elevator to room 505, a little tipsy and very horny by then. Feeling a mutual attraction, we even grabbed and gently held hands on the way from the elevator to the room. I felt very comfortable and  immediately attracted to Sharon after revealing that femme side of me dying to get out. Of course Sharon wore it on her sleeve which I admired and made her even more desirable.
We enter the room and my first course of action was to open my suitcase and pull out…
A short black bob wig
A blackOroblu bustier with matching thong panty, gloves and mask
A pair of Oroblu Magie 40 in suntan shade
Black high heeled sandals
A sheer nylon kimono
I ran into the bathroom with my lingerie and hose and meticulously slipped into them then came out in my just-learned high heel strut. Sharon had changed out of her dress and into a red bustier with black panties and black Oroblu Magie 40 underneath which I had given as a "hello" gift. Then her red peep-toed platform heels made my jaw drop at the beauty in front of me. I started to tremble in anticipation and my feeling that I seemed to pale in comparison to her as my crossdressed self.
But being the charming woman she was, Sharon offered to do my makeup and sat me down in front of the desk with a mirror at the front. I began to precum as she gently painted and powdered my face. In fact she does it so well that I quite admire my own face for a few seconds. I'm already in love with Sharon who made me feel a hundred times the woman I looked like. I noticed the emotional attraction taking effect, too, since I've grown quickly to like her as the person she is. Even if there was a male underneath it all, it didn't matter a single bit.
As I got up from the chair, there we were face to face, and the sexual tension coming to a head. Naturally, we began to passionately makeout while caressing each other's body releasing our intense built-up lust for each other. Funny thing, I vividly remember noticing a slight stubble on Sharon's face, a subtle reminder of the taboo I was so proud of breaking at the moment.
Then the feminine instincts in me kicked in. I wanted her cock in me. Now. I started rubbing it with my hand over her panties and began to position it pointing up so there was no bend as it quickly hardened. We continued to kiss as I softly stroked her now-rock-solid rod through her panties and pantyhose. Just when it couldn't get any harder, I stopped and got down on my knees in front of her. I then gently pulled down those black lace panties and black pantyhose just enough to where her cock sprang out like a jack-in-the-box.
The moment came which I had never though would come again but there it was, so beautiful and right in my face. There was no fear or second thoughts about what I was doing, which I had in my previous encounter, only the urge to worship it. So I grabbed it and licked off her tasty precum while looking up and giving Sharon a look with a hint of my way I was going to have with it.
I slowly licked the head then put it in my mouth for one quick "tease" suck then go back to licking, this time around the shaft. I heard Sharon begin to moan and then I got to work, sucking hard for six or seven strokes and then licking and lightly sucking the head a few strokes. Sharon moaned harder and I even got turned on myself. It was right at that moment where I had realized that I turned the page as far as my adventures in bisexuality were concerned. This felt completely sexy, natural and every second was complete ecstasy.
I continued fellating Sharon for a few minutes and then I stopped, not wanting her to cum or really even being close to it. Not that I was scared of her squirting warm love goo all over my face, but done for what I really wanted: a good pounding. I told Sharon just as much to which she smiled and obliged. This happened to be another moment that I had long prepared for with those solo sessions dildo/vibrator play and, not to mention, times walking around with that well-used butt plug.  I was loose and ready and craving the real deal penetration of hot flesh.
This time was going to be different, however, as I had wanted and dreamed of. No, not the typical doggy-style ass ramming but, this time, on my back and with a full view of the show. I wanted to actually see the penetration while looking at my lover's face since that would obviously be way more sensual than facing a wall. I led into this with Sharon by getting up and lying down on the bed pulling my (flexible) legs back and holding them in place awaiting my deep desire.
"Is it OK to rip a hole?" she asked as she slowly pulled down my string panties and looked at the pantyhose barrier covering my ass. I had actually thought about it for a few seconds not wishing to ruin a brand new pair of pantyhose but eventually gave in and replied with a joke, "Sure, but do it with your cock."