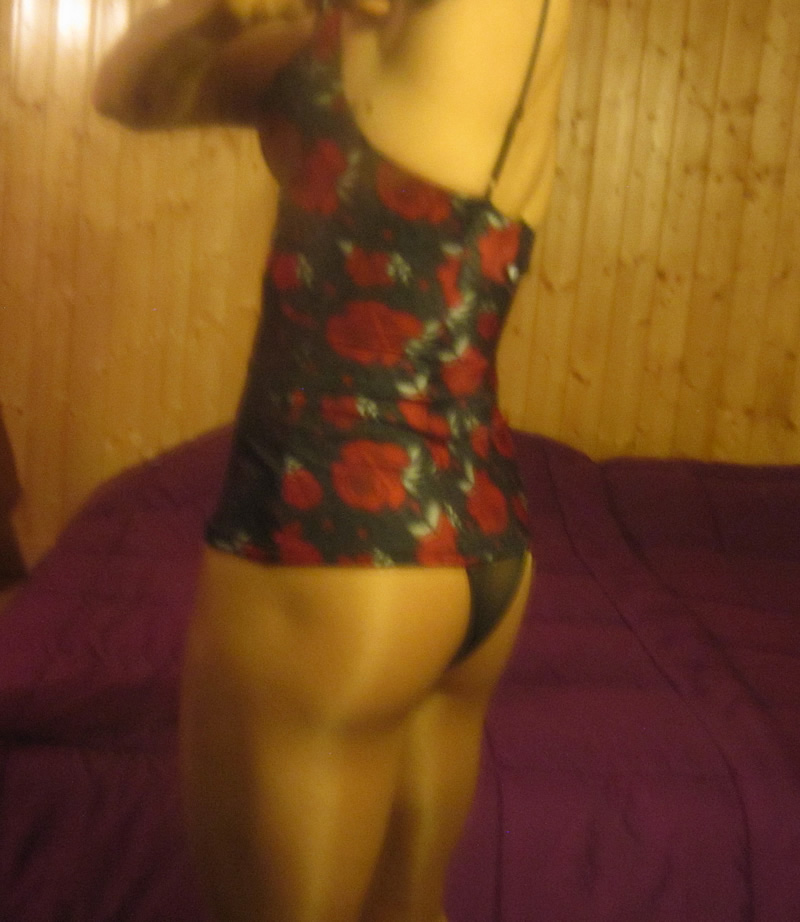 It's not often that I go on a date with another crossdresser but I too often question myself as to why not just have a little "fun" when I can. So I did and what a rush it was! So here is my little kiss-and-tell of that one very unforgettable date. Note that the name of my "significant other" has been changed to preserve her identity.
Sharon was excitedly busy giving me the blowjob of her life when I suddenly had a moment of realization. There I was lying on the bed in my bustier and pantyhose and with a hole in the back that I could still feel wet from the lube Sharon had used to wet her cock that pounded me a good thousand times or so. The sexy crossdresser making me her toy and actually getting my silkies dirty had always been a fantasy of mine.
Yet this had turned into everything I imagined it would which struck me as odd. Does anything, especially a fantasy, ever end up being like you dreamed it would? "Maybe it would come close," I thought as I watched Sharon's head bob up and down and drowning in her sucking prowess. Nonetheless, I enjoyed the moment and the absolute "naughtiness" of our sexual encounter. I was at the peak of feeling feminine and sexy and never wanted that to end.
Sharon stopped her her vigorous blowjob all a sudden and climbed over me and into the cowgirl position with her ass just above my still-hard cock. She pulled down her black Oroblu pantyhose just enough so her bare ass was exposed then leaned over and gave me a soft kiss along with her sultry smile. As she reached for the lube nearby, I caressed the smooth, shiny nylon covering her legs and indulged in the feeling as they even rubbed against my own pantyhosed legs with every movement she made.
In an excited rush, I grabbed a condom from the nightstand, ripped open the package and slipped it on as Sharon dabbed some lube on her hand then gave my rod a quick stroke to glisten it up. She then raised her ass, positioned my cock ready for the back door entry into her and began to let it slide in slowly.
I noticed the tightness of her sphincter which gave me a jolting rush from the incredible sensation on my cock. We both let out a loud moan in unison (girly voices of course) as she continued to ride my love rod with a very precise gyration of her ass. I actually admired for a second how Sharon could move her ass like that while the rest of her body remained stationary.
Yet she continued fast, then slow and then fast again while we hardly looked away from each other's face and the expressive screams coming from them. My hands caressed her "boobs" covered by her bustier and then reached to her face to bring her head down for a passionate kiss I felt was needed. Sharon heeded without even a skip from her ass-gyration against my cock.
A short while later, my moment of explosion was near which I casually whispered to her. The cowgirl-style ass fucking stopped as she dismounted me, ripped off the condom and politely asked…
"Can you cum right here?" she asked as she then lied on her back next to me and pointed at the front of her pantyhose covering her cock. I happily obliged as I positioned myself (and my cock) straight at the target while grabbing her legs and pushing them back but close together.
I inserted my love rod between her pantyhosed legs and just above where they joined together and began to thrust in and out. This was another one of those OMG moments as I experienced that feeling of my cock sliding against her Oroblu pantyhose which, I have to say, is an incredibly sexy, silky feeling. In fact, so much so that I let out my loudest moan yet. Then, like a bomb, I exploded shooting my hot love juice right where Sharon directed. Quite a lot, too, which amazed me and even drew a mention from her… "Quite the flood there."
Yet, instead of cleaning up the "flood" with the nearby towel, Sharon began to rub it in her pantyhose and onto her cock which I could tell was getting her off as it slowly started to swell. Though it wasn't offensive at all to me, it did seem odd since I had never seen that done before… by a genetic girl or other crossdresser. A first for everything I guessed.
She suggested we take a shower to "clean ourselves off" which seemed like a wise and maybe even an erotic idea. Besides, that wet hole in the back of my pantyhose was a little annoying and definitely wasn't getting me off at all. We both headed into the bathroom and took off our heels and bustiers, plus I removed my wig (Sharon had naturally long hair), leaving us naked in our smudged makeup and Oroblu pantyhose, which I suggested to leave those on while we shower. We then jumped in.
I don't know if it was the wet pantyhose or just the fact that we were in the shower together but it felt so excitingly sexy getting our (nearly) naked bodies wet as we playfully caressed each other. This lead into passionately making out under the warm stream of the shower. Then I reached down to rub her cock, nearly hard by then, and stroked it a few times while our tongues continued tangling around. I then got on my knees in front of her (yet again), pulled down her wet, cum-soaked pantyhose and immediately grabbed her cock placing it in my mouth and down my throat, repeating my earlier performance. A few hard sucks then softly lick the head. Repeat.
I continued giving Sharon the blowjob of my life, shower still running, until she came right in my mouth without warning. I felt the warm goo in the back of my mouth, watered down slightly from the shower, noticed the taste for a second then swallowed her hot honey like a shot of whiskey.
"Mmmm, don't you taste good," I said looking up.
Sharon never replied but flashed her sultry smile yet once again as if it said "good girl" to me.
And fitting, too. That was all I cared to be at the moment.