OK, for starters, sorry about the long scroll down. I guess I could have made the image a little smaller but then I would have the misfortune of not letting you see the new love in my life for all its glory. I find it odd that I'm getting around now to try out these highly sexy denim shorts since they've been around, oh, since the 80's. Better now than never as it goes.
Maybe it was a particular image that caught my eye or just the urge to wear something feminine but different, I can't remember, but I went out and bought my very own pair of Daisy Duke shorts in my usual jean size (not revealing it, sorry). You should have seen my face when I ripped open that package and rushed to put them on.
They barely hung onto my ass meaning they were meant for a woman quite heftier than I. Fine, returned it and ordered another pair a couple sizes smaller. I was having my doubts if these would actually fit since I had never sized or worn womens jeans and the size ordered was WAY below my usual size for even a tight pair of jeans.
Received in the mail again. Ripped open the package, slipped them on with a bit of pessimism. Prepared for another return.
Yet the Hollister shorts fit, well, perfectly. They were tight but not constricting and no loose areas. I noticed on the tag, they have the slightest bit of spandex which allows them to stretch and cover my ass perfectly and comfortably. But now we have to get down to what I was really waiting for. The match made in heaven: wearing them over pantyhose.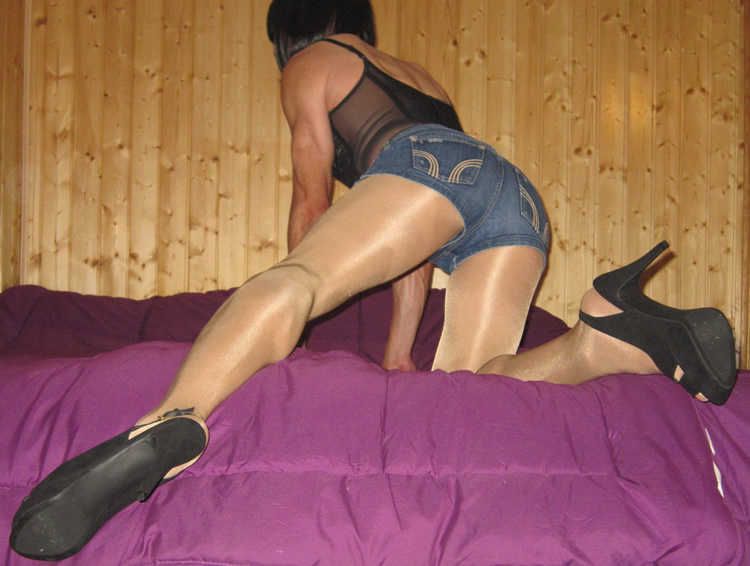 I have to say that the combination aroused me to the point to where I was extremely pleased that the Daisy Dukes could expand ever so slightly to contain my erection. It's as if these shorts were a piece of lingerie actually wearable in public. Pair them with a sexy top and heels, however, and you will be that hot little number in your town. I did happen to go out in public, although somewhat tipsy at 2:30 AM and ducking back in after seeing someone walk up the street.
Still, I felt too sexy not to have a go at public view. Daisy Dukes were probably the missing link I needed to get my ass out and show the world a new crossdresser. Maybe another day for the full public outing, but maybe you get my point.
The DDs look great with any pantyhose, really, but high heels are an absolute must since they lengthen those stems and make that ass all cute and round(ish). I'm kind of particular to the look in the top image paired with black opaque Fogal Rapallo tights, a black bustier top and beige Guess sandals. Any 30 – 40+ denier tights, though, are sexy with the shorts in my opinion. In the second image, I have on an Oroblu bustier, Omero Luxor pantyhose (look for a review soon) and Guess slingbacks.
DDs, pantyhose and are obviously not quite the getup to go out for a trip to the supermarket or for a stroll for the average female. Nothing quite beats that sexy feminine feeling, however, when you know you have a more complete appearance as opposed to, say, wearing those ragged bra and panties with your beloved pantyhose. Then you finish it off by snapping a pic so you happily can jerk off to it later (guilty).
If you remember one thing, just look for Daisy Dukes in a smaller size.