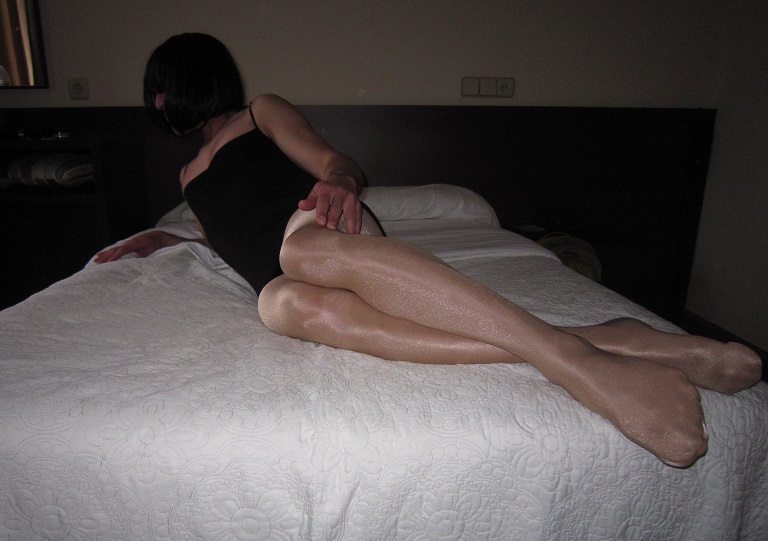 How many times do I have to say it? I love Wolford Neon 40 with a big fat exclamation mark. The most gorgeously shiny tights ever made are the hallmark of every crossdresser's little drawer of silkies. In case you're a crossdresser or have a pantyhose kink and been in a hole for the last twenty years, here is a little primer on Wolford Neon tights.
It's also probably safe to say that the go-to choice for color is the lovely Gobi, so beautiful on the legs like it's namesake hot sands of Mongolia. Personally, I have an old worn pair in Gobi from more than ten years ago and more recently updated my stash to a more pristine pair. An absolute must when the urge to drown your legs in pantyhose overcomes you and you think why not just treat yourself to a bit of caviar this time.
Wolford typically has the Neon 40 in their black and brown variants and then the skin-tone shades of Cosmetic (the lightest tone) and the already mentioned coppery gold Gobi. Then, to round things out, seasonal fashiony shades that only appear for one season. Visiting the website not too long ago, I noticed they had a new color, Fairly Light, but with no image available for a preview (at this time still none!).
No worries, I visited a department store while vacationing in Madrid, Spain and did a little browsing in the Wolford part of the lingerie section. I headed to the drawers of Neon 40 and began thumbing through. Black, nope, already have them. Admiral (dark navy blue), I have those too. But wait, these are… Fairly Light, and they have then in my size! I gasped in excitement and noticed the color peeking through the package, a golden shade lighter than Gobi. I grab two pairs knowing I'll love them.
Now I know that I can just type a few keys, wait a few days and a nice little package of goodies will arrive at my door. Every now and then, though, I love the thrill of being attended by the very corteous sales associate (a lady maybe 35 years old) and having her take my two pairs of luxury tights from my trembling hands to scan. I get even more excited knowing they'll be on my legs within the hour.
Funny note, this lady commented to me on how fast I went straight to picking out the tights like "I knew right where they were." Well, so much for the "they're for my girlfriend" excuse.
Anyway, slightly embarassed at my ninja-like find, buy and leave, I returned to my hotel to have a little taste of these bad boys (or girls)…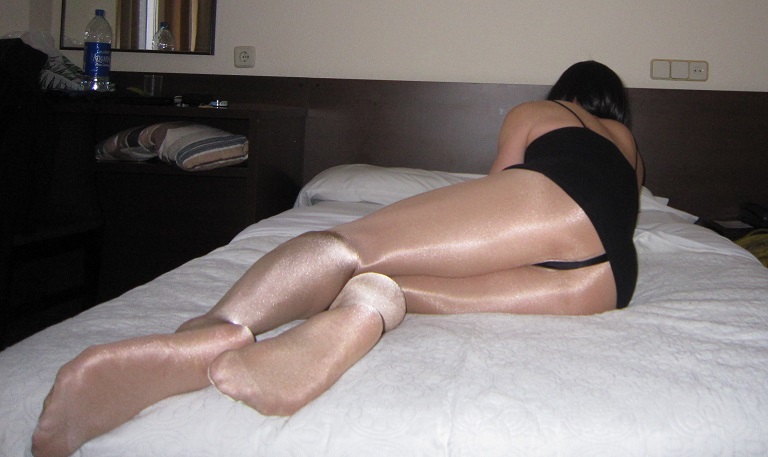 What a lovely shade the Fairly Light is! These photos don't do the color justice but I would say it is a more true-to-nude shade than Gobi and definitely more than Cosmetic, the lightest skin-tone shade available. Now, would I say I like this shade more than the Gobi? That's hard to say. Maybe if my legs were more tan, I'd prefer the Gobi, or if I wake up on the other side of the bed, I might prefer the Fairly Light. Definitely a mood thing but, regardless, they were well worth the purchase.
So my sissy friends and pantyhose freaks, if you're looking for a new hot Wolford Neon color to try out, you really can't miss with this shade. Since it is new, it may only be available this season, so hurry if you have the urge to slip them over your legs. Just one word of advice, take your time and just stumble into them if you are buying in person.
Although being outed as the ninja crossdresser doesn't really seem bad after all.