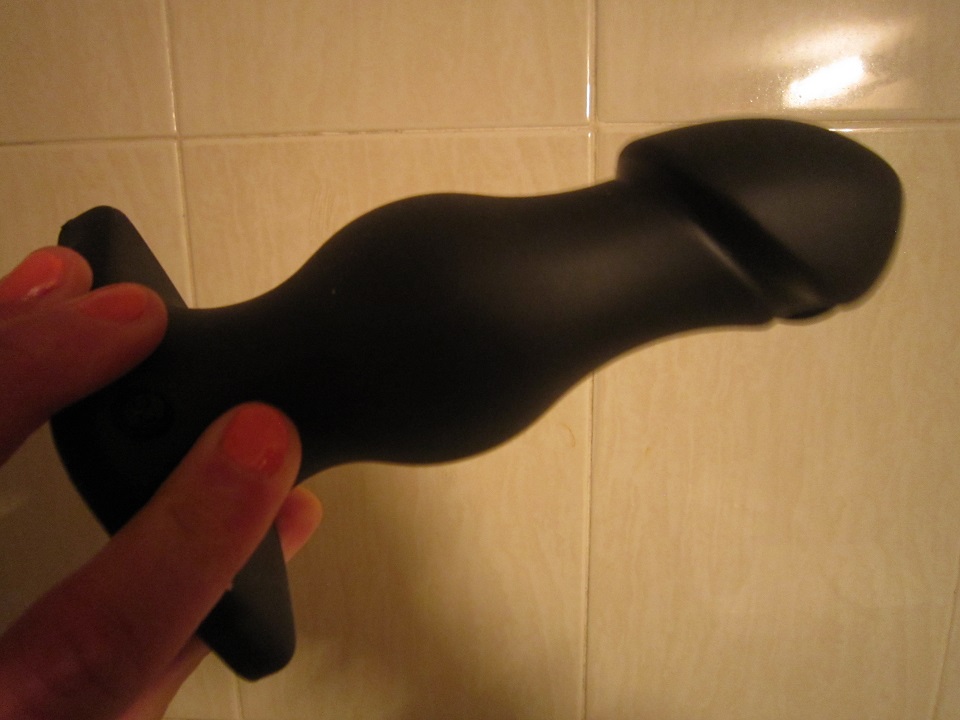 I'm not afraid to admit that I like to get it on… alone. Hey, it's actually healthy for the sex life to keep the juices flowing and release all that tension when needed. In fact, a lot of you out there seem to agree since my most popular post is some ideas for your kinky mastubation. So I'm not alone here in liking to get down and dirty without the typical wake and wank. A little creative masturbation can actually be quite a thrill.
Hence, I came upon (literally) a new little friend of mine, the Rumpy Butt Plug. You can see, it's not your average drain stopper, actually looking more like a fat dildo. And so there is nothing like putting a new toy to test, especially one that looks like it can tear quite a hole in you and then some.
The Rumpy has quite the dimensions for a plug: 6 inches (15 cm) of insertable pleasure, 2.25 inches (5.7 cm) in diameter of the large bulb and roughly 1.75 inches (4.5 cm) in diameter of the large penis-like head. It's nice and smooth with no rough spots or edges and made of a soft PVC that has some flex to it. A pretty sight it is!
Now for the trial. To get into the mood, I slip into some hold up stockings and a bra and a little perfume to top it off. Then I lube up the Rumpy and my asshole very well and attempt to get that bad boy inside. The head of the plug slipped in after a few pushes and gave me quite the jolt when it did. It definitely is unlike anything I ever put up my ass before and I'm thinking with wide eyes "This thing is no joke!"
I take a few moments to rest and, conveniently, there is a narrow part between the head and the larger bulb of the Rumpy, kind of a rest area before entering door number two. A few moments later, on I go and, oh my, that second bulb is huge. Two attempts and I need to rest again.
Then attempt three.
And four.
Finally on the fifth we break into the building!
Seriously, that took quite an effort with rounds of stretching my asshole, resting then repeating. Yet what a feeling finally shoved up in there! I don't let it go to waste either. I begin to stroke my cock up to the point where I just about come and then stop. I don't want an orgasm yet so I pull out the plug halfway, squirt some more lube on it and begin to fuck myself with it.
Now pliable, my ass can take on the Rumpy thrusts with relative ease. I can't describe how incredible it feels having the now fat-dildo penetrate and penetrate. I increase the speed of the thrusts and a bit of pre-come drizzles out of my cock. After a couple of minutes I stop and gasp in amazement. Holy shit, this is the most intense masturbation I've had in my life. I then feel a need to take a nap leaving the plug in so my asshole can get use to being stretched, and then some.
I know anal play is not for everyone since, at some point, you have to deal with the fact that your asshole and rear pleasure tunnel have shared duties with your digestive system. For myself, it has taken some time to get use to but eventually I've grown to enjoy anal play. A lot. Yet there is sort of a ritual of growing pains if you really want to get into it. For example:
The obvious, shit on your toys and hands… yuck.
The feeling of inserting a toy is somewhat similar to taking a shit and you'll have to differentiate the two. At least one time you will actually be taking a shit. You're not alone!
Those toys don't fit in there at first. Even that tiny one.
The "pain" when they finally do get in there.
I can say with confidence that you can get over them and, if you don't want to do it the hard way (like I did) and constantly clean fudge off of the toys or walk around funny, remember the following:
Anal douche… DO IT. At least two times but a third doesn't hurt.
Lube, lube lube. A lot of it is needed unless you like your ass hurting for a couple weeks.
Start small. A one inch (2.5 cm) or smaller plug is a good start. The Rumpy is the big league so don't get too ambitious.
You will experience pain. A little is OK, however, a lot is not since it may be tearing you a new hole.
You can find the Rumpy Butt Plug here (not affiliate). However, a simple Google search can probably come up with a shop closer to you. If you dare to get one for yourself that is.