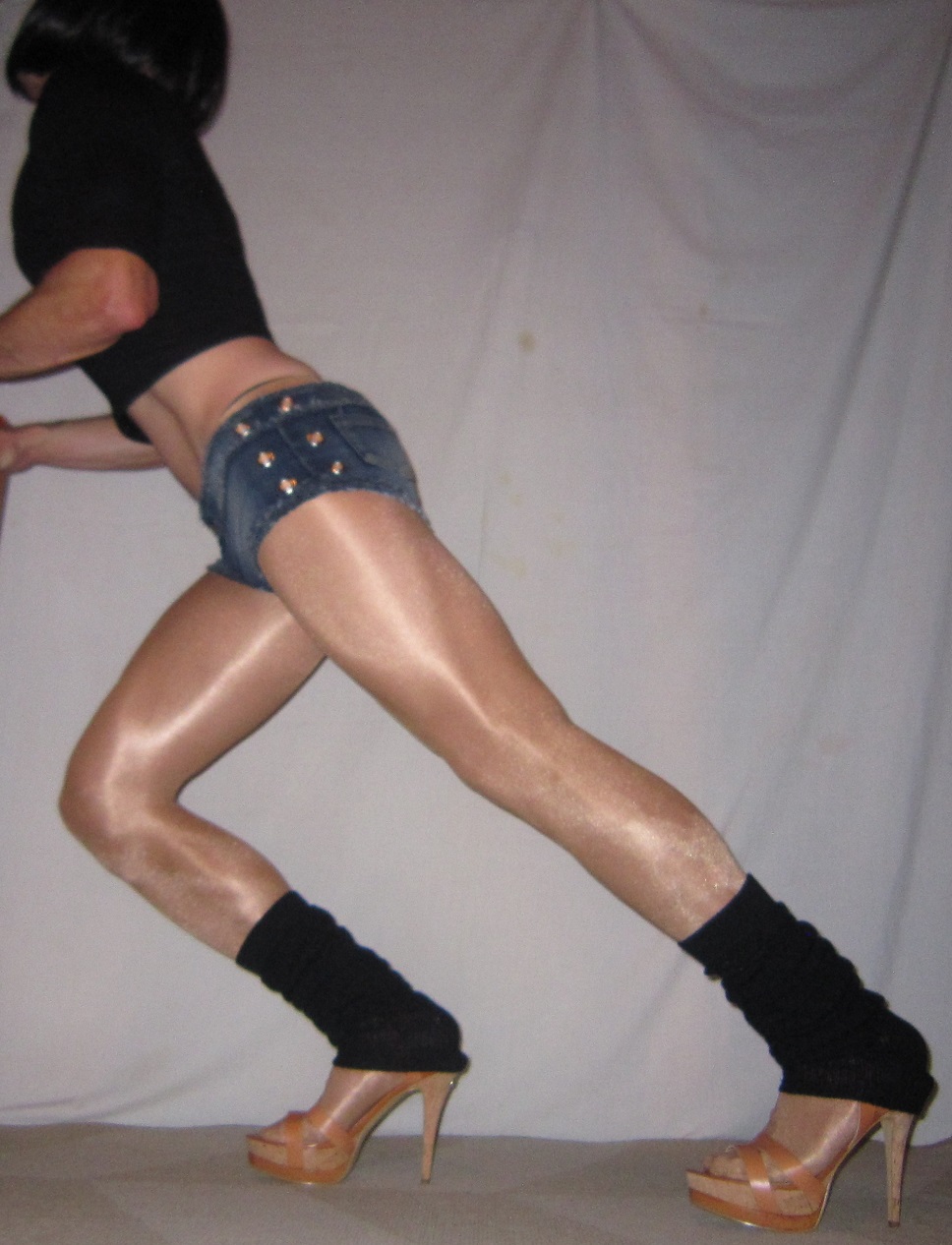 While it should be quite obvious by now that I love to get into my femme dress mode, there are some days when I like to theme it out. It dawned on me some time ago after randomly seeing images of go-go girls in clubs. Gorgeous women in their little elevated cages or pedestals dancing away the night and in varying degrees of attire… tight mini dresses with the panty-peek, crop tops and booty shorts just to jog your memory.
Being the part-time girl I am, I had to at least drape some of this scandalous, sexy clothing over my body and dance away, even if just in my own home. I wanted to see if I could really pull off the go-go girl look. Off to Google to do a little searching and there it was, a website that oohed and ahhed me, Gang of Divas (not affiliate link). I was intrigued by their selection of sexywear available and, in particular, their denim shorts that make daisy dukes look more appropriate for Sunday school.
I happen to love my own daisy dukes that I wear all the time, however, the Gang of Divas were more cut and with a fit like panties. I centered in on two pairs of denim booty shorts that caught my eye, one in a thong style and the other a more modest but very low cut short. A week later, my Christmas presents arrived and what better way to inaugurate them than to pair them with some gobi colored Wolford Neon tights, leg warmers and heels.
I got both of the shorts in a medium size, which was suitable, but there were some slight difficulties due to (ahem, cough) being draped over a male anatomy. Back to the panties analogy, while they can stretch and form around male parts, unfortunately denim can't do it as well. Even though both shorts had a surprising amount of elasticity in them, I had to play tug-o-war to keep them up somewhere near my waistline. I very tight belt might have helped but I just kept tugging them up anyway.
Regardless of my push and pull war, I quite liked both pairs of shorts but especially the thong style. When kept up to where you need them, they look and feel quite sexy, especially that rear view. The thing is, you really need to be wearing a gaffe or do a tuck to get the front side looking trim, not to mention, allowing the shorts to be pulled up higher up your waistline.
Of course, I also had to get one of the Gang of Divas cropped t-shirts. It's quite a surprise with the quality, being not only made with cotton but with added rayon for softness and no shrinking. The fit was perfectly tight and feminine and the cute message on it was quite obvious. This will have to be worn now wherever I go… I wonder if anyone would get my little secret.
Not just you my dear.