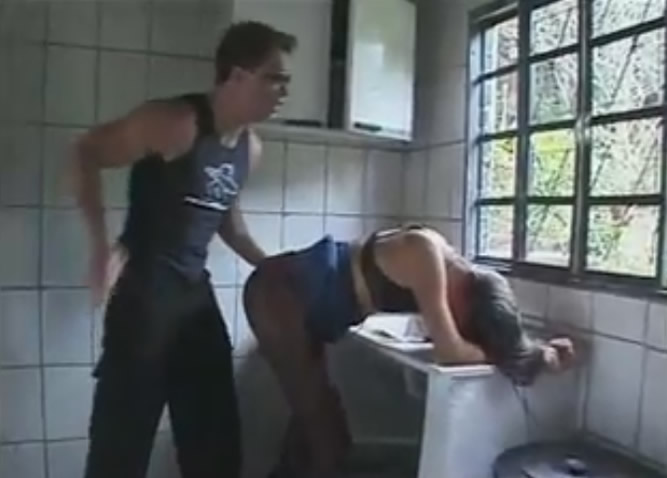 Part II: A Proposition She Couldn't Refuse
* * *
Part III: A Perfect Toy For Couples
"Don't you think she could use a quick makeover?" Alicia asks Greg smiling while looking down at Danielle, now passed out on the sofa from the spiked wine. Greg nodded in agreement, not really hearing her question, but rather, staring at Danielle's body, draped in the black corset and pantyhose, and lusting for all of the things he wanted to do to it.
While Alicia went off to grab her makeup kit, Greg propped Danielle upright giving her a soft kiss on the lips and whispering "your all mine now little crossdresser slave." Seconds later, Alicia returns with a makeup tray and wig, which she immediately places on Danielle's head.
You can say the wig that was all that Danielle needed to complete her transformation from Daniel. Instead of the crossdresser that he was, she has a slender body and a somewhat feminine profile where adding the wig is like flipping the switch between male to female. Alicia applying the finishing touches of makeup to her face was just the icing on the cake.
Indeed, all of this didn't go unnoticed by Greg, gaining an erection by the second as he strips off his clothes. Not quite into crossdressing himself, he does have a quite the fetish for pantyhose to which his wife, Alicia, happily enjoys with him. Of course, he also has that "thing" for very convincing crossdressers, something Alicia also finds appealing and exciting in her own way.
Yet before the both of them lies what is almost beyond their wild imagination: a perfect beauty of a crossdresser who is enslaved to their every wish, albeit with a bit of blackmail, and one they can share together. Mind you, not have to pay top dollar for it either. Needless to say, Greg wasn't the only who has his eyes set on what is coming next, literally.
After the both of them quickly admire the unconscious, but beautifully made up slave of theirs, Greg carries Danielle over to a table where he sets her face down with her pantyhosed ass and legs hanging over one end and her head just reaching the end of the other side. He instructs Alicia to grab the bag of nylon cord and a knife which she eagerly obliges, as if almost reading his mind, then returns.
"You get the legs," Greg says to Alicia as he begins to tie Danielle's wrists together behind her back. Alicia firmly ties one ankle to a post of the table then repeats with the other ankle to another post. Greg then takes a long piece of cord and secures Danielle's body to the table by wrapping it over and under and finishing of with a tight knot.
"She's ready," Greg says with a slight high pitch in his voice from his excitement, not to mention, being a cue for Greg and Alicia to get ready themselves.
Alicia strips out of her own clothes and brings out two pairs of Wolford Neon pantyhose from her bedroom, both in a suntan color and a favorite of theirs when they are into their usual kinky pantyhose play. She hands the other pair to Greg, already naked, while slipping into one of her own. Greg expertly slips on his pair over his legs and massive hard-on which creates a sort of vertical tent on his body.
As quickly as he put on his pantyhose, Greg pulls them down to reveal still-hard cock and introduces it inside Danielle's closed lips, forcing it in but with surprisingly little resistance. He slowly thrusts in and out enjoying the the feel of her saliva lubing each pass while simultaneously painting his cock with smeared lipstick.
Meanwhile, Alicia grabs the other item retrieved from her room, a nine inch strap-on dildo, and carefully places it over her pantyhose. She lubes down the dildo, pulls down the pantyhose on Danielle to just below her ass then slowly penetrates her ass which also gives with little resistance. She thrusts in and out each pass harder than the previous, almost in an anger. Maybe she is, giving how hard Alicia is slapping her ass at the same time.
Suddenly, though, Danielle wakes up, in a daze, but noticing she is the meat in a sandwich so to speak. Tied up and unable to move, though, plus unable to speak with a large cock in her mouth, she was completely powerless to protest this gross violation of her body. Greg even notices she is regaining conscious but the surprised look in the bulging eyes of Danielle only heightens his pleasure more.
"Can we switch places?" Alicia asks Greg, also noticing that Danielle is awake now. Greg nods and removes his cock out of her mouth providing Danielle a moment of relief. They switch places and Greg immediately goes to work on Danielle's ass, not even hesitating for a lube job or condom, but continuing on his mission with another orifice. He enjoys the tighter feel of her ass as he rams with more and more force, slapping her ass with his hips louder with each thrust.
Alicia, on the other hand, with her strap-on still attached stained with a mix of lube and anal slime, and steps in front of Danielle with that evil smile of hers yet once again.
"Lick it off slave," she says as she forces the dildo into Danielle's mouth.
Danielle, still in somewhat of a daze and just realizing what was doing the damage on her backside earlier, closes her mouth as best she could but was no match for Alicia's extremely forceful entry with the strap-on. Danielle gives in like a broken horse "cleaning" the strap-on as it goes in and out of her mouth and throat while Alicia enjoys each and every second of it letting out laughs of joy.
Noticing her dildo is now clean as a whistle, Alicia slips it off and pulls down her pantyhose revealing her well-trimmed muff and parks it in front of Danielle's face.
"Eat it slave," she commands, slapping Danielle on the head to reaffirm who's boss. Danielle obliges, sticks out his tongue and begins to lick and suck away. All this while stopping now and then to let out uncontrollable moans from the pounding he is receiving from Greg. Alicia moans herself in pleasure, now in unison with Greg.
A few moments later, Greg let's out a loud moan of relief as he comes inside of Danielle's now-broken love canal, panting heavily in his afterglow and grabbing a nearby rag to wipe the slime off of his cock. Alicia soon follows suit with a powerful orgasm of her own with Danielle's tongue admirably massaging her clit, given his predicament that is.
Greg and Alicia both sit down on the sofa smiling at each other, still in their pulled-down pantyhose.
"What next?" Alicia asks with that evil grin again. Greg's smile gets wider.
(To be continued)