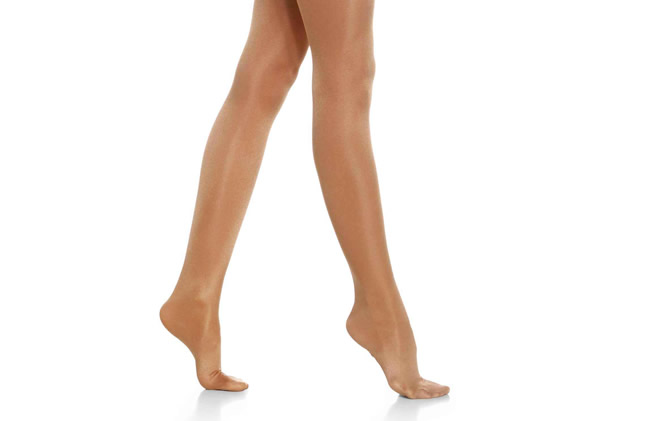 When it comes to making my legs sexy, shining and stunning, I definitely don't go for the cheap stuff when it comes to choosing a suitable pantyhose for my taste. So, naturally, I go for the Wolford Neon or the fine Italian Silvia Grand Silk 40 or maybe one day I'll splurge on a $500 pair of Wolford Fatal Neon. Only champagne and caviar here for this here crossdresser.
Then again, I can't resist a good deal. Especially when it comes to pantyhose. Especially when those said pantyhose are described as shiny and in a suntan shade.
So I splurged for the cheap liquor and potato chips, so to speak, hoping I could turn them into my gourmet meal of silky delight running around my room in my heels and total glee falling in love with my legs. Actually, though, I was just curious to see how "cheap" pantyhose would actually turn out and was fully expecting to use them later as rags in my kitchen.
Turns out the Canda Elegant Support pantyhose are quite a sexy surprise. I did run around my room and fall in love with my gorgeous legs in front of the mirror. Not to mention, "played" around in them wondering if they would suddenly disintegrate at the seams.
They didn't and the 8€ (11 USD) I paid for them was well worth each jolly I could get out of them.
One of the main reasons for my skepticism of these fine pantyhose is that they are the namesake brand of the European C & A stores (Canda, C and A, get it?). These stores can probably be compared to the typical department stores at the mall. Ever buy the store brand pantyhose from these department stores? I know, yuck, now you see what I mean.
Yet even just out of the package, the Canda pantyhose are quite impressive. Featuring sheer to waist, very silky to the touch, a pressed leg shape (so you know which way to put them on) and, very important, a suntan color (in this case "bronze") that doesn't look like the skin off of an undercooked chicken leg. Not the typical department store kitchen rag here, ladies.
Sliding them on my legs, however, was another impressive surprise. These are listed at 70 denier, so I was expecting full-on thick dance tights territory, basically blankets wrapped around my legs. Turns out, these have an appearance more in the 40 denier range showing some legs underneath but leaving a nice beautiful shine that could easily hide those leg hairs for the lazy crossdresser.
One thing to note is that the size L and XL has that reinforcing back panel that sort of defeats that sheer to waist image. That is, of course, unless you like that sheer to waist with half a panty look.
Then there is that sensual silkiness that I love in my pantyhose. So smooth that it slides on any surface plus comfortably leaving your cock encased instead of squeezed in there begging for air. Speaking of cock, these pantyhose aren't the ones you want to rip an access hole in, front or rear. They are too lovely so do them justice and pull them down to wank one out (or take one in).
Of course the Canda pantyhose also would go well with any dress, lingerie or those new heels you've been dying to try out. Careful you don't fall in love with yourself either.
But here comes the bad news. The Canda are only available in select European countries, no international deliveries. For probably a good majority of you, this means you're shit out of luck unless maybe you're lucky enough to find them on eBay (I couldn't). So, ignore all of this and get yourself a pair of Wolford Neon 40 instead, you know, since I was just kidding.
For the rest of you pantyhose bargain loving crossdressers seeking a good silky time, find the Canda pantyhose at C & A. They are so inexpensive, you may even save enough to buy that cheap liquor and potato chips anyway.