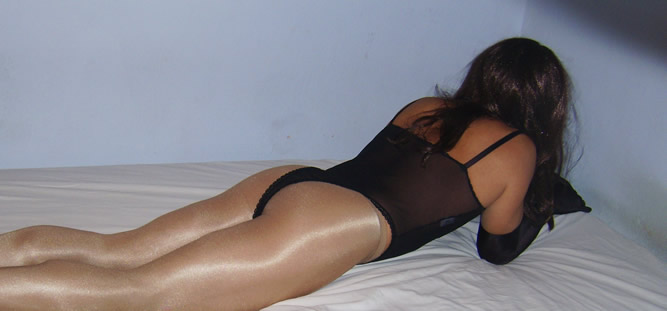 In case you haven't heard by now, I just love to play dress up. Just like my older sister probably made me do when I was half her size. I bet I could even win at that right now if we were to have a contest for the queen of the family. Unfortunately, only the sexy, sultry crossdresser (yours truly) has the real fun at this in my family.
So to try and be as sexy femme as possible, I exercise to stay fit and trim, shave everywhere possible and try to adopt feminine mannerisms that I can turn on like a switch, going from rugged male to sweet little Sheery. Then, of course, I top it all off by squeezing into that tight fitting lingerie and/or sexy club dress, high-end pantyhose (e.g. Wolford tights), wig, makeup and my newish stiletto heels.
Of course we don't just want to have that transformed beauty in front of the mirror all to ourselves now do we? That's why we grab the camera and snap a few shots, maybe a naughty one or two, and share with our good crossdresser/TV friends across the social networks. Nothing is more seemingly cherished than when you get those "hot ass" and "love your pantyhose" comments that you feel reassured in your feminine role, specifically when they come from other girlies like ourselves.
Then we get those same comments from the other side. Those that are either too lazy to dress up, don't want to or just look at us crossdressing sisters like pieces of meat with a loose back door. Plus you get the feeling somehow that you know they are currently wanking to death behind that creepy avatar smile of theirs waiting for your reply.
Men, I'm talking about you.
On typical social networks, for example Twitter or Google+, it's almost too easy to become "followers" or "friends" with anyone. The simple fact is that the more friends you have, the more "popular" you are. The more popular you are, the closer you are to reaching that ever-coveted status of prom queen, for lack of a better term.
Usually among the many faces of those said friends, we have our hangout people and a majority we'll never speak to. What's left are the too-creepy ones (e.g. men) with a headshot of either their face (more likely their just-wanked cock) and their actual full name listed in their profile who send you countless messages every day.
"Hi!"
"Hey, want to chat?"
"I'm in your area tonight, wanna…"
"What a sexy ass. I want to take that and…"
Odds are if you look up any of these "dudes" in a sex offender database, they would be found on page one with the same photo used as their avatars. If not, they are likely in a strip club grossing out an unsuspecting dancer and subsequently stalking her on her way home.
Now, transforming myself into crossdressing womanly me, I certainly share the perspective on shady men that actual GG (genetic girl) women have. It's as if the creeps are adorned with Las Vegas style flashing neon lights saying "I'm a pervert with my dick in my hand. Come and get some!" I share the collective ewwww with these other bothered women.
Without a doubt that this also triggers that instinctive alert to GG women that their own safety may be compromised and to stay the fuck away, as far possible. This, however, is where it pays to be the crossdresser. If I ever encounter the creep who admires my ass and my tights with the "I want to fuck you" type of comments, online or in person, I can just switch to non-Sheery mode and kick the living shit out of him.
Be warned, I can hold my own, even in pantyhose and heels. Online, I'll find out where you live there jolly old creep.