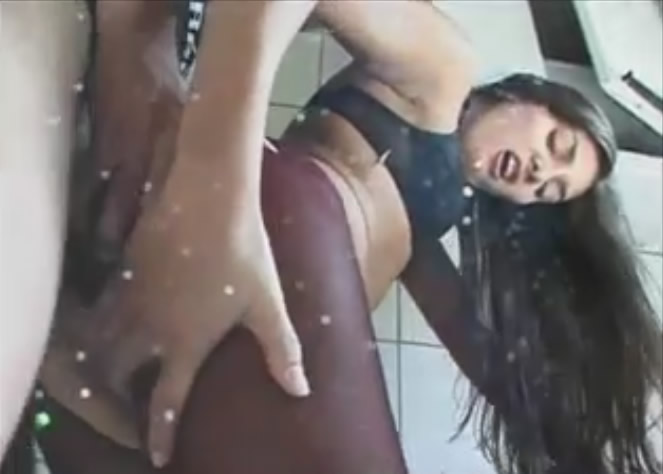 Part II: A Proposition She Couldn't Refuse
Part III: A Perfect Toy For Couples
* * *
Part IV: A Toy Now Broken
Danielle, still bound tightly to the table, ankles bound one to each leg of it, doesn't attempt to writhe herself free nor even says a word. The beautiful crossdresser that she is in her lovely black corset, black pantyhose, wig and now-smudged makeup lay helpless and broken, having been violated quite extensively at "both ends" by Greg and Alicia.
In a slight bit of irony, she somewhat enjoys her first foray as a crossdresser slave, having lived out one of her own secret fantasies of being bound by another and forced into submission while head to toe in silky lingerie and pantyhose. Unfortunately, it comes at the expense of that blackmail hanging over her head on the part of her captors. The world would end for her if news about her crossdressing became known to her girlfriend and family.
"Is this over now?" she wonders, pondering the wetness on her ass, now full of Greg's come.
Alicia turns to Greg, both still on the sofa, and says to him "I want his ass."
Greg smiles knowing exactly what is on her mind. He gets up and unties Danielle's ankles and the long piece of cord securing her to the table. Yet he leaves her wrists still bound tightly behind her back. He then flips her over on the table so she is lying on top of her bound arms. Danielle doesn't even resist, practically giving in to whatever they desire. A good slave she is, no doubt.
Alicia, clearly the one most excited here, pulls up her Wolford pantyhose and puts back on the strap-on dildo, conveniently cleaned earlier in Danielle's mouth, and gives it a quick lube. She doesn't hesitate in going over to Danielle, pulling down her black pantyhose to just halfway down her thighs then grabbing each leg throwing them over her shoulders, exposing Danielle's ravaged ass yet once again.
Alicia enters Danielle with the dildo, quite easily this time, and begins thrusting her forcefully, clapping hard against her butt but this time much louder than before. On this occasion, however, Alicia takes her hand and begins to stroke Danielle's cock, which becomes rock-solid shortly after.
"Look, I think she likes it," Alicia says to Greg, now standing in front of Danielle's upside down face hanging over the other side of the table.
Greg, still in his Wolford pantyhose matching those of his wife, catches his second wind with his erection forming at the sight (and sound) of Alicia pounding away at the opposite end. He forces his now-raging cock into Danielle's mouth, fucking it harder than he previously had before. The sight of Danielle's bulging eyes and her throat visibly expanding upon each thrust gave him an incredibly sinister pleasure.
"Yeah, you like that don't you?" he says. Danielle obviously is too preoccupied to respond.
Meanwhile, Alicia continues her violent dildo fucking while stroking Danielle enough to finally make her come, shooting a stream of hot, sticky goo all over the front of her black corset. Greg follows suit by reaching orgasm, then pulling out so his rod is just inside of Danielle's mouth and then releasing his own jet of sticky love goo, pooling it in her mouth. Greg lets out a deep "ahhhh" in satisfaction.
Alicia finally stops ramming Danielle's ass with the dildo, pulling it out then releasing her legs, while Danielle swallows the warm load in her mouth in anticipation of what is next. Meanwhile, as Greg retreats for the sofa, Alicia takes up his place in front of Danielle and begins to slowly insert the warm slimy dildo into Danielle's come-filled mouth yet once again.
"You know what to do," Alicia says, sticking the strap-on dildo into her mouth and repeatedly going back and forth down her throat until it is finally clean once again. She pulls out but not after enjoying the bulge of the dildo showing in Danielle's throat upon each pass, as Greg has done. Alicia retreats back to the sofa next to Greg, giving him a kiss on the cheek in a quiet joy of satisfaction. Both of them lie there, pantyhose pulled up this time, tired and basking in their afterglow and looking at Danielle.
Danielle lies there, still helpless and unwilling to move, and with the taste of the cocktail of her own rectal slime and Greg's come in her mouth. Her ass hurts noticeably but she could care less. Her will is beyond broken from the repeated oral and anal sodomy that, really, nothing else would phase her one bit. Her crossdressing fantasy begins to wane into a desire to return back to Daniel, to which she undoubtedly will.
"Clean up time," Greg says as he gets up, takes off his Wolford pantyhose and opens a nearby drawer pulling out a small glass bottle containing a liquid. He opens the bottle, wads the pantyhose and wets it with the liquid. Then he shoves the wadded pantyhose into Danielle's face and over her mouth. In a matter of seconds, she passes out unconscious.
Alicia gets up and quickly joins Greg at their new plan at hand, returning their little crossdresser slave back to Daniel. First her wrists are untied then off go the wig, pantyhose and come-soaked corset. Next, they wipe down her body using a sponge and kitchen rag removing all traces of anal gunk, love juice and haphazardly smudged makeup from her face. Alicia then pries open her mouth and sprays a dose of breath freshener.
Greg then snaps up Daniel's clothes strewn all over the floor and both carefully put them on finishing off with his socks and shoes. Alicia combs Daniel's hair to his usual style and straightens up his shirt.
"Hi Daniel," she says, giggling.
Greg opens the door of his apartment and checks around inspecting if the coast is clear of prying eyes or potential witnesses. It is, so using Daniel's keys, he opens the door of his apartment leaving it ajar. Running back to his own apartment Greg and Alicia carry Daniel, with his arms around their shoulders and looking like he had too much to drink, back to his apartment.
In their clever scheme to make it all look like a dream in Daniel's head, they take off his shoes, placing them neatly next to other pairs of shoes nearby, then place him on his bed. Greg then looks for and finds the note he left for Daniel, a day earlier, on his desk and grabs it along with the envelope to it he found in the trash. Leaving the keys in a bowl next to the door, he and Alicia then quickly exit, closing the door which locks behind them.
Two hours pass. Daniel wakes up…
"Wow what happened… was this a dream?" he wonders feeling quite more woozy than normal. He then opens his door to walk outside finding Greg in front of his apartment smoking a cigarette.
"Hey Daniel, how are you?" Greg says smiling, concealing his true demeanor.
"I don't know," Daniel replies, recalling parts of the intense crossdressing "dream" that involves his neighbors Greg and Alicia. "I'm tired. I think I'll go back to bed."
Daniel goes back inside his apartment returning to his bed but then notices and begins to wonder about that pain he suddenly feels in his ass.
"I need to stop masturbating so hard," he thinks as he drifts back off to sleep.