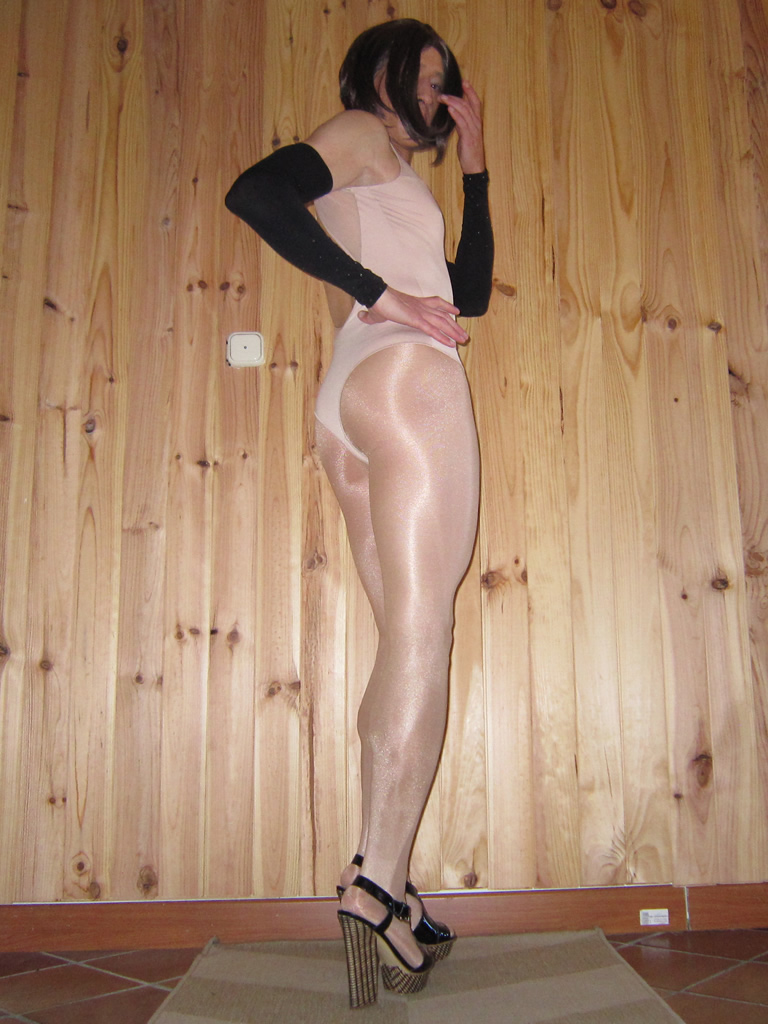 I often times think about how my crossdressing has evolved over the years. Well, maybe even my whole life. More than two thirds of it, I'd say, I desperately tried all I could to keep it a secret. It was something I would do every now and then in private just to get my kicks and then get on with my day. I guess I thought of it back then as just some of my "weird" tendencies.
Yet back then, it was only about slipping into pantyhose which eventually led to slipping on lingerie along with it. I knew that only made me a male in women's underwear since I surely didn't look the part of anything female. It was enjoyable and satisfying nonetheless. Those "taboo" articles of clothing made it oh so alluring to drape it on my body and pretend I was female in some perverted sort of way. At least that was how I thought of it back then.
Today, however, my own crossdressing has evolved to a point where I couldn't have imagined even ten years ago. No more am I the male pantyboy (or more like the resident pantyhoseboy). Instead I have incorporated more "girlyness" into my everyday lifestyle. For example, I shave all body hair (even my face!) and keep my fingernails and toenails perfectly trimmed with my toenails nearly almost always painted. Then there is that subtle dot of perfume that I like to put right over my deodorant in the morning.
I don't exactly give myself away entirely as little miss me but I do absolutely enjoy giving away a hint of my feminine side whenever I can. And each day it is a little bit more than the last.
I am always left thinking, though, what will I be like ten years from now if I keep going in this direction?
Usually the first thing that comes to mind when I think about this is Caitlyn Jenner. Now she may get a lot of grief as a transgendered woman just by being a "privileged" Kardashian. However, I personally look at her path to freedom as a woman as nothing short of admirable and fascinating. Yet I also wonder if I am also going down a path, similar to hers, to an eventual transformation into a woman as she did.
Now of course I am not the Olympian, or even famous, plus our situations are obviously completely different as well as our own perceptions of ourselves as women. Personally, I still only love to dress into my feminine personality and do not feel the need to identify myself as an actual woman. Not yet anyway. Dressing up these days gives me a thrill, not just sexually, but also from being able pass closer and closer to a woman which has never happened at any other point in my life.
You better believe dressing up is no longer the novelty that wore off with a wank in the shower. It is more or less an everyday thing of incorporating feminine things into my lifestyle… whether it is shaving my legs once a week or getting fully dressed out with the wig, makeup, clothes and a selection from my ten pairs of heels. Not to mention, I like to exercise more to keep my weight down and fit into size S/M clothes.
In the past eight years or so, this has become an evolution of me as a crossdresser. I could say I have become more comfortable in my own skin maybe as a person in general and then in my alter ego. I don't see this evolution ending anytime soon though. After all, crossdressing becomes stagnant and boring if it is the same thing over and over again (e.g. the pantyboy years).
I am at a time in my life where I don't want to be bored or for life to be monotonous. Going the whole gamut dressing up definitely fills that void of excitement but what will happen next when I want to get more out of it? I know this will come at some point in the future but what I don't know where that evolution will take me. Maybe a full-time crossdresser well out of the closet or giving hormones a try or even taking that huge step to being that woman I have always pretended to be.
It is hard not to think I will be announcing myself to the world (and, gulp, friends and family) at some point in time… Just like Caitlyn.
I wouldn't bet against it.